Protection from fault current
Earthing Transformer or grounding transformer is the neutral grounding transformer – star connected on the primary and has an open delta on secondary. Open Delta has two terminals. A resistor is connected across these two terminals.
Whenever a fault occurs, voltage will be induced in the open delta and there will be a voltage drop in the resistor connected.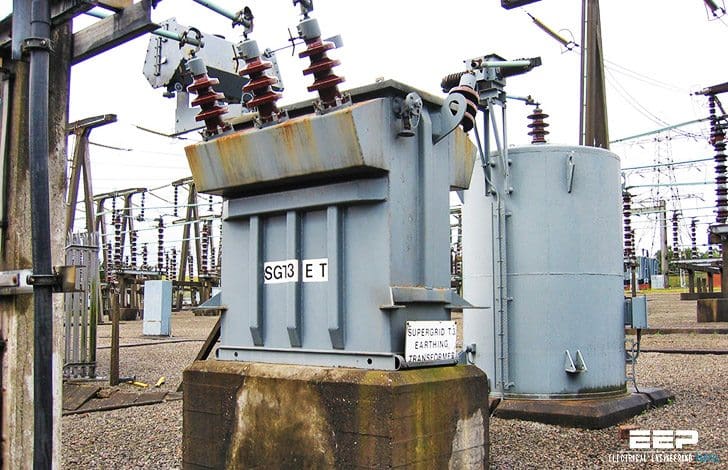 This voltage drop will be sensed by the earthing transformer connected across this resistor. At the secondary of the earthing transformer we have the neutral displacement relay which will give a trip signal or an alarm whenever its settings exceed a particular value.
Earthing transformer can also be called a large Potential transformer (Open delta PT).
Representation in SLD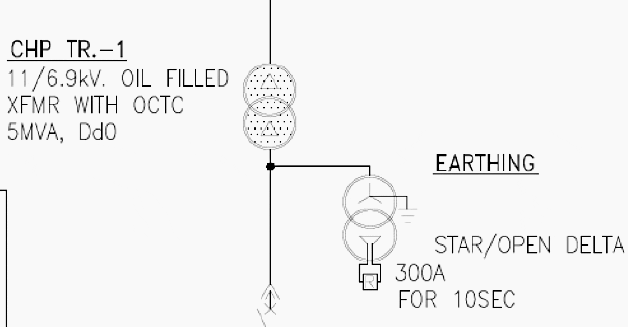 Connection diagram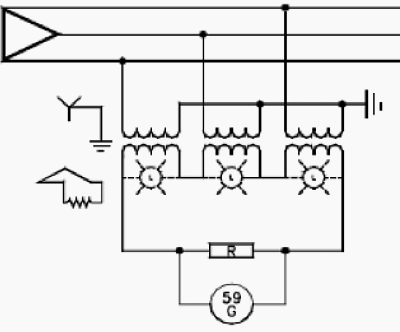 The best way to ground an ungrounded delta system (existing or new) is to derive a neutral point through grounding transformers as shown in figure above. The resistor inserted in the "broken delta" leg is reflected to the primary underground fault conditions and limits the current to a nominal value as dictated by its design.
Also, sensing the voltage drop across the resistor (device 59G) can be used to signal an alarm advising that a ground fault has occurred.
The three lights across each individual transformer will constitute a version of the normal ground detection scheme currently employed on ungrounded systems.
The voltage across the broken delta is simply the sum of system phase to ground voltages, or 3V0.The Y side of the Y-ground/Broken delta VT can either be directly connected to the high voltage terminals or to the secondary of a main step down VT.
It is common to place a resistor in the broken delta as shown in above figure. One rationale for the resistance is that the resistance stabilizes the measured voltage.
It does this by:
Reducing the risk of ferroresonance
Act as a grounding bank/transformer.
Voltages during a ground fault
Referring to phaser diagram:
VAG = VAN + VNG = K<0 + 0

/Equation 1/

VBG = VBN + VNG = K<-120 + 0 

/Equation 2/

VCG = VCN + VNG = K<120 + 0 

/Equation 3/


For a phase A to ground fault, VAN = 0, and the voltage across the neutral resistor that is VNG is essentially the negative of the Phase A to neutral voltage.
Mathematically:
VAG = 0 since Phase a is faulted
So: VAN + VNG = 0
VNG = -VAN = – K<0 = 1<180

 /Equation 4/
Substituting equation – 4 in equation – 2
VBG = VBN + VNG = K<-120 + K<180 = 1.732K<150

/Equation-5/
Similarly substituting equation – 4 in equation -1
VCG = VCN + VNG = K<120 + K<180 = 1.732K<150 /Equation-6/
Equation 5 and 6 proves that voltage of healthy phase rises by 1.732 times during phase to ground fault in one phase.
Sum of the three phase voltage will be:
= VAG + VBG + VCG = 0 + 1.732K<-150 + 1.732K<150 = 3K<180 /Equation-7/
Since broken/open delta sum up the three phase voltage so voltage of equation 7 will be transformed to open delta secondary side from the Y grounded primary side.
V Broken Delta = V Primary / Turn ratio = (1/turn ratio) 3K<180 /Equation-8/
Equation 8 can be generalized as:
V Broken Delta =(1/Turn ratio) (3 V L-G System) < (Un faulted phase angle + 180)
Resistance Selection
To obtain the maximum capability of the resistor to dampen system transients and dampen ferroresonant circuits, a typical approach to sizing the resistor is to utilize one that can handle all the power that the transformer can supply during a full neutral offset.