Electrical System of Bakery
A small bakery with just a counter and storage areas is simple to design. The electrical design follows the layout for a house, but care must be taken on loading factors if direct-acting electric heaters are switched on all day.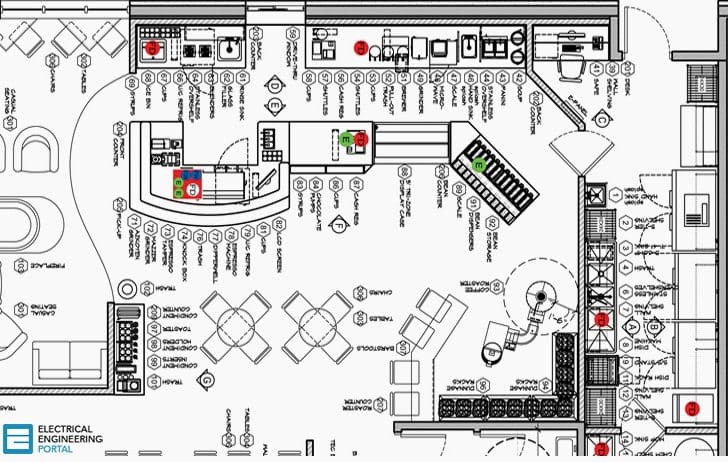 These days, many shops and stores have specialised equipment for cooking food or providing other services such as shoe repairs or photographic processing. It is this type of shop that sometimes causes problems for the electrical installer when it comes to estimating loads.
This exercise takes a bakery as a typical project. This electrical design may be adapted for similar conditions (cafe or apartment for example).
Building structure and finishes
General information about small bakery //
Total floor area is 100 m2;
Concrete floor, tiled throughout;
Concrete soffit, exposed in bakery; suspended false ceiling in shop area;
Walls, brick or building block. Fair-faced exposed in bakery; tiled or plastered in shop and toilets;
Space heating by gas.
Let's go through following sections on order to complete electrical design project. Note that there are few other sections left out for second part of this techncial article (which will be published in 2 days).
1. Electrical design requirements
Proposed electrical layouts are shown in Figures 1 and 2. A full schedule of requirements is shown in Table 1.
It will be noted that space heating is by gas, although cooking is electric. This may not be realistic. In practice, a more likely situation would have gas cooking and heating. However, many catering establishments do have mixed services and in this case the electric cooking has been chosen in order to calculate diversity. A suitable Project Specification is shown in Figure 3.
2. Loading and diversity
It will be seen that the assessment of maximum demand is very much a matter of experience. There is a tendency to overestimate high fixed loads, which in practice only occur for short periods of time. Thermostats and energy regulators switch heater elements on and off at irregular intervals.
The largest load on this project is
the oven in the kitchen
and it is extremely unlikely that the fully loaded
10 kW
condition will coincide with full loading on other appliances.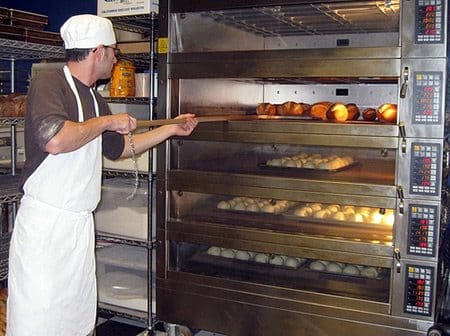 Lighting layout //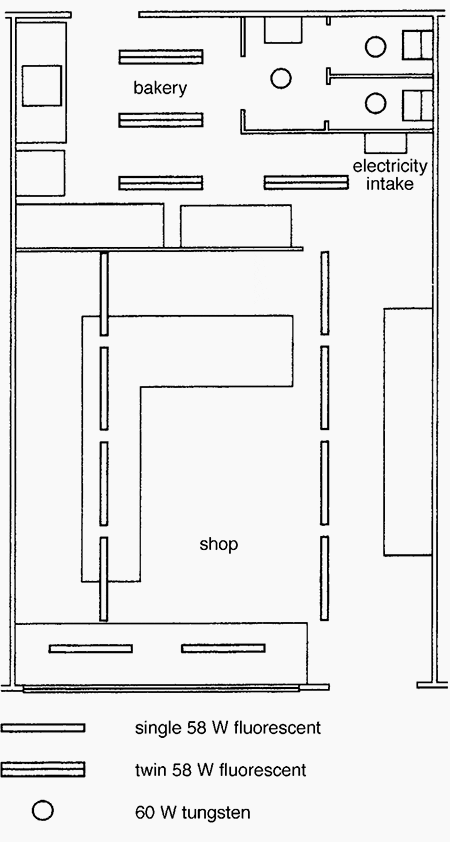 Information is required to determine the size of mains supply. If there is any doubt, it is worth showing diversity figures to the supply company.
IET Guidance Note 1, Selection and Erection, gives some advice about loading diversity. The figures used here have been taken from Guidance Note 1, but every electrical design project must be considered separately to take into account special factors. This is not an accurate exercise and all figures have been rounded off.
This installation will of necessity be a three-phase load, and maximum current per phase is the important calculation.
Power outlets layout //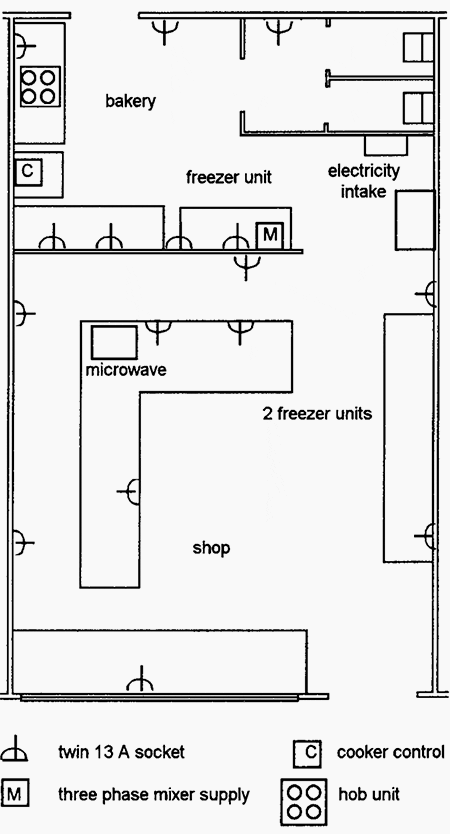 3. Lighting
An allowance of 90% diversity is acceptable. For current loading calculations, fluorescent lamp ratings must be multiplied by 1.8 to take into account control gear losses. An assumption of 100 W per outlet is made for tungsten lamps, regardless of the specification lamp size. For convenience, the bakery shop lighting is spread over two circuits:
1. Shop lighting load //
= 10 x 58 W x 1.8
= 1044 W
at 90% diversity (1044 x 90%) / 230 = 4.1 A
Table 1 – Provisional electrical schedule
 Shop //

 Bakery //

 Lighting
 10 x 57 W
 8 x 58 W
 4 x 60 W
 Twin 13 A sockets
 Display units 2
 Freezer 1
 Microwave oven 1
 Refrigerator 1
 Freezers 2
 Small mixers 2
 General purpose  6
 General purpose 4
 Other loads
 3-phase mixer, 750 W
 Oven 10 KW
 Hob unit, 4 x 1.5 kW
2. Bakery lighting load //
= (8 x 58 W x 1.8) + (3 x 100)
= 1135 W
at 90% diversity (1135 W x 90%) / 230 V = 4.5 A
NOTE // 1.8 is a factor, which may or may not need to be applied to all types of fluoroscent fittings. If in doubt, consult the manufacturer of the luminaire(s).
4. Socket-outlets
Three circuits would be appropriate. It has sometimes been taught that it is custom and practice to put all sockets on one phase, but there is no requirement for this in the Wiring Regulations. However, at this stage, phase balancing has yet to be considered. Diversity allowances are 100% of first circuit and 40% for all others:
32 + 13 + 13 = 58 A
= 19.3 A per circuit
Note that this figure is for total load calculations only, not circuit cable sizing.
Project specification for shop //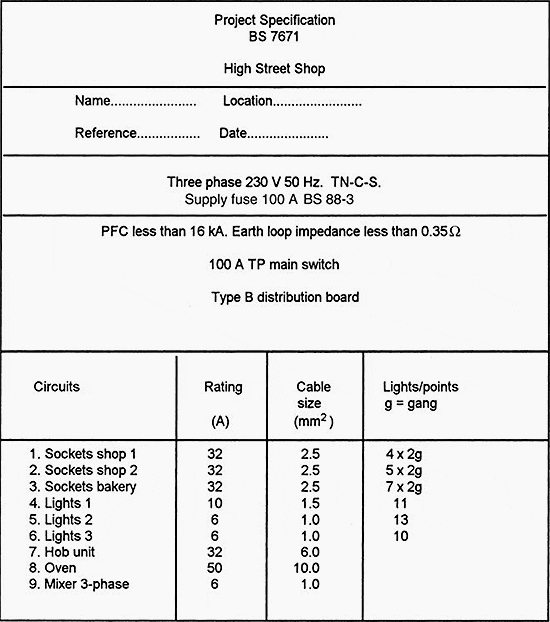 5. Other appliances
Mixer, at 50% diversity:
750 W x 50% / 230 V x 3 = 0.55 A per phase
Oven, at 100% diversity:
10 x 1000 W / 230 V = 43.5 A
Hob unit, at 80% diversity:
6 x 1000 W x 0.8 / 230 V = 21 A
6. Phase balance
For electrical design, it is essential to balance loads across three phases as far as possible. This exercise should consider the diversified current demands to obtain a balance under normal working conditions.
Table 2 below gives an arrangement, which in the circumstances is reasonable but not a good balance. Note that at this stage, this does not necessarily indicate final distribution board particulars; although it may be better to put ring circuits on different phases.
7. Wiring systems
This project is interesting in that, at this early stage, some consideration must be given to the type of wiring systems appropriate to the two main areas, shop and bakery. This is one subject upon which the landlord or insurer may have an interest.
Table 2 – Arrangement of loads taking diversity into account
 Phase

 Circuit

 Amps

 

Brown // Phase 1

 Sockets
 58
 Mixer
 0.55
 58.55
 

Black // Phase 2

 Lights
 8.6
 Hob
 21
 Mixer
 0.55
 30.15
 

Grey // Phase 3

 
 Oven
 43.5
 Mixer
 0.55
 44.05
8. Start by considering cost
From the financial viewpoint it is sensible to consider the most economical wiring system that the Wiring Regulations will permit. This is the starting point for design. Changes to more sophisticated methods may be introduced as the situation dictates.
Undoubtedly twin and earth cable is the easiest and cheapest system to install, but the outer sheathing gives only limited mechanical protection.
In the case of the shop, a certain amount of physical maltreatment should be anticipated and considered during the design and specification stages.
9. Shop area
Shop area must fulfill the following requirements //
The public have access and must not be put at risk by their own activities.
Children will be present and inquisitive fingers can cause damage.
The shop staff may be heavy-handed in cleaning or careless when handling trays of stock. This food shop is subject to hygiene standards, which may include frequent washing down.
Surface mounted twin and earth cable is unsuitable for this situation. It would be precluded by regulations, which specify that the electrical system must be appropriate to the situation and the method of installation must take into account the conditions likely to be encountered.
It is acceptable to install flat twin and earth cables under plaster or within building voids, provided the concealed cables are installed within prescribed zones.
10. Bakery area
Different parts of the bakery area are subject to differing conditions //
Some general physical abuse can be expected.
High temperatures will occur in close proximity to the oven and hob units. Wall surfaces may be frequently washed down.
In these circumstances, the choice of surface wiring systems should be one or more of //
Steel conduit and trunking;
Plastic conduit and trunking;
Mineral insulated, copper-sheathed cable (MICS) with thermoplastic (PVC) outer sheath;
Steel wire armoured PVC or thermosetting insulated cable.
11. Temperature limits
70°C
A point of interest is that wherever general purpose PVC cable is used, the recommended limiting temperature is 70°C. This will apply to all the systems listed in Bakery area, including the MICS with PVC outer sheath. Therefore, none has any working temperature advantage.
A surface heated to 70°C is very hot and is likely to exist only on the metallic casing of the oven when it is on.
The Regulations show 70°C as the limiting temperature for accessible parts of metallic enclosures for electrical equipment. An air temperature in excess of 70°C will only be found in the oven or above a hob unit. There would appear to be no problem of cable selection on the basis of temperature alone.
90°C
If a higher temperature rating is considered to be important, the use of 90°C thermosetting (XLPE) cable may be possible. This insulation is available on single-core conduit cable. Care should be taken with armoured cable with XLPE insulation. Off-the-shelf supplies will probably have PVC sheathing.
In theory, rigid PVC conduit and trunking could also be used at 90°C, but the fixing arrangements to accommodate expansion and prevent sagging would be impracticable.
It should be appreciated that conductors intended to operate at a temperature exceeding 70°C in normal service must not be connected to switchgear, protective devices, accessories or other types of equipment, unless the manufacturer of the equipment has confirmed that the equipment is suitable for such conditions.
12. Final selection and cable sizes
Having taken all factors into account, the final selection of wiring systems on this project can be made, and are shown in Table 3. It should be noted that cable sizes are based upon the scheme as illustrated:
13. Bakery wiring (cable, trunking and conduit)
Cable:
70°C PVC-insulated – Ref. 6491X, single-core cables;
Table 3 – Proposed cable sizes
Circuit

Full load (A)

CB (A)

Size (mm2)
Bakery lights in conduit and trunking
4.7
6
1.0
1.5
Shop lights, surface or embedded in plaster
4.3
6
1.0
1.5
Bakery sockets, ring in conduit and trunking
–
32
2.5
Shop sockets, ring, surface or embedded in plaster
–
32
2.5
Mixer 3-phase, in conduit and trunking
3.2
6
1.0
Hob, in conduit and trunking
25
32
6.0
Oven, in conduit and trunking
42
50
10.0
Steel or PVC trunking:
Main distribution from distribution board at high level to avoid any heat from appliances;
Heavy gauge PVC conduit:
Drops to outlets at worktop mounting height; 2. Ceiling mounted exposed to luminaires.
As an alternative, and to make cleaning easier, PVC mini-trunking could be used for wall drops.
Will be continued soon..
Reference // Electrical installation designs – B. Atkinson (Purchase hardcopy at Amazon)