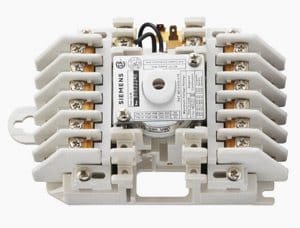 Most lighting and heating applications require a contactor to control the loads. One type of contactor is an electrically held contactor, which is similar to a magnetic starter. Unlike a magnetic starter, however, a lighting and heating contactor is designed for lighting and resistive heating loads rather than motor loads.
Siemens class LE lighting and heating contactors are available with 2 to 12 poles rated from 20 to 400 amps.
They can be used on 480 VAC tungsten and 600 VAC ballast-type lighting loads as well as 600 VAC resistive loads. Enclosures are also available.
Electrically held lighting contactors are similar to the magnetic contactors and starters discussed previously. When current is applied to the coil, all normally open contacts close. If power is lost, these contacts open, removing the supply of current to connected loads.
Because the constant current flow needed to keep the contactor energized causes a humming noise, these contactors should not be used for applications such as libraries, hospitals, and some commercial buildings where this noise will be a problem.
The following diagram shows a typical on/off control circuit for an electrically held lighting/heating contactor.


SOURCE: Siemens – Basics of control components