ePlusMenuCAD 10 RC1
Today we released ePlusMenuCAD 10 RC1! Why RC1 (release candidate 1)? Simply because Help is not written yet. It will be added as soon as possible together with releasing of complete ePlusMenuCAD 10.
Good thing is that CsanyiGroup (author of ePlusMenuCAD) has prepared great price for RC1 – 150EUR or $198, which is double less than earlier version 9. By purchasing licence for ePlusMenuCAD 10 RC1 you will get complete version (when released) for free. When complete version come out, price will be like before 290EUR or $380.
ePlusMenuCAD 10 Changes: (2010/10/24)
– Full support for AutoCAD 2011 and AutoCAD 2010
– Everything translated to english language
– A complete and easy layer and the symbols control in ePlusMenuCAD-in (color, line width, plot…)
– All layer's color are changed to BYLAYER, instead to specific color (easier for manipulate)
– Completely new layers for all symbols (E-Power-Supply-Sub-Main, E-Power-Enclosure…)
– New layer for all luminaires named 'E-Power-Luminaire'
– Corrected symbols for 1P and 3P cable outlets
– Corrected all symbols in e-ClipArt
– Removed superfluous layers in some symbols in e-ClipArt
– Changed default scale factor of all symbols in e-ClipArt
– DEA symbols (cross) are now in WHITE color
– Changed color of almost all symbols (mostly of them in 160)
– Corrected symbols of 3P sockets in protection IP23 and IP54
– Corrected symbols of invertor sockets in protection IP23 and IP54
– Corrected symbol of floor box with two sockets 1P+N+PE IP23
– Corrected symbol of floor box with two telephone sockets
– Insertion of some russian socket is now corrected
– Lighting protection calculation window is redesign
– Added new symbol of wall air condition (internal unit)
– Changed symbol of fan coil
– Following functions has changed its shortcut:
– OSV -> PHO
– TPS -> VDR
– GRO -> LIG
– NIZ -> ARR
– NIZK -> ARR2
– RAM -> FRM
– Added missing symbols (sockets and luminaires) in InfoIt Database
– Loading and start-up time of ePlusMenuCAD is boosted
– Database of ePlusMenuCAD in InfoIt Database is not read only any more. Now is editable (description)
– All symbols in toolbars now has description
– Corrected and supplemented legends of power distribution, sockets and lighting.
– Improved all tables (sockets, luminaires…)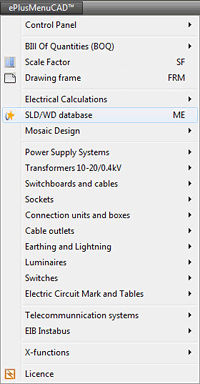 Related electrical guides & articles
Premium Membership
Get access to premium HV/MV/LV technical articles, electrical engineering guides, research studies and much more! It helps you to shape up your technical skills in your everyday life as an electrical engineer.
More Information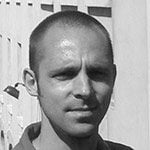 Electrical engineer, programmer and founder of EEP. Highly specialized for design of LV/MV switchgears and LV high power busbar trunking (<6300A) in power substations, commercial buildings and industry facilities. Professional in AutoCAD programming.