Introduction to Fuses
A fuse is the very important protective device used to automatically disconnect a live circuit when a predetermined value of current & or time of predetermined current is exceeded.  To simplify, fuse is actually the wire designed to melt, and thereby open the circuit, if the current exceeds a predetermined value.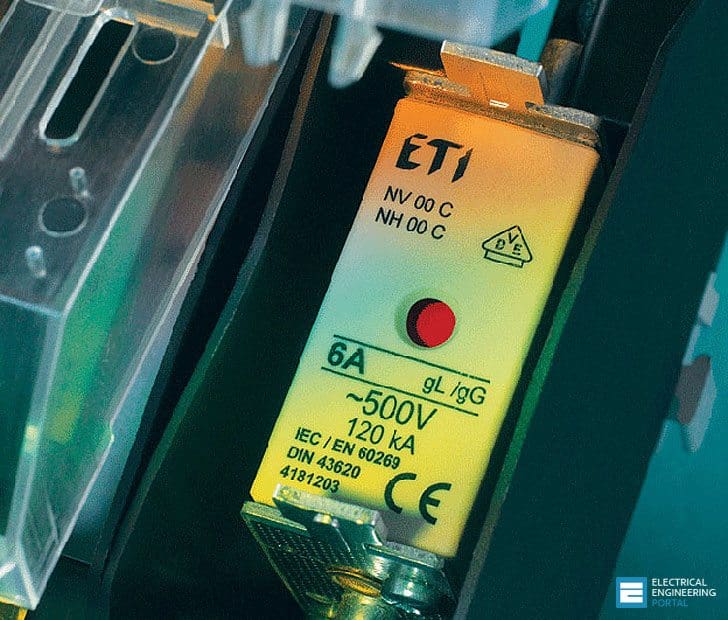 The disconnection mean by fuse is based on the applicable protection philosophies.
Fuses are available in AC and DC circuits from extra low voltages to high voltages. A circuit breaker also does similar type of function as a fuse.
Unlike a circuit breaker, fuse is self-destructive which requires replacement after it
disconnects a circuit
.
Some CBs also perform switching function with or without current flowing in the circuit. A hybrid device is a fused-disconnect switch which has a fuse associated with a load/no-load disconnecting switch (may be group operated or single pole type).
Some fuses provide additional function such as operation indication (dropout, burnt mark, a plunger etc.), driving an aux contact to close, limiting the peak current etc.
General Protection Philosophies in LV System
Based on the application and philosophies, various protection means are applied. The following are general groups on which the protection systems are designed:
1. Prevention of Electric Shocks
Direct contact
Indirect contact
Dealing with Electric shocks due to Direct Contact:
Preventing a current from passing through the human body or any livestock
Limiting the current which can pass through the human body or any livestock to lower than the shock current
Dealing with Electric shocks due to Indirect Contact:
In dealing with protection against indirect contact under single fault conditions, regulations permits the two methods given above for direct contact and additionally automatic disconnection of supply in a determined time on occurrence of a fault which is likely to cause a current to flow through the body in contact with exposed conductive
2. Prevention against Thermal effects
Preventing ignition of flammable material due to heat or arc
Preventing burns to human or livestock
Preventing degradation or impairment of the Equipment
3. Prevention against Over Current
Preventing injury to human or livestock or equipment due to thermal as  well as electromechanical stresses due to the overcurrent.
4. Prevention against Fault Current
Preventing the conductors or any other part carrying Short-circuit from attaining temperature greater than its design value and electrodynamic-withstand levels (peak current).
Prevention against Over Voltages
Preventing the damage to property, equipment, human or livestock due to:
Over voltages which cause faults between circuits supplied at different  voltages
Over voltages which arise due to switching and atmospheric actions.
Fuse Types
Various fuses exist in electric circuits. Our first task is to identify the fuse application and type. There are general three types of fuses found in an electric circuits categorized as follows:
Miniature Fuses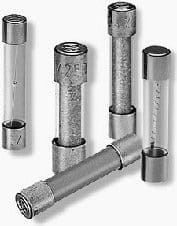 These Fuses are identified as type:
FF (Ultra Rapid)
F or QA or QB (Fast Blow)
M or MD (Medium Blow)
T or SB (Slow Blow)
TT (Ultra Slow)
Bottle Fuses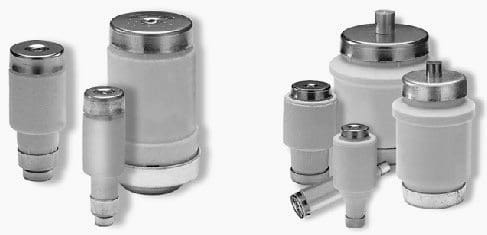 These Fuses are identified as type:
Diazed 500V Fuses, D1 (E16), D11 (E27), D111 (E33)
Neozed 380V Fuses, D01 (E14), D02 (E18)
Silazed Ultra Rapid Fuses, D11 (E27), D111 (E33)
Industrial Fuses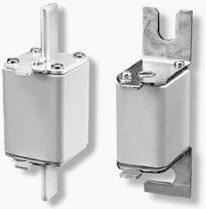 These Fuses are identified as type:
aR, gR or uR (Ultra Rapid)
gL or gG (General Line)
gM (Motor rated general Line)
aM (Motor rated)
gF or gTF (Transformer, Cable Protection)
gB (Mining Fuses)
NH fuses are typically used for distribution applications to large electrical devices such as motors, drives and similar. They are available in seven sizes from 3A to 1600A, but it depends on manufacturer.
NH fuses have knife blades at both ends which mount into one or three pole fuse basis/holder. Fuse holder can be installed on panel or DIN rail.
Operating classes:
gL/gG
Offers protection at every level. Typically used for distribution circuit or resistive loads.
aM
Offers protection for all low voltage motors. Fast acting short circuit protection, but slow acting overload protection.
aR
Semiconductor protection partial range, overload and short circuit protection for devices such as diodes, SCRs etc.
gR
Semiconductor protection, full range overload and short circuit protection for devices such as diodes, SCRs etc.
Fuse Current Ampere Rating
Generally, a fuse current rating shall not be less than the full load rating of the  circuit it is protecting.
Overloads or overcurrents if occur frequently will degrade the fuse performance  and hence there shall be clear idea of overloads which occur frequently or infrequently.
Overcurrents typically occur in motor circuits, charging (energizing) a reactive equipment like:
Capacitor,
Shunt Reactor,
Transformer etc.
Overloads occur due to diversity in loads (based on max load, connected load or contingency loads, increased loads, process jams, mechanical failures etc.). some overcurrents or overloads are requires the circuits to be disconnected, while others may be transient requiring fuses to ride through them (in coordination with some other protective device upstream or downstream).
Obviously, upstream device operation before the fuse is designed to enhance interruption capability.
How It's Made Fuses? (VIDEO)
Resource: Low Voltage Systems and Protective Fuses in Commercial and Industrial Systems – S.R. Javed Ahmed