Gas insulated substation (GIS) design
The metal-enclosed gas insulated switchgear> inherently follows the criteria for new substation design and offers a higher reliability and flexibility than other solutions. Due to the gas enclosed design, GIS is the most suitable solution for indoor and underground substations.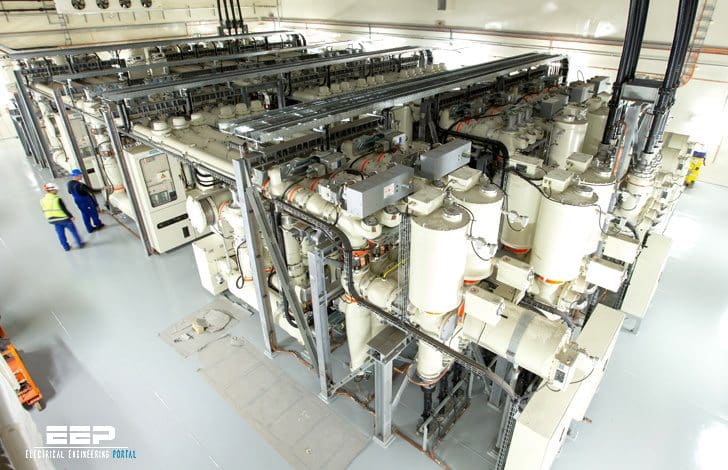 In outdoor and hybrid substations, the occupied area is tremendously reduced by using GIS technology!
GIS configurations can be applied to any type of bus bar arrangements:
Single busbar,
Double busbar,
Single busbar with transfer bus,
Double busbar with double circuit breaker,
One and a half circuit breaker scheme and
Ring busbar.
More about switching configurations you can read here. Figure 2 shows the layout of a GIS substation based on single line diagram in Figure 1.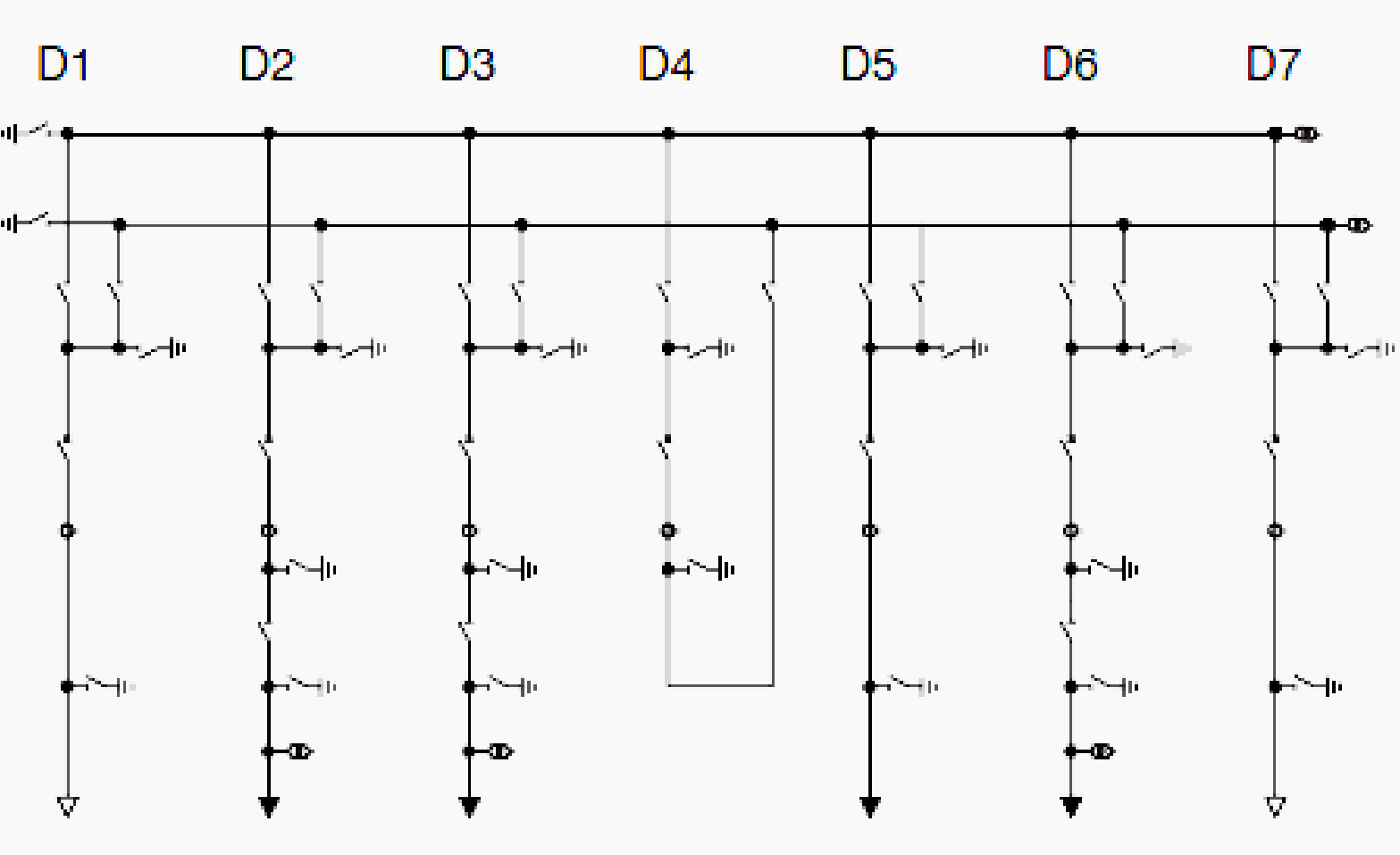 In Figure 2 it may be observed how the compact design of GIS reduces substation area tremendously (at least 70%) compared to the same AIS configuration! This fact allows GIS to become the choice of preference for indoor and underground substation.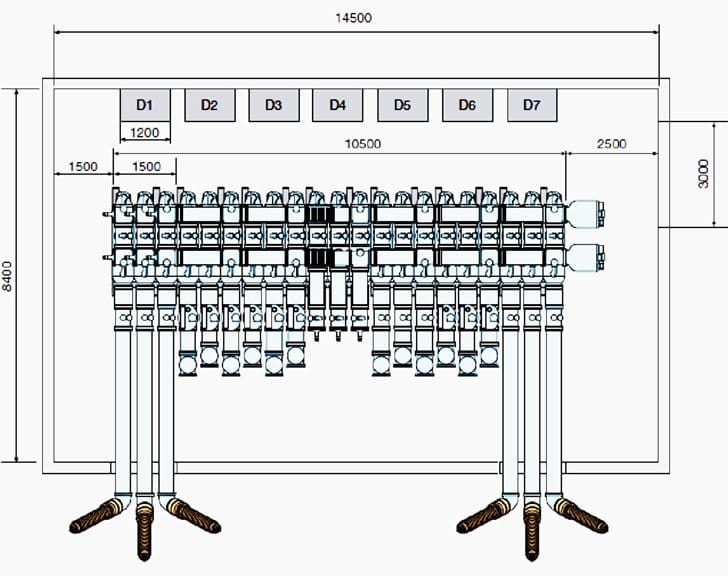 For a better appearance, an underground GIS substation can be design with an aesthetic view that hides its presence. The existence of a substation could be designed so that it cannot even be recognized, such as given in example in Figure 2.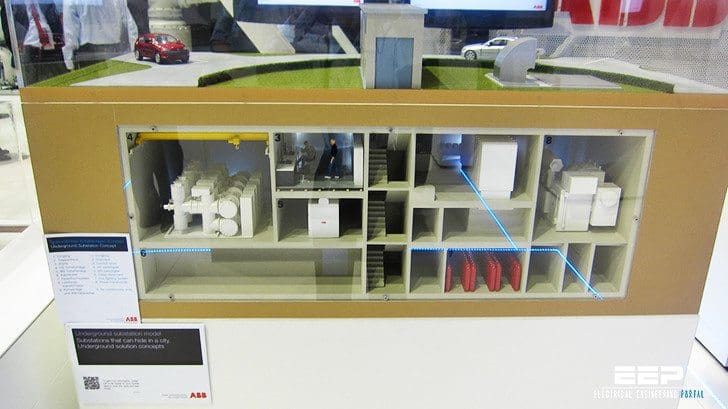 GIS performs the same function as AIS. The compact and metal-enclosed design of GIS has prominent advantages and better performance than AIS. However, the high initial investment is a key obstacle in expanding the application of GIS.
In remote or rural area, industrial areas or in developing countries, AIS is still the best choice. In places where the cost of land or cost of earthworks is high or where the sceneries cannot be disturbed by AIS, the solution is to use underground or indoor GIS.
Different type of substations has different advantages which come from its components and design. The characteristics of GIS and AIS are given in the following table.
Design characteristic of GIS and AIS
Characteristics

Air Insulated Switchgear 

Gas Insulated Switchgear

AIS

Dead tank

HIS

GIS

Type of installation
Outdoor
Outdoor
 Outdoor
 Indoor
Metal-encapsulated circuit breaker
–
x
X
 x
Metal-encapsulated disconnector
–
–
X
 x
Metal-encapsulated earthing switch
–
–
X
 x
Busbar
Air insulated
Air insulated
 Air insulated
 Gas insulated
SF6 insulated current transformer
–
–
X
 x
SF6 insulated voltage transformer
–
–
X
 x
Direct cable or SF6/oil termination
–
–
X
 x
From the table, the difference in design characteristics may be observed. As may be noted, the GIS designs are supposed to be applied where one or more of the following features are desirable:
Limited space,
Extreme environmental conditions,
Required low environmental impact and
Less maintenance.
The low failure rate of GIS is also a prominent advantage. But the
outage time
(56 hours),
double outage time of AIS (25 hours)
, is one of the disadvantages.
Economics – Life cycle cost (LCC) comparison
Regarding economics, initial capital investmentis not enough to evaluate the overall substation project. Life Cycle Cost (LCC) should be considered, including primary hardware cost, maintenance cost, operation cost, outage cost and disposal costs.
The LCC comparison of AIS and GIS is as follows:
1. Primary hardware
Primary hardware for primary equipment, GIS is more expensive than AIS. However, the price of auxiliary equipment such as support, conductors, land, installation, control, protection and monitoring can lead to a cost difference between the two systems being small.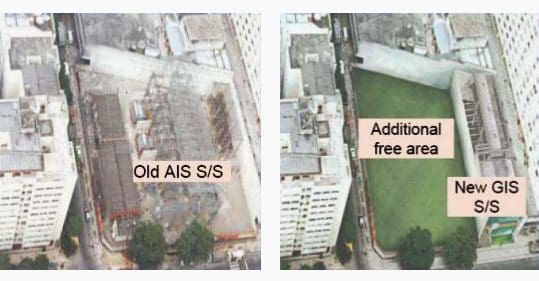 2. Maintenance
The failure rate of circuit breaker and disconnecting switch in GIS is one-fourth of that of AIS and one tenth in case of busbar, thus the maintenance cost of GIS is less than that of AIS over the lifetime.
3. Operation cost
The maintenance cost of GIS and AIS shall be equivalent. The cost for training in GIS is higher than in AIS.
4. Outage cost
Since the failure rate of GIS is lower, the outage cost of AIS shall be greater.
5. Disposal cost
The cost of decommissioning and disposal after use should be capitalized. The value of future expense must be taken into account.
The general conclusion about the LCC advantages of AIS versus GIS cannot be easily reached. Hence it can only be determined in specific project. An example below illustrates the LCC comparison. In this example, GIS and AIS use H-configuration with three circuit breakers.
Figure 4 shows the design of AIS and GIS solutions.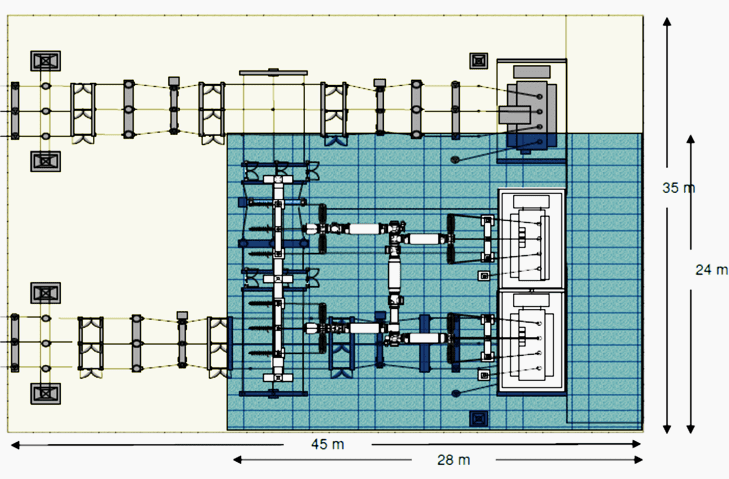 Table 2 – LCC evaluation of AIS and GIS (based on calculation conducted by a utility)
Life Cycle Cost

Air insulated substation
(AIS)
Gas insulated substation
(GIS)
Planning and Engineering
100%
80%
Real estate
100%
40%
Primary equipment
 100%
120%
Secondary equipment
 100%
 100%
Earthwork, civil work, structures
 100%
60%
Electrical assembly and erection
 100%
 70%
Maintenance
 100%
50%
Outage
 100%
50%
LCC after 10 years
 100%
Max 70% 
The latest GIS technology has less environmental impact than previous technology. The SF6 leakage rate is less than 1% (in experiment <0.5%). Due the design characteristics, GIS has a better impact on environment than AIS.
Table 3 – Environment impact comparison of AIS and GIS
| | | |
| --- | --- | --- |
| | AIS | GIS |
| Primary energy consumption | 100% |  73% |
| Area requirement | 100% | 14% |
| Acidification potential | 100% | 81% |
| Greenhouse potential | 100% | 79% |
| Nitrification potential | 100% | 71% |
As observed, GIS offers many prominent advantages over AIS. It meets all requirements for new substation design, except high initial investment and potential environmental risk.
This disadvantage and the ever increasing environmental awareness become the drivers for a new generation of GIS that complies with future green field substation criteria.
Substation GIS Overview (VIDEO)
Reference // The 21st Century Substation Design by Mladen Kezunovic, Ph.D., P.E. (Power Systems Engineering Research Center)