Grounded systems are equipped with a grounded conductor that is required per NEC Section 250- 23(b) to be run to each service disconnecting means. The grounded conductor can be used as a current-carrying conductor to accommodate all neutral related loads.
It can also be used as an equipment grounding conductor to clear ground faults per NEC Section 250-61(a).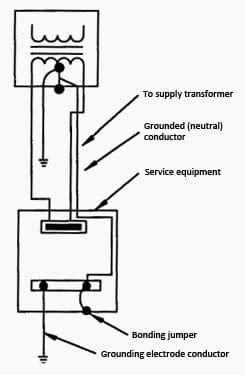 A network of equipment grounding conductors is routed from the service equipment enclosure to all metal enclosures throughout the electrical system. The equipment grounding conductor carries fault currents from the point of the fault to the grounded bus in the service equipment where it is transferred to the grounded conductor. The grounded conductor carries the fault current back to the source and returns over the faulted phase and trips open the overcurrent protection device.
Note: A system is considered grounded if the supplying source such as a transformer, generator, etc., is grounded, in addition to the grounding means on the supply side of the service equipment disconnecting device per NEC Sections 250-23(a) or 250-26 for seperately derived systems.
The neutral of any grounded system serves two main purposes: (1) it permits the utilization of lineto-neutral voltage and thus will serve as a current-carrying conductor to carry any unbalanced current, and (2) it plays a vital role in providing a low-impedance path for the flow of fault currents to facilitate the operation of the overcurrent devices in the circuit. (See Figure 1.)
Consideration should be given to the sizing of the neutral conductor for certain loads due to the presence of harmonic currents (See NEC Sections 210-4 and 310-10).
SOURCE: DOE HANDBOOK – ELECTRICAL SAFETY