NEMA AB 4 and MCCB maintenance
The need for inspection of molded case breakers (MCCB) will vary depending on operating conditions. Suggested inspection and testing is defined in ANSI/NEMA AB 4, Guidelines for Inspection and Preventive Maintenance of Molded Case Circuit Breakers Used in Commercial and Industrial Applications.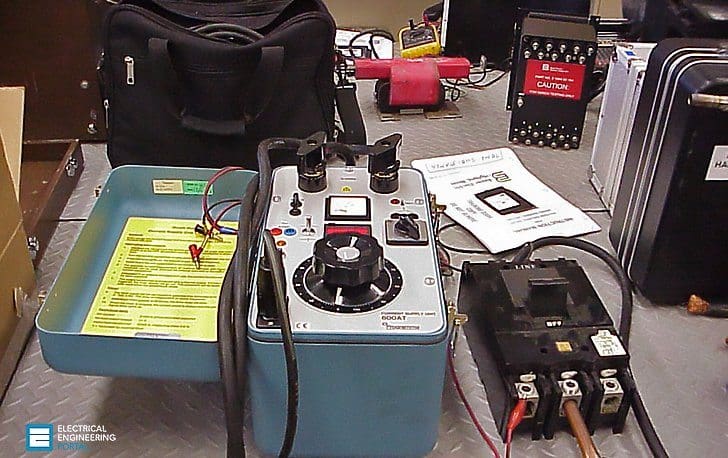 As part of these guidelines, AB 4 also provides some basic procedures for the inspection and maintenance of molded case circuit breakers, by qualified persons.
The NEMA AB 4 document has the following MCCB inspections and test procedures listed and explained in details //
Inspection of MCCB enclosure
Preventative maintenance //

Environmental evaluation
Interchangeable trip units
Wire connectors and connections

Mechanical operation tests
Insulation resistance tests
Individual pole resistance test (Millivolt drop test)
Inverse time overcurrent trip test (Overload current injection test)
Instantaneous overcurrent trip test (High current injection test)
Rated hold-in test (Full load injection test)
Accessary device tests //

Shunt trip release
Undervoltage trip release
Electrical operator breaker assembly
Auxiliary switch
Alarm switch
But, generally, maintenance on molded case circuit breakers (MCCB) is limited to three basic actions:
Proper mechanical mounting,
Electrical connections, and
Periodic manual operation
Most lighting, appliance, and power panel circuit breakers have riveted frames and are not designed to be opened for internal inspection or maintenance. All other molded case circuit breakers, that are UL approved, are factory-sealed to prevent access to the calibrated elements. An unbroken seal indicates that the mechanism has not been tampered with and that it should function as specified by UL.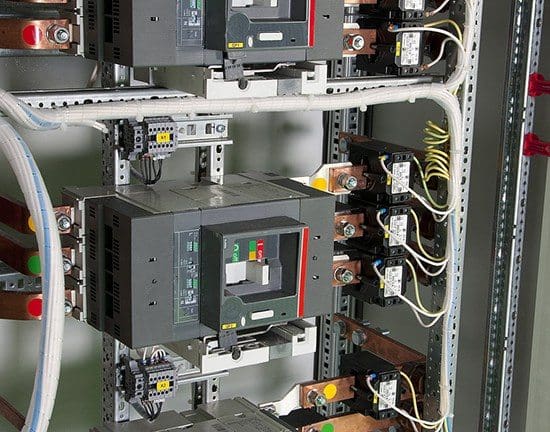 A broken seal voids the UL listing and the manufacturers' warranty of the device. In this case, the integrity of the device would be questionable. The only exception to this would be a seal being broken by a manufacturer's authorized facility.
Molded case circuit breakers receive initial testing and calibration at the manufacturers' plants. These tests are performed in accordance with UL 489, Standard for Safety, Molded Case Circuit Breakers, Molded Case Switches and Circuit Breaker Enclosures. MCCB, other than the riveted frame types, are permitted to be reconditioned and returned to the manufacturer's original condition. In order to conform to the manufacturer's original design, circuit breakers must be reconditioned according to recognized standards.
Circuit breakers installed in a system are often forgotten. Even though the breakers have been sitting in place supplying power to a circuit for years, there are several things that can go wrong.
The circuit breaker can fail to open due to a burned out trip coil or because the mechanism is frozen due to dirt, dried lubricant, or corrosion. The overcurrent device can fail due to inactivity or a burned out electronic component.
Many problems can occur when proper maintenance is not performed and the breaker fails to open under fault conditions. This combination of events can result in fires, damage to equipment, or injuries to personnel.
Common sense, as well as manufacturers' literature, must be used when maintaining circuit breakers. Most manufacturers, as well as NFPA 70B, recommend that if a molded case circuit breaker has not been operated, opened or closed, either manually or by automatic means, within as little as six months time, it should be removed from service and manually exercised several times.

This manual exercise helps to keep the contacts clean, due to their wiping action, and ensures that the operating mechanism moves freely. This exercise however does not operate the mechanical linkages in the tripping mechanism (Figure 1).
The only way to properly exercise the entire breaker operating and tripping mechanisms is to remove the breaker from service and test the overcurrent and short-circuit tripping capabilities.
A stiff or sticky mechanism can cause an unintentional time delay in its operation under fault conditions. This could dramatically increase the arc/flash incident energy level to a value in excess of the rating of personal protective equipment.
Another consideration is addressed by OSHA in 29 CFR 1910.334(b)(2) which states:
"Reclosing circuits after protective device operation. After a circuit is deenergized by a circuit protective device, the circuit may NOT be manually reenergized until it has been determined that the equipment and circuit can be safely reenergized. The repetitive manual reclosing of circuit breakers or reenergizing circuits through replaced fuses is prohibited.
NOTE: When it can be determined from the design of the circuit and the overcurrent devices involved that the automatic operation of a device was caused by an overload rather than a fault condition, no examination of the circuit or connected equipment is needed before the circuit is reenergized.
The safety of the employee manually operating the circuit breaker is at risk if the short circuit condition still exists when reclosing the breaker.
OSHA no longer allows the past practice of resetting a circuit breaker one, two, or three times before investigating the cause of the trip. This previous practice has caused numerous burn injuries that resulted from the explosion of electrical equipment. BEFORE resetting a circuit breaker, it, along with the circuit and equipment, must be tested and inspected, by a qualified person, to ensure a short circuit condition does not exist and that it is safe to reset the breaker.
Any time a circuit breaker has operated and the reason is unknown, the breaker, circuit, and equipment must be inspected for a short circuit condition. Melted arc chutes will not interrupt fault currents. If the breaker cannot interrupt a second fault, it will fail and may destroy its enclosure and create a hazard for anyone working near the equipment.
To further emphasize this point the following quote is provided:
"After a high level fault has occurred in equipment that is properly rated and installed, it is not always clear to investigating electricians what damage has occurred inside encased equipment. The circuit breaker may well appear virtually clean while its internal condition is unknown. For such situations, the NEMA AB4 'Guidelines for Inspection and Preventive Maintenance of MCCBs Used in Commercial and Industrial Applications' may be of help. Circuit breakers unsuitable for continued service may be identified by simple inspection under these guidelines. Testing outlined in the document is another and more definite step that will help to identify circuit breakers that are not suitable for continued service.
After the occurrence of a short circuit, it is important that the cause be investigated and repaired and that the condition of the installed equipment be investigated.
A circuit breaker may require replacement just as any other switching device, wiring or electrical equipment in the circuit that has been exposed to a short circuit. Questionable circuit breakers must be replaced for continued, dependable circuit protection."
The condition of the circuit breaker must be known to ensure that it functions properly and safely before it is put it back into service.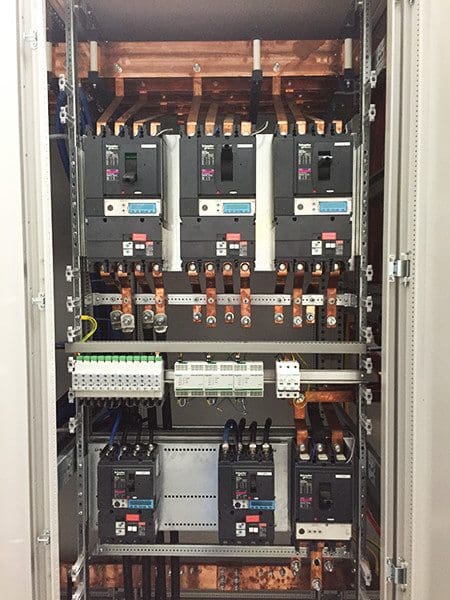 References //
Preventive maintenance and reliability of low voltage overcurrent protective devices by Michael Callanan, Dennis K. Neitzel and Dan Neeser
NEMA AB 4 – Guidelines for inspection and preventive maintenance of molded case circuit breakers used in commercial and industrial applications