High potential "Hi-Pot" DC testing
This technical article provides general guidelines for high potential "Hi-Pot" DC testing of MV power cables. All tests made following cable installation and during the warranty period must be performed in accordance with the applicable specifications.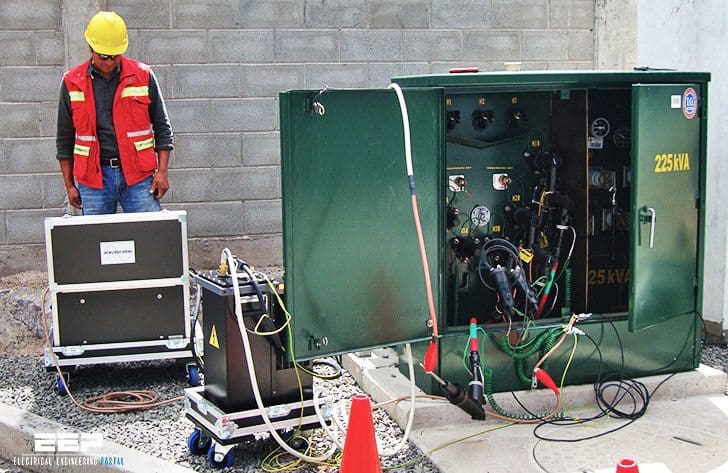 Testing should be performed by qualified personnel taking all appropriate safety precautions. The responsible safety officer should be consulted regarding the equipment and the appropriate personnel protection requirements.
IMPORTANT NOTE //
The significance of performing DC high voltage tests on non-shielded, non-metallic sheathed cable is dependent upon the environment in which it is installed
because the characteristics of the return circuits are unknown
. The environment must be carefully considered or the test results may not be significant.
In fact,
these tests can result in damage to the cable insulation
.
Humidity, condensation and actual precipitation on the surface of a cable termination can increase the leakage current by several orders of magnitude.
Humidity also increases the corona current, which is included in the total leakage current. Wind prevents the accumulation of space charges at all bare energized terminals. This results in an increase of corona. It is desirable to reduce or eliminate corona current at the bare metal extremities of cable or terminations. This may be accomplished by covering these areas with plastic envelopes, plastic or glass containers, plastic wrap, or suitable electrical putty.
Let's see now the general guidelines for high potential (Hi-Pot) DC testing of medium voltage cables:
1. Pre-test guidelines
a. Testing equipment
Direct current test equipment is commercially available with a wide range of voltages. The Operator's Manual for the particular test set being used should be read and well understood.
Accessory equipment necessary to safely conduct high voltage tests such as safety barriers, rubber gloves, non-conducting hard hats, and, where necessary, arc ash protection must be used.
b. Recommended testing procedures
Acceptable procedures for conducting Hi-Pot testing, although varying slightly in technique, have been standardized as either a "withstand test" or a "time-leaking current test". IEEE Std 400 provides additional information on DC testing and evaluation of the insulation of shielded power cable systems.
c. Preparation for testing
Before conducting any Hi-Pot testing, the following steps should be taken.
All equipment, such as transformers, switches, taps, motors, circuit breakers, surge arrestors, etc., must be disconnected from the cable circuit to prevent damage to equipment and will prevent test interruptions due to flashovers or trip-outs resulting from excessive leakage current.
Provide adequate clearance (about 2.5 ft) between the circuit test ends and any grounded object, and to other equipment not under test.
Ground all circuit conductors not under test including the cable shields and nearby equipment.
Test equipment should be supplied from a stable, constant voltage power source. Do not use the same source that is supplying arc welders or other equipment that may cause line voltage fluctuations! The output voltage of the test set must be filtered and regulated. The use of a portable, motor driven alternator to provide power to the test set is recommended.
Go back to Hi-Pot DC testing procedures ↑
2. Hi-pot testing procedures
The DC test voltage may be applied either continuously or in predetermined steps up to the maximum value in accordance with the applicable specifications.
a. Continuous method
The test voltage is applied at an approximate rise rate of 1 kV per second or 75% of the rated current output of the equipment, whichever is less. Some equipment will take longer to reach the maximum test voltage because of the amount of charging current.
b. Step method
The test voltage is applied slowly in 5 to 7 increments of equal value up to the maximum specified. Allow sufficient time at each step for the leakage current to stabilize.
c. Recommended testing procedure
Maintain the test voltage at the prescribed value for the time specified in the applicable specifications. At the end of the test period, set the test set voltage to zero, allow the residual voltage on the circuit to decay, disconnect the power supply and then ground and "drain" the conductor just tested.
After testing, maintain solid grounds on the cable for at least 4 times the duration of the test since DC charges can build up on the cable to potentially dangerous levels if grounds are removed too quickly.
On exceptionally long cable lengths, it may be necessary the increase the grounding time. It is also advantageous to maintain these grounds longer and while reconnecting circuit components.
Go back to Hi-Pot DC testing procedures ↑
c.1. Acceptance testing
Acceptance testing is performed to detect any defects in cable insulation and terminations which may have resulted from poor workmanship or mechanical damage. This proof test confirms the integrity of the insulation and accessories before the cable is placed into service.
After installation and before the cable is placed in regular service, the test voltages specified in Table c.1. should be applied for 15 consecutive minutes. Record the leakage current at one minute intervals for the duration of the test.
Table c.1. – ICEA dc Field Test Voltages
ICEA S-97-682 Utility Shielded Power Cables Rated 5,000-46,000 Volts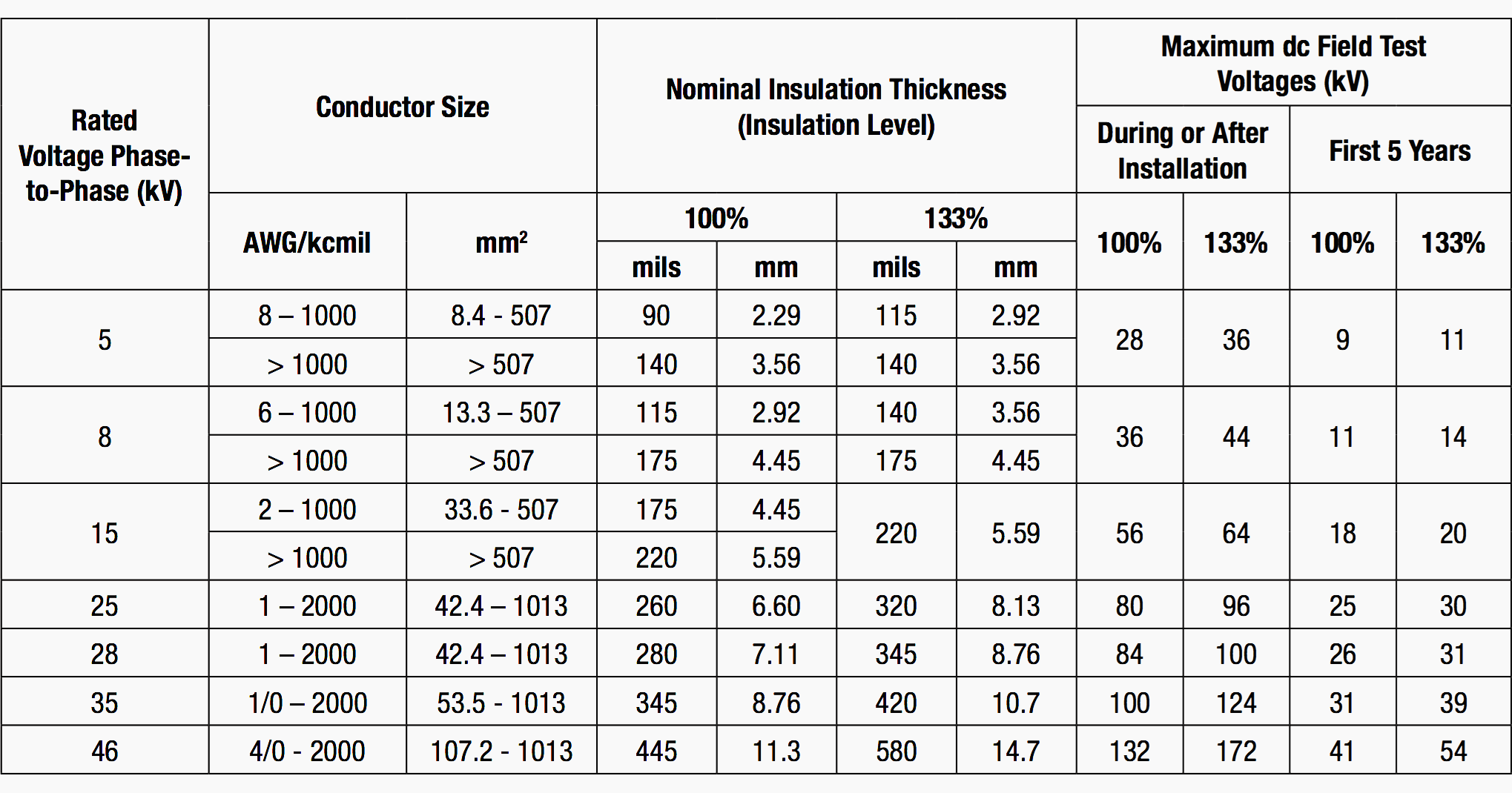 Go back to Hi-Pot DC testing procedures ↑
c.2. Maintenance testing
At any time during the warranty period, the cable circuit may be removed from service and tested at a reduced voltage (normally 65% of the original acceptance value) for 5 consecutive minutes. Record the leakage current at one minute intervals for the duration of the test.
Routine periodic DC maintenance testing of cables for the evaluation of the insulation strength is not a common practice.

Some power cable users, particularly in the continuous process industries, have adopted a program of testing circuits during planned outages, preferring breakdowns during testing rather than experiencing a service outage during regular operations.
It is nearly impossible to recommend test voltage values for maintenance testing without having a history of the cable circuit. An arbitrary test voltage level could result in a cable failure in a circuit that would otherwise have provided long trouble-free service at normal operating ac voltage.
Periodic off-line partial discharge testing at very low frequencies (VLF) is a diagnostic method for monitoring the insulation degradation of medium voltage cable. This type of testing is discretionary and generally not recommended.
Go back to Hi-Pot DC testing procedures ↑
3. Common testing problems
Some common problems that may be encountered during testing are listed below.
Extra leakage current:
Failure to guard against corona
Failure to clean insulation surface
Failure to keep cable ends dry
Failure to provide adequate clearance to ground
Failure to isolate the cable from other equipment
Improper shield termination
Erratic readings:
Fluctuating voltage to test set
Improper test leads
Environmental influences:
High relative humidity
Dampness, dew, fog
Wind, snow
No correlation has yet been established between DC test results and cable life expectancy.
Go back to Hi-Pot DC testing procedures ↑
4. Fault locating
Time Domain Reflectometer (TDR) units are portable commercially available devices which can be used in the field to locate some types of conductor breaks or shorts. They connect to the end of the cable and echo back when an open, short or tap is encountered. The device can usually locate faults within ± 2 in. of the cable length.
However, TDRs are only capable of locating breaks or shorts having an impedance different than that of a cable. For most cables shorts having a resistance of less than a few ohms and opens having a resistance greater than several hundred ohms splices, taps, etc sometimes distort the echo and can mask the fault.
Nevertheless, the method is nondestructive and is used successfully on faults having characteristics within the capabilities of the method. Note that the conductor may be in a low voltage or medium voltage cable, shielded or non-shielded, or it may even be the shield.
Go back to Hi-Pot DC testing procedures ↑
5. Testing checklist
Safety – Follow test equipment supplier's instructions. Operators should be familiar with the test equipment. Stay clear of energized cable ends. Ensure that shields are grounded! Insulated conductors are capacitors.
Voltages – Check cable and termination manufacturer's guidelines.
Records – Keep detailed records and provide copy to owner.
Go back to Hi-Pot DC testing procedures ↑
Reference // Cable Installation Manual for Power and Control Cables by General Cable