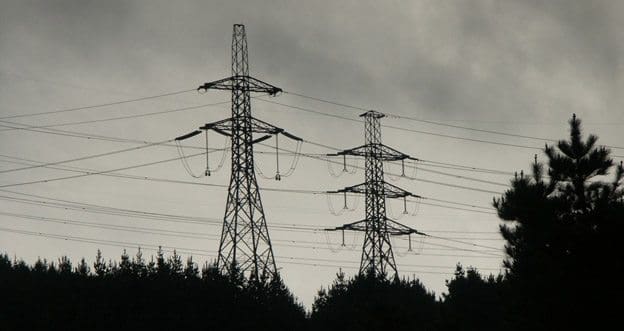 The corona discharge produces radio noise and in lesser extent television ( TV ) disturbances around high-voltage transmission lines. This can be easily observed by all of us when we drive under a high-voltage line. The radio produces hissing, crackling noise close to the line or under the line, but disturbance diapering fast as we drive away from the line crossing the highway.
In a similar way, TV picture disturbance can be observed close to a transmission line. The disturbance varies from the snowy picture to the collapse of the picture.
The corona discharge causes short duration (few microseconds) repetitive current pulses. The repetition frequency can be in the MHz range. As was discussed before, the corona discharge is low in fair weather and increases rapidly in foul weather.
The most severe EMI
disturbance
was observed during heavy rain, when the water droplets on the conductor caused corona discharge.
Additional sources of the EMI disturbance are discharge in faulty insulators or discharge generated by spikes, needles, and other sharp objects subjected to electric field. The sharp object produces an increase in the local electric field, which can lead to surface discharge. This discharge can produce EMI and unacceptable disturbances of local TV or radio reception. The generated EMI disturbance decreases w ith the distance from the line.
Typically, a 100 MHz signal decreases about 20 dB if we move 100 m from the line; simultaneously, a 1 MHz components attenuation is around 35-40 dB in the same distance.
The radio and TV noise is measured in dB; the base is 1 m V=m.
The actual disturbance depends on the signal-to-noise ratio. As an example, the same level of EMI disturbance can produce an unacceptable radio or TV reception if the broadcasted signal is weak, and no distur bance in case of strong signal.
SOURCE: ELECTRIC POWER SUBSTATIONS ENGINEERING