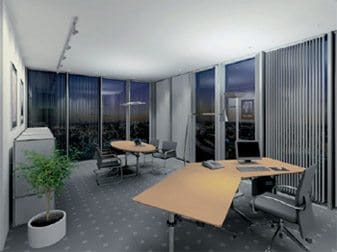 Technological development has focused primarily on such things as the fluorescent lamp and the ballast and has chiefly been geared to boosting their luminous efficacy.
The chart "Milestones to energy conservation with modern lighting" shows how much has been achieved in reducing power requirements.
The first breakthrough came with the development of new low-loss ballasts (LLBs); then electronic ballasts (EBs) appeared on the scene. In a parallel development, the three-band fluorescent lamp made its debut in the market, joined later by a slimline design with a 16 mm diameter.
[pullquote_right]Lamps with high luminous efficacy, electronic operating gear, luminaires optimised for optical control, daylight utilisation and lighting management make for energy-efficient lighting and thus help reduce CO2 emissions.[/pullquote_right]
Luminaires
A luminaire is efficient if it has a high light output ratio and if its intensity distribution curve is tailored to the application. Highgrade materials and a high standard of workmanship improve a luminaire's light output ratio and, moreover, extend its useful life.
Efficiency potentials
Modern lighting technology offers considerable potential for increasing efficiency and thus conserving energy. The chart "Efficiency potentials of modern technology" shows a comparative overview of the savings that can be achieved by various means. Presence control systems switch lights off when no one is in the room. Dimming to the maintained illuminance value enables significant energy savings to be made, especially with new lighting installations.
The greatest economies are achieved by optimal application of each individual measure. Where measures are combined, lighting system efficiency is enhanced even more.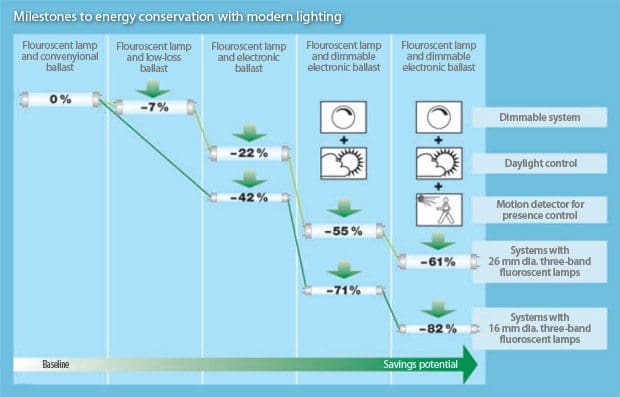 Daylight utilisation
The greatest savings can be achieved by harnessing the daylight available in a room: artificial lighting is activated or slowly and gradually made brighter only when the available daylight is not sufficient. If daylight incidence suffices to meet visual requirements in the work zone, the artificial lighting can even be switched off completely.
The less artificial lighting is used, the greater the energy savings and the lower the CO2 emissions. Daylight-dependent regulation systems are generally designed to maintain a constant lighting level by adjusting artificial lighting in response to changes in the incident daylight component. This can be done in various configurations: the options range from simple regulation of individual luminaires through regulation of luminaire groups in a system to lighting management systems and integration of lighting in a building management system.
Natural light comes free of charge. But it is not quite right to say that incident daylight costs nothing – because the structural measures needed to admit it all have a price. Apart from that, additional measures are often necessary to provide thermal insulation and guard against glare. Lighting management systems for dosing daylight and artificial lighting are also somewhat more expensive to buy than a non intelligent lighting installation. However, the extra outlay is quickly recouped.
Energy pass
In October 2007, an energy pass was introduced under the Energy Saving Ordinance (EnEv 2007) to promote economies and cut CO2 emissions. For the first time, this considers the total energy consumption of a building including lighting (applies to nonresidential properties). The basis for calculation is the method set out in DIN V 18599 "Energy efficiency of buildings – Calculation of the net, final and primary energy demand for heating, cooling, ventilation, domestic hot water and lighting".
Part 4 deals with the net and final energy demand for lighting.
Lighting quality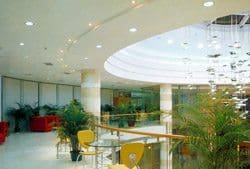 It is important to save energy. However, economy drives should not impact on lighting quality.
This is why artificial lighting – and daylight as well, incidentally – needs to be evaluated on the basis of lighting quality features. Lighting has to cater to human needs, so wherever it is required it needs to be planned.
The workplace is not the only place where lighting needs to be tailored to requirements, meet high visual ergonomic standards, promote a sense of wellbeing and be good for our health.
RESOURCE:
Licht.de
– Lighting with Artificial Light