Offshore Wind Farms
The demand for the power is increasing day by day. The only one solution for this is to use the renewable sources of energy like wind, solar, water etc. Among this wind can produce major amount of power.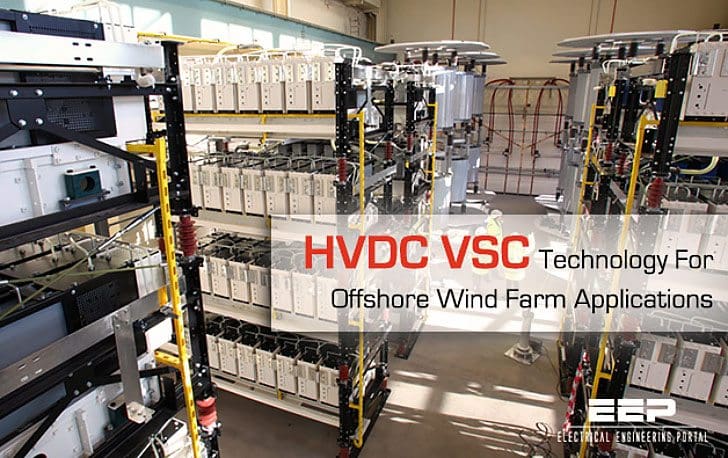 Since the wind farm requires a lot of space and adequate amount of wind, it's much challenging to find out such a place in shore because of increasing population and civilization needs in general.
This compell us to make use of offshore wind farms.
A substantial amount of energy is being generated by harnessing the power of offshore wind. However, there are still challenges in bringing the power from the offshore wind farm to the shore and then to the utilites.
The size of the wind farm varies from 400 MW and 1200 MW and thier distance from shore is between 50 and 400 km.
Technologies
There are three different technologies in focus, and I will take a close look up on the third one – HVDC VSC.
HVAC (High voltage AC)
HVDC LCC (High voltage DC with line commutated converters)
HVDC VSC (High voltage DC with voltage source converters)
HVDC VSC in general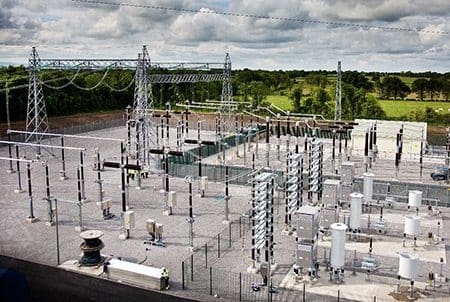 HVDC transmission based on VSC is a relatively a new technology since it uses IGBTs (Insulated Gate Bipolar Transistor). Major companies that promote HVDC VSC are ABB and Siemens. HVDC VSC is prompted as HVDC light by ABB and as HVDC Plus by Siemens.
The major components of HVDC VSC based transmission for offshore wind farms are:
Converter Stations (Both offshore and Onshore)
Cable pair (Polymeric extruded cables)
HVDC VSC Converter Station
The scheme of the VSC Converter Station is shown in the figure below. The important component of the system is VSC unit. In this unit AC converts to DC and vice-versa. Conversion takes place.
It uses IGBT so that it can reach high level of converted power due to evolution of semiconductor technology. As the switching frequency increases the number of harmonics also reduces thus the number of filters. But it increases the power losses and inefficiency of the system.
A transformer connects the AC system to the converter in order to step up the voltage to the level of the VSC input side. The transformer also provides an reactance in between AC system and VSC system so that the zero frequency current flow is prevented between AC system and Converter.


A lot of filters are used in both sides in order to reduce the harmonics in the system thus to improve overall performance of the system.
Where:
VSC converter station circuit breaker
System side harmonic filter
AC side Radio Frequency Interference filter
Interface transformer
Convemr side harmonic filter
HF-blocking filter/phase reactor
VSC unit
VSC dc capacitor
DC harmonic filter
Neutral point grounding branch filter
DC reactor
Common mode blocking reactor
DC side Radio Frequency Interference
DC cable or overhead transmission line
An auxillary power supply system is needed in the offshore side in order to provide supply to the cooling system, air conditioning system,contol and protection devices.
HVDC VSC Multi-Level Converter Topology
An HVDC plus power station consists of:
Gas Insulated Switchgears.
Standard AC Transformers.
Control and Protection Systems.
Sea Water cooling system for offshore applications.
Modular Multilevel converters.
An HVDC converter plus consists of three phase units. Each phase units consists of two converter arms, with converter module and reactor. Each converter module consists of large number of power modules connected in series mainly IGBT.
http://www.youtube.com/watch?v=BXksGI0j_xw&w=628&h=353
Cant see this video? Click here to watch it on Youtube.
Power module comprise of 2 IGBTs, DC storage elements and power module electronics. So redundancy is ensured.
Conventional two and three level converters generates rectangular waveforms. This produces much harmonics and stresses in all the components.
An extensive filtering and smoothening techniques needed to get a perfect sinusoidal waveform.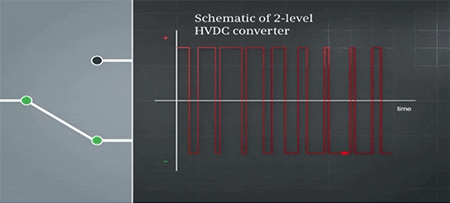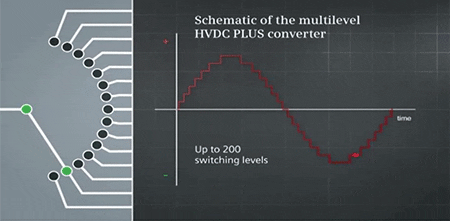 Cables
Extruded polymeric insulated cables are used instead of oil filled cables to get better thermal characteristics. The extruded cables have good mechanical flexiblity and they can be installed also at high depth submarine applications.


Download HVDC VSC Topology.dwg
Advantages of HVDC VSC Systems
Independant control of active and reactive power in each converter station is possible, offshore and onshore.
In the offshore station, reactive power can be generated to supply wind turbines and the injection of the active power in the transmission can be controlled. In the onshore station,reactive and active power can be varied in order to control voltage and frequency variations in the AC Network.
A windfarm can create problems if it is connected to the weak grids due to the variations of the wind and the produced power.
These problems can be solved if the control of active and reactive power is achieved. So connection of the system to a weak grid is possible.
Converters capacitor banks or STATCOMs
The valves in the converter station require reactive power so it is necessary to include in design of the converters capacitor banks or STATCOMs. STATCOMs are designed with VSC technology and they improve the operation of the converters station due to their function to generate or consume reactive power.
Possible to function as STATCOM supplying or consuming reactive power without absorption or generation of active power.
This feature is important if the voltage level at one end of the transmission system is to be controlled.
No contribution to short circuit current
The fault in the Grid side do not drastically effect the DC side.If AC systems has ground fault or shor circuits,whereupon the AC voltage drops,the DC power transmitted is automatically reduced to a predetermined value.
Reduced risk of commutation failures.
The disturbances in the ac system can lead to commutaton failures in classic HVDC systems.The HVDC VSC uses self commutating semiconductor 

devices,the impact of high voltage variations are no longer valid. This 

sgnificantly reduces the risk of commutation failures. 

Communication not needed
The control system used in converter side and inverter side can operate independantly.They do not need telecommunication.This improves the speed and reliablity of the controller.
The system is easier to design and more compact than LCC station since fewer componets are required.
There is no need of STATCOMs or capacitor banks and fewer filters are installed in VSC Converters.
The cost
For this reason the size of the offshore platform that is required to host the VSC converter station is smaller compared to LCC solutions. So economic wise the cost for constructing the offshore platform is dramatically reduced.
Disadvantages of HVDC VSC Systems
This is economical when the distance and the power need to transmit is more.
To avoid losses in transmission high voltages are adopted so that the IGBTs are connected in series and an adaptive gate triggering is needed.
Current capability of IGBTs
The single IGBTs has maximum turn off current of 4000 A effectively giving 1800A DC transmission. Multi-level inverter topologies without series connecton of IGBTs are under research. Although, extra equipment is needed to handle fault scenarios.
Auxiliary power is needed for cooling, air conditioning , control and protection devices.
References:
Ecconomic comparison of HVAC and HVDC solutions for large offshore windfarms
Siemens HVDC Plus VSC
ABB HVDC Light VSC