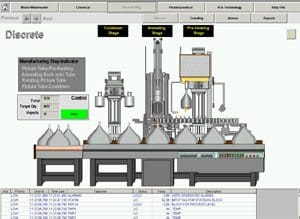 iFIX offers a robust SCADA engine, rich set of connectivity options, open architecture and highly scalable and distributed networking model. Used in a variety of applications across diverse industries, it is ideally suited for applications as simple as typical HMI applications such as manual data entry and validation to very complex SCADA applications like batching, filtration and distributed alarm management.
It also complies with industry standards-making it ideal as part of more IT-focused real time data management system.
Providing a window into your total operations cycle, iFIX enables faster, better intelligent control and visibility into your operations.
Failover And Database Synchronization
iFIX SCADA servers support replication and failover of database and alarms between the primary and backup SCADA servers – ensuring that you have high availability and continuous control. Every aspect of the iFIX database is replicated, including adding/deleting tags, run time modifications, alarm generation, acknowledgement and database storage.
All of the E-Signature configuration and audit trails can also be replicated.
Secure Networking
Network Encryption and Controlled Topology. To protect your data assets, iFIX offers a high degree of network security with a proprietary set of communications, a layer of network encryption and the ability to explicitly define communications with remote nodes.
In addition to enabling communications with any requesting node, iFIX offers a communication table for defining nodes that are allowed to communicate.
Integrated Change Management
iFIX tightly integrates with our Proficy Change Management software to provide you with additional security and disaster recovery capability. You can report differences between databases, graphics, graphic scripts, dynamos, global variables, security configuration and other important system files; you can also track audit trails of system changes in real time. Click here for more information on Proficy Change Management.
Electronic Signatures
You can easily configure e-Signatures, while creating the tag database. E-Signatures work together with iFIX's Alarm & Event engine to record runtime changes made to the system and create an audit trail to help you meet regulatory compliance standards such as 21 CFR Part 11 and NERC.
Flexible Charting and Trending
iFIX provides flexible options with support for real time, historical, SPC, histogram and logarithmic charts— enabling you to customize the data. Within each chart type, iFIX provides options for arranging data through several plotting methods, different legend selections, exporting options and auto-scaling for best-fit charts.
Advanced and Distributed Alarm and Event Management
iFIX offers you maximum flexibility in configuring alarms. This powerful component enables distributed alarm management where you can divide your solution into functional areas and distribute alarms across these areas. iFIX also delivers advanced alarm management which enables you to define alarm delays, alarm inhibit factors, alarm suspension factors and re-alarming time.
In addition, iFIX includes alarm statistics and counters which provide further insight into the alarm and operator behavior.