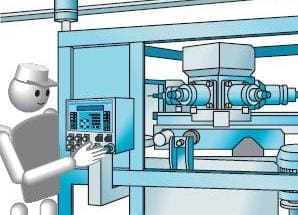 Operators play an important part in the human-machine dialogue.They must use the information they have to perform actions that make the machines and installations run properly without endangering safety and availability. It is therefore crucial that the interfaces and dialogue functions are designed to ensure that operations can be performed reliably in all circumstances. A human-machine interface uses two information flows in two directions:
Machine –> Human and Human –> Machine
These flows are independent yet linked.
Independent
Because their content can be on different levels. The levels are defined by the designer of the automation system according to the requirements of the process and what the user wants, such as discrete signals from the operator to the machine, alphanumerical or animated diagram messages from the machine to the operator.
Linked
Because the automation system interprets an operator action on a control interface as a specifically defined action and, in return, emits information that depends on whether the action was properly performed or not.
The operator can either act by his own decision (stop production, modify data, etc.) or in response to a message from the machine (alarm, end of cycle, etc.).
Role of the operator
The operating interface includes all the functions required for controlling and supervising the operation of a machine or installation. Depending on the requirements and complexity of the process, the operator may have to perform.
Regular process run tasks
stop and start the process; both steps may include start and stop procedures that are automatic or manual or semi-automatic and controlled by the operator;
operate the controls and make the adjustments required for regular process run and monitor its progress.
Tasks to deal with unexpected events
detect abnormal situations and undertake corrective action before the situation disturbs the process further (e.g. for early warning of motor overload, restoring normal load conditions before the overload relay trips);
deal with system failure by stopping production or implementing downgraded operation using manual controls instead of automatic ones to keep production running;
ensure safety of people and property by operating safety devices if necessary.
The scope of these tasks shows how important the operator's role is. Depending on the information he has, he may have to take decisions and perform actions that fall outside the framework of the regular procedures and directly influence the safety and availability of the installation.
This means the dialogue system should not be confined to mere exchange of information between human and machine but should be designed to facilitate the task of the operator and ensure that the safety of the system in all circumstances.
SOURCE: Schneider Electric