TN-C-S system
A real danger can arise when the non-current-carrying metalwork of an installation is connected to the system's neutral, as is the case with a TN-C-S-fed system. The ground system is effectively in parallel with the neutral and can thus share the normal neutral current under certain conditions.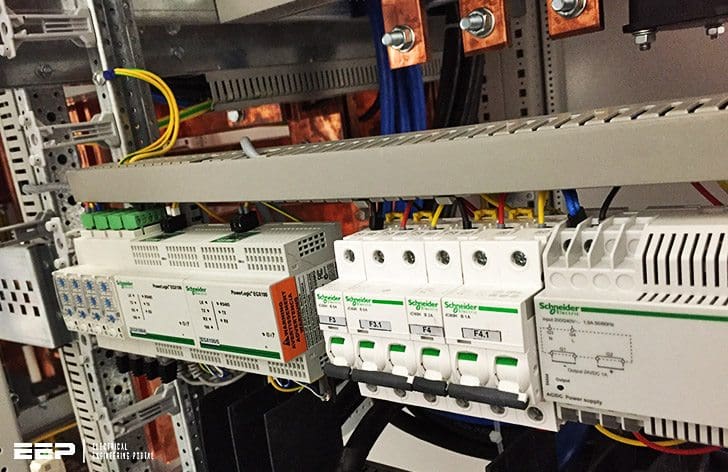 This electric current will not only be that of the installation itself, but may also be part of the neutral current of neighboring installations. It therefore follows that the grounding wires of an installation may carry a significant current even when the main supply to that installation is switched off. This could clearly cause a hazard if in a potentially explosive part of an installation, such as a petrol storage tank, the ground wire were to carry part of the neutral current of a number of installations.
For this reason, the use of TN-C-S supply system is prohibited in the case of petrol-filling stations. Such installations must be fed from TN-S supply systems.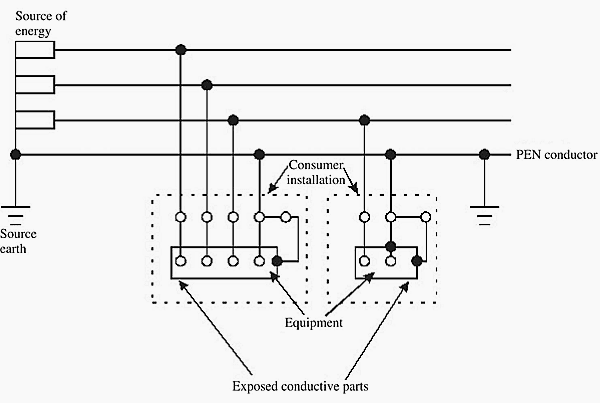 The difficulty of ensuring that bonding requirements are met on construction sites means that TN-C-S supplies must not be used for temporary supplies. Electricity Supply Regulations also do not permit the use of TN-C-S supplies to feed caravans and caravan sites.
Let's discuss the requirements for these consumers briefly below //
1. Construction sites
The objective of electrical installation on a construction site is to provide lighting and power to enable the work to proceed. By the very nature of the installation, it will be subjected to the kind of rough treatment, which is unlikely to be applied to most fixed installations.
Those working on the site may sometimes be ankle deep in mud and thus are particularly susceptible to an electric shock. They may be using portable tools in situations where danger is more likely than in most factory situations.
Special regulations are applicable to construction power installations to minimize the danger to working personnel. Apart from the use of TN-S system certain additional requirements are also applicable.
These are as follows:
Requirement #1
Distribution and supply equipment must be protected to IP44. This means provision of mechanical protection from objects more than 1 mm thick and protection from splashing water. Such equipment will include switches and isolators to control circuits and to isolate the incoming supply.
The main isolator must be capable of being locked or otherwise secured in the 'off' position. Emergency switches should disconnect all live conductors including the neutral.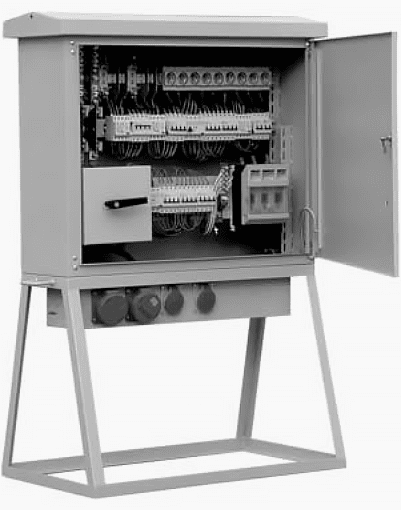 Requirement #2
Sockets on a construction site must be separated extra-low voltage (SELV) or protected by a residual current circuit breaker (RCD) with an operating current of not more than 30 mA, or must be electrically separate from the rest of the
supply, each socket being fed by its own individual transformer.
The SELV is unlikely for most applications because 12 V power tools would draw too much current to be practical. Most sockets are likely to be fed at 110 V from centertapped transformers and so will comply with this requirement.
Requirement #3
Cables and their connections must not be subjected to strain, and cables must not be run across roads or walkways without mechanical protection. Circuits supplying equipment must be fed from a distribution assembly including overcurrent protection, a local RCD if necessary and socket outlets where needed.
Socket outlets must be enclosed in distribution assemblies, fixed to the outside of the assembly enclosure or fixed to a vertical wall. Sockets must not be left unattached, as is often the case on construction sites.
Requirement #4
Such installations are also by their very nature temporary. As the construction proceeds they will be moved and altered. It is usual for such installations to be subjected to thorough inspection and testing at intervals, which will never exceed 3 months.
Requirement #5
The equipment used must be suitable for the particular supply to which it is connected, and for the duty it will meet on site. Where more than one voltage is in use, plugs and sockets must be non-interchangeable to prevent misconnection.
Six levels of voltage are recognized for a construction site installation. They are:
25-V single-phase SELV for portable hand-lamps in damp and confined situations
50-V single-phase, center-point grounded for hand lamps in damp and confined situations
400-V three-phase, for use with fixed or portable equipment with a load of more than 3750 W
230-V single-phase, for site buildings and fixed lighting
110-V three-phase, for portable equipment with a load up to 3750 W
110-V single-phase, fed from a transformer, often with a grounded center tapped secondary winding, to feed transportable tools and equipment, such as floodlighting, with a load of up to 2 kW. This supply ensures that the voltage to ground should never exceed 55 V. The primary winding of the transformer must be RCD protected unless the equipment fed is to be used indoors.
The requirements for construction sites will also apply to:
Sites where repairs, alterations or additions are carried out
Demolition of buildings
Public engineering works
Civil engineering operations, such as road building, coastal protection, etc.
The special requirements for construction sites do not apply to temporary buildings erected for the use of the construction workers, such as offices, toilets, cloakrooms, dormitories, canteens, meeting rooms, etc. These areas/buildings are not subject to changes as construction work progresses and are thus exempt from these requirements.
2. Marina supply systems
Another typical situation where TN-C-S systems are not used is the marina power supply system. A marina is a location, often a harbor, for leisure craft to berth.
Like residential caravans, such craft require external power supplies, and this section is intended to ensure the safety and standardization of such supplies. The marina will often include shore-based facilities such as offices, workshops, toilets, leisure accommodation, and so on and is exempt from these special requirements.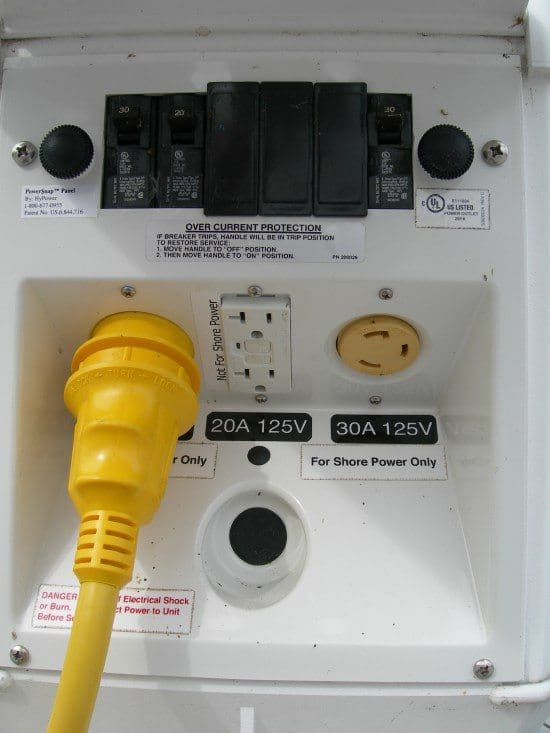 The electrical installation of a marina is subject to hazards not usually encountered elsewhere. These include the presence of water and salt, the movement of the craft, increased corrosion due to the presence of salt water and dissimilar metals and the possibility of equipment being submerged due to unusual wave activity in bad weather.
The neutral of a TN-C-S system must not be connected to the grounded system of a boat so that the hazards, which follow the loss of continuity in the supply PEN conductor, are avoided.
This rules out the use of TN-C-S supplies for marinas. Where this is the supply provided, it must be converted to a TT system atthe main distribution board by provision of a separate ground electrode system of driven rods or buried mats with no overlap of resistance area with any ground associated with the TN-C-S supply.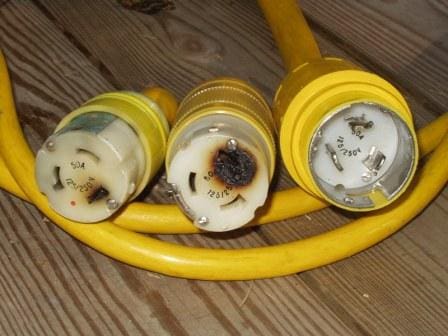 If the marina is large enough, it may be that the supply company will provide a separate transformer and a TN-S system.
A common installation method is to provide a feed from the shore to a floating pontoon via a bridge or ramp, and then to equip the pontoon with socket outlets to feed the craft moored to it. Socket outlets may be single or three phase. Where multiple single-phase sockets are installed on the same pontoon, they must all be connected to the same phase of the supply unless fed through isolating transformers.
Socket outlets should be positioned as close as possible to the berth of the vessel they feed, with a minimum of one socket per berth, although up to six sockets may be provided in a single enclosure. Each socket outlet must be provided with a means of isolation which breaks all poles on TT systems and must be protected by an over-current device such as a fuse or a circuit breaker.
Groups of socket outlets must be RCD protected. Each socket orgroup of sockets must be provided with a durable and legible notice giving instructions for the electricity supply.
3. Caravan power supply
A caravan is a leisure accommodation vehicle, which reaches its site by being towed by a vehicle. A motor caravan is used for the same purpose, but has an engine, which allows it to be driven; the accommodation module on a motor caravan may sometimes be removed from the chassis.
Caravans will often contain a bath or a shower, and in these cases the special requirements for such installations will apply. Railway rolling stock is not included in the definition as a caravan.
All dangers associated with fixed electrical installations are also present in and around caravans. Added to these are the problems of moving the caravan, including connection and disconnection to and from the supply, often by unskilled people. Grounding is of prime importance because the dangers of shock are greater.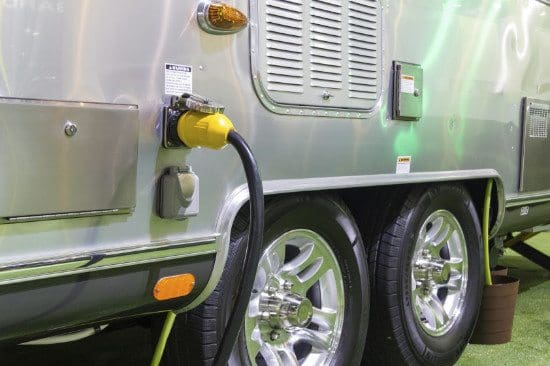 For example, the loss of the main protective conductor and a fault to the metalwork in the caravan is likely to go unnoticed until someone makes contact with the caravan whilst standing outside it.
The requirements of the Electricity Supply Regulations do not allow the supply neutral to be connected to any metalwork in a caravan, which means that TN-C-S supplies must not be used to supply them.
The power supply to a caravan must be made using approved type of coupler at a height of not more than 1.8 m from ground. The coupler socket (fixed to the caravan body) must have a spring-loaded lid, which will protect the socket when caravan is traveling.
A clear notice must be affixed near the socket to indicate voltage, current and frequency of the supply required by the caravan.
This socket must be connected to a main isolator with RCD protection with an operating current of 30 mA, which on operation will disconnect all live conductors. All metal parts of the caravan, with the exception of metal sheets forming part of the structure, must be bonded together and to a circuit-protective conductor, which must not be smaller than 4 mm2 except where it forms part of a sheathed cable or is enclosed in conduit.
Other locations
Where TN-C-S supplies are not permitted
There are locations such as swimming pools, saunas, hospitals, etc., where danger to human beings is more probable. The reason for this is that in some of the locations, the human beings are partly unclothed, without shoes and are in contact with water or their body is wet.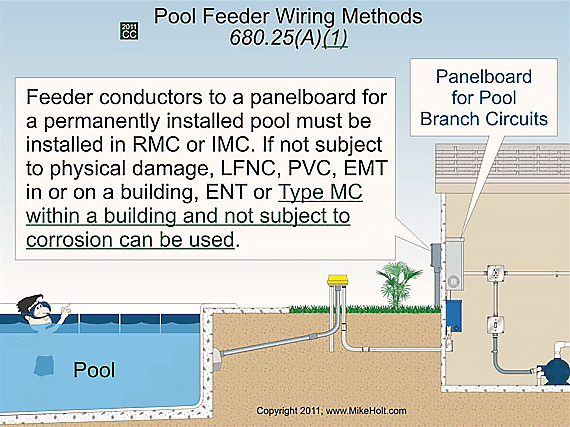 The effect of any contact with live electrical parts could therefore be particularly dangerous. A hospital where open-heart surgery is performed poses even greater danger because of the effect of stray electric currents finding their way to the human heart through medical appliances used in the treatment. Also explosive hazards may exist in certain hospital locations handling anesthetic gases.
The use of electrical systems in these cases will depend on the zone of use. These zones are defined in each case depending on the presence of vulnerable human body in the vicinity. Use of lower-voltage isolated systems, ground fault alarms and RCD is advised depending on the application.
Zone

Minimum degree of protection

A
IPX8
B
IPX5
IPX4 where water jets are not likely to be used for cleaning
C
IPX2 for indoor pools
IPX4 for outdoor pools
IPX5 where water jets are likely to be used for cleaning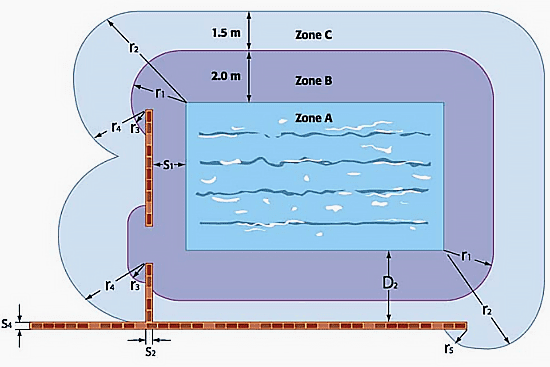 Reference: Practical Grounding, Bonding, Shielding and Surge Protection G. Vijayaraghavan, Mark Brown and Malcolm Barnes (Buy hardcopy from Amazon)