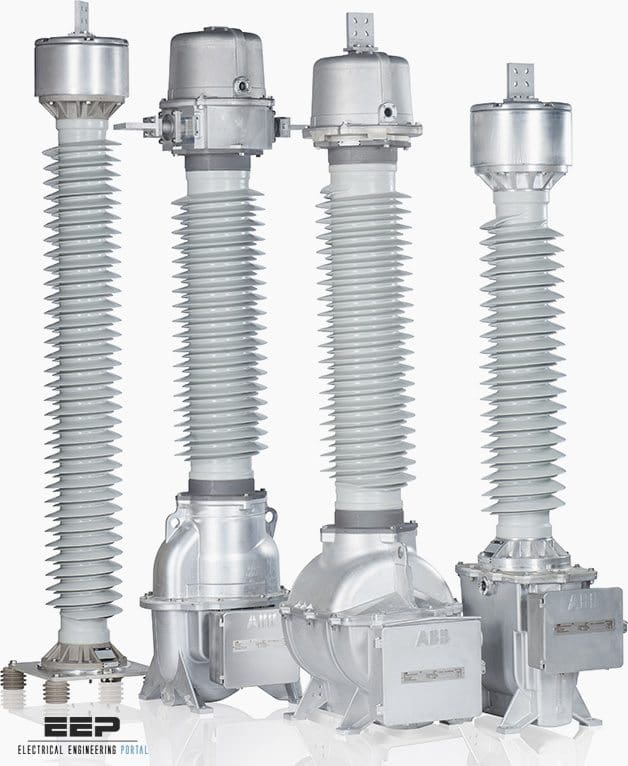 Three main tasks of CTs and VTs
The three main tasks of instrument transformers are:
To transform currents or voltages from a usually high value to a value easy to handle for relays and instruments.
To insulate the metering circuit from the primary high voltage system.
To provide possibilities of standardizing the instruments and relays to a few rated currents and voltages.
Instrument transformers are special types of transformers intended to measure cur- rents and voltages. The common laws for transformers are valid.
Here we will cover six important aspects of using instrument transformer in the power system:
1. Terminal designations for current transformers
According to IEC publication 60044-1, the terminals should be designated as shown in the following diagrams. All terminals that are marked P1, S1 and C1 are to have the same polarity.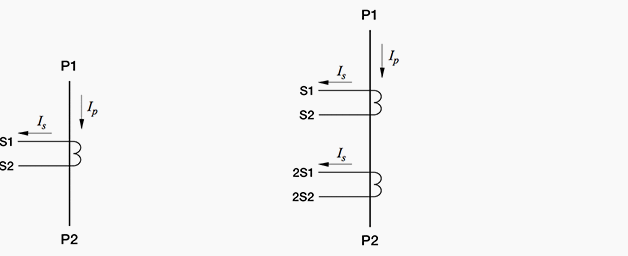 2. Secondary grounding of current transformers
To prevent the secondary circuits from attaining dangerously high potential to ground, these circuits have to be grounded. Connect either the S1 terminal or the S2 terminal to ground.
For protective relays, ground the terminal that is nearest to the protected objects. For meters and instruments, ground the terminal that is nearest to the consumer.
When metering instruments and protective relays are on the same winding, the protective relay determines the point to be grounded.
If there are unused taps on the secondary winding, they must be left open.
If there is a galvanic connection between more than one current transformer, these shall be grounded at one point only (e.g. differential protection).
If the cores are not used in a current transformer they must be short-circuited be- tween the highest ratio taps and shall be grounded.
It is dangerous to open the secondary circuit when the CT is in operation. High voltage will be induced.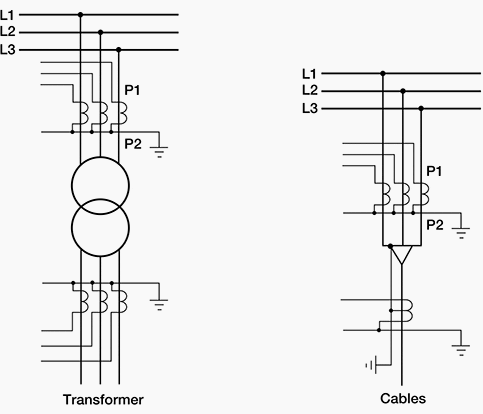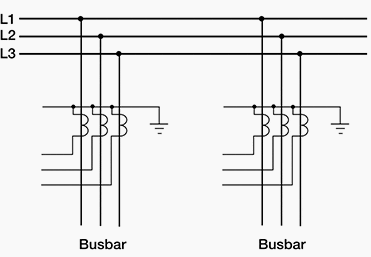 3. Secondary grounding of voltage transformers
To prevent secondary circuits from reaching dangerous potential, the circuits shall be grounded. Grounding shall be made at only one point on a voltage transformer secondary circuit or galvanically interconnected circuits.
A voltage transformer, which on the primary is connected phase to ground, shall have the secondary grounding at terminal n.
A voltage transformer, with the primary winding connected between two phases, shall have the secondary circuit, which has a voltage lagging the other terminal by 120 degrees, grounded. Windings not in use shall be grounded.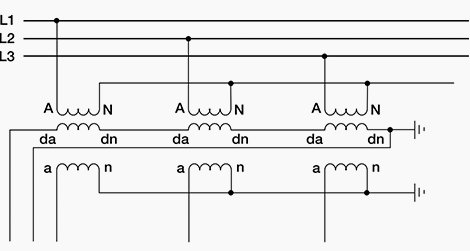 4. Connection to obtain the residual voltage
The residual voltage (neutral displacement voltage, polarizing voltage) for earth-fault relays can be obtained from a voltage transformer between neutral and ground, for instance at a power transformer neutral.
It can also be obtained from a three-phase set of voltage transformers, which have their primary winding connected phase to ground and one of the secondary windings connected in a broken delta.
Figure 10 illustrates the measuring principle for the broken delta connection during an earth-fault in a high-impedance grounded (or ungrounded) and an effectively grounded power system respectively.
From the figure, it can be seen that a solid close-up earth-fault produces an output voltage of
Ursd = 3 x U2n
in a high-impedance earthed system and
Ursd = U2n
in an effectively grounded system. Therefore a voltage transformer secondary voltage of
U2n = 110 / 3 V
is often used in high-impedance grounded systems and U2n = 110 V in effectively grounded systems. A residual voltage of 110 V is obtained in both cases. Voltage transformers with two secondary windings, one for connection in Y and the other in broken delta can then have the ratio: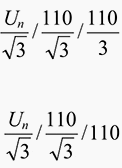 for high-impedance and effectively grounded systems respectively. Nominal voltages other than 110 V, e.g. 100 V or 115 V, are also used depending on national standards and practice.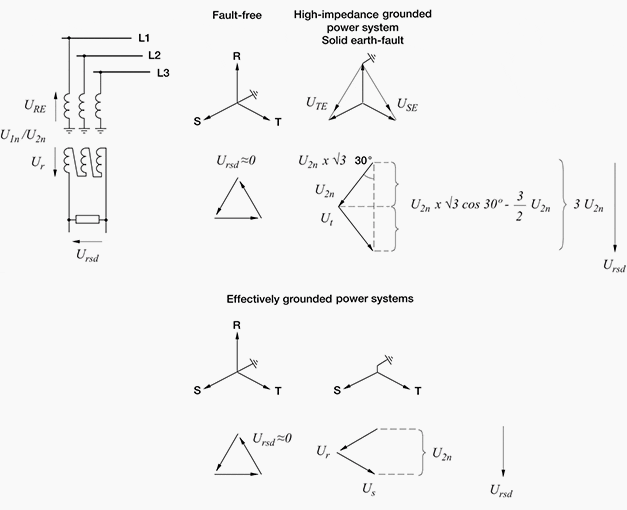 5. Fusing of voltage transformer secondary circuits
Fuses should be provided at the first box where the three phases are brought together. The circuit from the terminal box to the first box is constructed to minimize the risk of faults in the circuit.
It is preferable not to use fuses in the voltage transformer terminal box, as this will make the supervision of the voltage transformers more difficult. The fuses in the three-phase box enable a differentiated fusing of the circuits to different loads like protection and metering circuits.
The fuses must be selected to give a fast and reliable fault clearance, even for a fault at the end of the cabling. Earth faults and two-phase faults should be checked.
6. Location of current and voltage transformers in substations
Instrument transformers are used to supply measured quantities of current and voltage in an appropriate form to controlling and protective apparatus, such as energy meters, indicating instruments, protective relays, fault locators, fault recorders and synchronizers.
Instrument transformers are thus installed when it is necessary to obtain measuring quantities for the above mentioned purposes.
Typical points of installation are switchbays for lines, feeders, transformers, bus couplers, etc., at transformer neutral connections and at the busbars.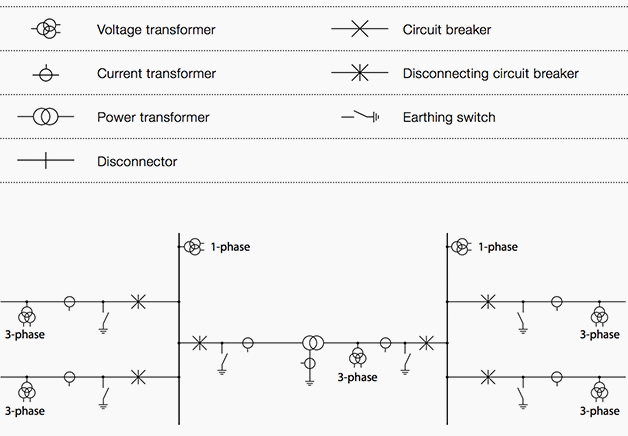 Location in different substation arrangements
Below are some examples of suitable locations for current and voltage transformers in a few different switchgear arrangements.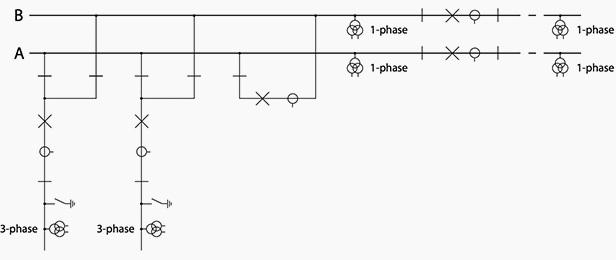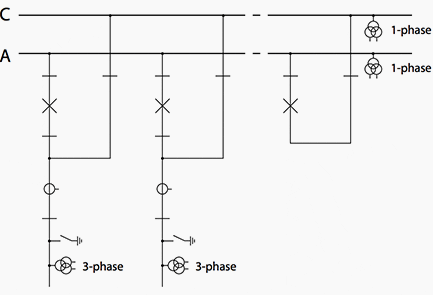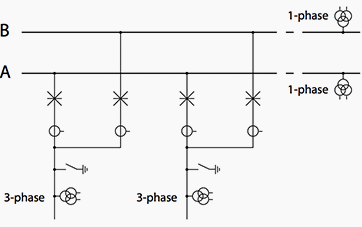 Reference: Instrument Transformers Application Guide – ABB