Adapt the demand for heating, cooling and lighting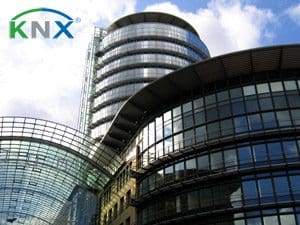 In light of climate change and increasingly scarce resources, the energy-efficient operation of buildings is gaining in importance. Essential requirements for this are an energy-efficient architectural design, an insulated building exterior and modern installation engineering with a high level of efficiency. Ultimately, the consumption of energy for lighting, heating and cooling depends on both the building use and user behaviour. These are indefinite factors for determining the level of consumption which can scarcely be met using conventional methods.
However, with a dynamic management system, the energy usage can be optimally matched to demand during operation. Building automation with KNX offers the best preconditions for this. It ensures the economical use of energy and thus increases the energy efficiency of the building.
Bus devices regulate and control the generated heating and cooling capacity in line with demand. Lighting installations are operated more efficiently using sensors and timer programs. The integrated automation system spans all the trades and also enables links with daylight systems, sun protection systems, ventilation flaps and other systems whereby further energy-saving potentials can be exploited.
Intelligent capture of consumption data (Smart Metering) as well as coupling with intelligent networks (Smart Grid) opens up new possibilities for further optimisation and increased energy efficiency both today and in the future.
Persuasive savings rates
Energy Savings with KNX:
– up to 40 % with KNX shading control
– up to 50 % with KNX individual room control
– up to 60 % with KNX lighting control
– up to 60 % with KNX ventilation control
Since the building system technology is available for the electrical installation, KNX functions guarantee savings in energy costs for artificial lighting, heating, air conditioning and ventilation systems as well as other loads. With the further development of the system which has already been in existence for 20 years, the open- and closed-looped control systems have been refined and thus increasingly better results are achieved.
Nowadays, the savings rates that have been achieved in practice are up to 60 percent and more for the lighting while up to 50 percent is possible for individual room control as a practical study shows. Of course these types of comparisons assume a connection to conventional methods. In the case of renovations in which the building has been improved in terms of its energy efficiency and the installation engineering has been modernised, the control technology contributes to the efficiency gain by at least 5 to 20 percent.
As often occurs in practice, if optimisation of the energy consumption has only been carried out some time after the initial occupation of the building and after experiencing day-to-day operations, the concrete results are persuasive.
Rapid amortisation
In the case of at least two projects, direct investment costs for optimising the energy flow are amazingly low compared to the results. An amortisation was carried out immediately. This is linked to the integrated approach and multiple use of the system. Building automation with KNX offers all kinds of benefits: a flexible electrical installation for changes of use and extensions, more efficiency in the management and maintenance of the building, increased security for material assets and people, a higher level of comfort and well-being in the workplace, both in public and residential buildings.
The management of energy savings is therefore only one of these. The total investment costs are thus spread across many benefits. Once the installations and functions have been integrated, further reductions in the energy consumption can often be achieved simply through programming, without the need for additional hardware and installations.
In the projects that have been put forward, almost all of them feature possible savings measures with KNX which often simultaneously serve comfort, safety and economical operational flow.
Switching off and dimming
Saving energy means switching the light off when you don't need it. This sounds so simple but it is rarely achieved in practice in more extensive buildings with large numbers of people coming and going.
In office buildings, schools, factories, warehouses, hotels, car parks and many other buildings, artificial lighting is left switched on for many reasons. In the case of building automation with KNX, the duty cycle can for example be adapted to the actual lighting requirement with the help of a timer program. This measure alone can achieve high savings which can be further optimised depending on the room use and building type, for example through using daylight and automatic cutoff when there is sufficient external brightness. A further enhancement of the automation is constant lighting control which guarantees a comfortable lux value at the workplace through optimum use of daylight.
Presence-dependent and thus accurate demand-based control systems are increasingly being applied – ideal for staircases, corridors or other spontaneously used areas of the building. Lights with presence detectors can also be operated with increased energy efficiency in offices, schools etc. They then become elements of the room automation, are integrated with the blinds, room temperature control and ventilation and thus offer multiple benefits.
Regulating the heating and cooling
Electronic individual room temperature control promises a clear saving potential. It is therefore the most efficient method of using the heating and cooling energy generated via the heating system or air conditioning system. Demand-based energy use can be achieved via a timer program with a temperature profile or even via the presence signal.
As the temperature variables of all the rooms are available centrally throughout the KNX system, heating and cooling energy can be generated according to demand and with a high level of efficiency.
In modern, purpose-built buildings with glass facades, fully-automatic sun protection systems are indispensable. Their primary tasks are shading and cooling to ensure the well-being of the people in the building. As these are likewise controlled with KNX, additional functions for improving the energy efficiency are provided in combination with room temperature control and lighting control.
For example: daylight redirection, use of solar energy in winter and automatic night cooling in the summer.
SOURCE: KNX Journal 2011 (http://bit.ly/f83pcJ)