Why multiple-transfer switches
Automatic transfer switches are primarily used for emergency and standby power generation systems. These transfer switches may incorporate overcurrent protection and are designed and applied in accordance with the NEC, Articles 230, 517, 700, 701,702 and 710, and other applicable standards.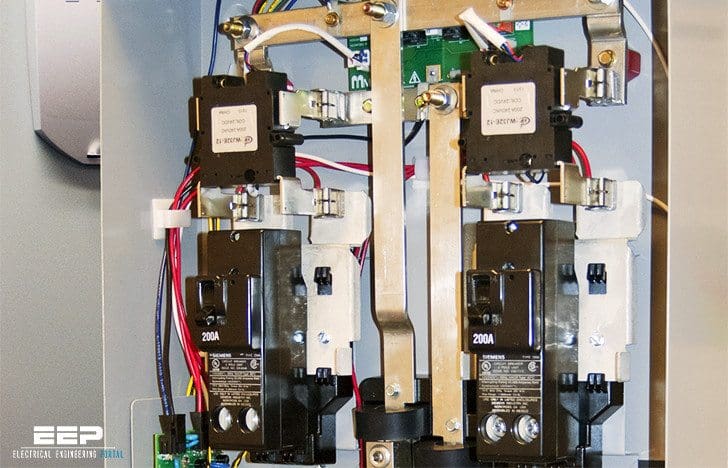 To comply with codes and standard requirements for reliability, automatic transfer switches are mechanically held and are electrically operated from the power source to which the load is to be transferred.
An automatic transfer switch is usually located at the main or secondary distribution bus, which feeds the branch circuits.
Because of its location in the system, the capabilities that should be designed into the transfer switch are varied.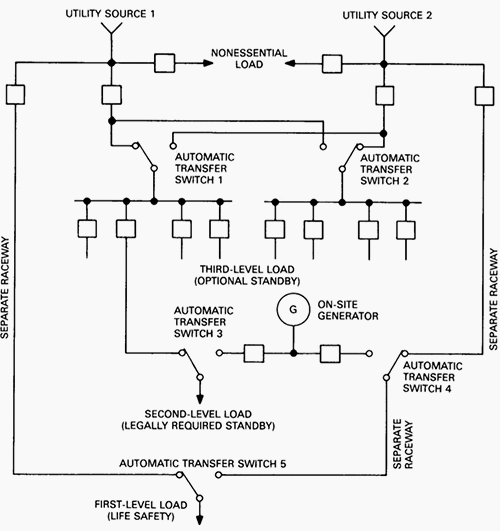 For example, special consideration should be given to the following characteristics of an automatic transfer device:
Its ability to close against high inrush currents
Its ability to carry full rated current continuously from the normal and emergency sources
Its ability to withstand fault currents
Its ability to interrupt full load currents the appropriate number of times as specified in the applicable standard
Additional electrical spacing and insulation, as needed, for two unsynchronized power sources
The arrangements shown in Figure 1 above use low-voltage switches of double-throw construction that provide protection against the loss of one of the utility sources.
In addition to loss of power from the utility sources, continuity of power to critical loads can also be disrupted by:
An open circuit within the building area on the load side of the incoming service
Overload or fault conditions
Electrical or mechanical failure of the electric power distribution system within the building
Therefore, the location of transfer switches and of the overcurrent protective devices should be given careful consideration.
Many engineers advocate the use of multiple-transfer switches of lower current rating located near the load as well as one large transfer switch at the point of incoming service. A typical transfer scheme using multiple-transfer switches is shown in Figure 1 above.
What's your expirience with using of multiple-transfer switches?
Reference // IEEE Recommended Practice for Electric Power Systems in Commercial Buildings