Moisture, which can enter the insulation of a generator or motor winding from damp air or which can enter the winding of a transformer from wet oil, will make a surprisingly large difference in the insulation resistance. This is clearly shown by the curves of figure 2 for a Grand Coulee generator.
Curve "A" was taken shortly after the generator was placed in service, at a temperature of 36 EC. Curve "C" was taken after a dry-out run of 168 hours on the generator.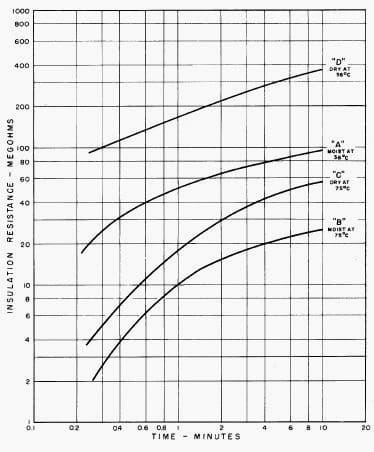 The generator winding was, therefore, more thoroughly dried out in curve "C" than in curve "A," although evaporation of the volatile content of the insulation or other curing or aging effect may have had an appreciable effect. Low insulation resistance resulting from exposure to moisture does not mean that the insulation is unsuitable for operation, particularly if the insulation resistance value is comparable to that obtained from recent periodic tests.
Dry out of thermosetting insulation is not as big a factor, and is sometimes not done, except to cure field applied insulation.