Introduction Motor Control Center
Motor control center (MCC) was introduced back in 1937 to place different motor starters in one cabinet to save space. It is a modular cabinet that supplies and controls motors, which is usually a tailor-made assembly. Low-voltage MCCs can be fed from the main switchgear, which in turn is supplied from a transformer powering a primary substation as well.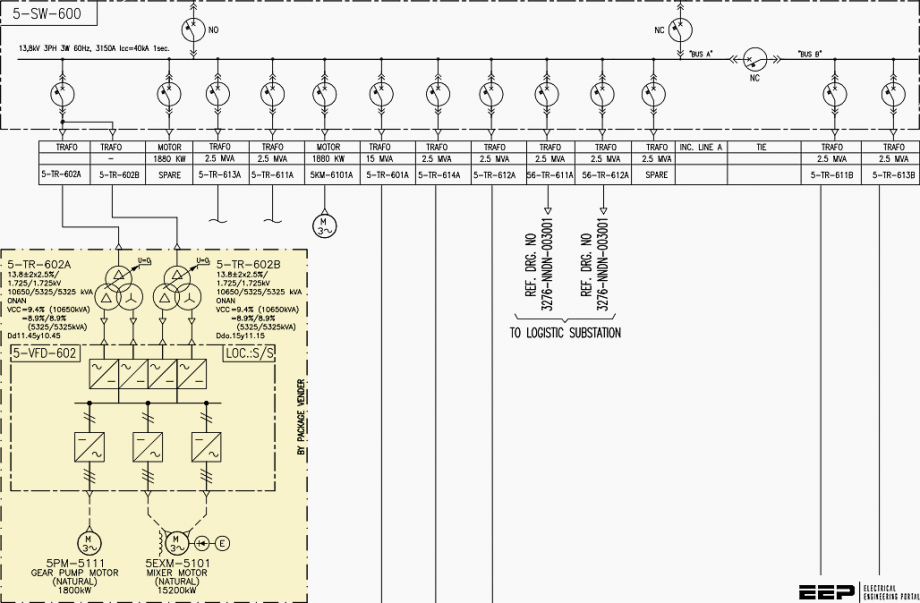 An MCC comprises three buses for a three-phase system and the cabinet consists of a circuit breaker, a motor starter, and a control transformer; however, the actual contents vary widely as per requirements. The circuit breaker has a handle that goes through the door to switch it off without opening it for safety purposes.
The MCC components are not just limited to the protective elements and starters, but can accommodate:
Contactors
Full-voltage non-reversing NEMA and IEC starters
Full-voltage reversing NEMA and IEC starters
Soft starters
Variable frequency drives (VFD)
Solid-states motor controllers
Transformers
Analog/digital meters
Feeder fusible disconnects
Several years ago, the MCC was used to enclose almost all control elements of motors. The trends lately, however, has been utilizing the MCCs to provide power to electric panels.
Hence, the MCC cabinets contain only a circuit breaker and a handle to switch the breaker off, and the electric panels that house all motor control elements would be separate enclosures for each specific motor.
This trend is attributed to the PLCs for control and the size of VFDs, as they do not fit properly in the standard MCCs.

The choice of the MCC layout depends on many factors as follows:
Power system parameters like voltage, frequency, and starting current.
Motor specifications such as type (e.g. squirrel cage, wound rotor, or synchronous), horsepower, duty cycle, and acceleration time.
Motor mechanical power transmission to loads type like geared, belt-driven, or direct-coupled.
Manual or automatic operation.
Protective elements required for short circuit whether it is circuit breakers or fuses. Also, the overload protection specifications.
Environmental conditions within which an MCC is installed and the definition of hazardous areas (if applicable) as per NEC or IEC.
Cable connection requirements (e.g. cable entry, bending radius, terminations, etc.).
Electrical codes and standards govern MCCs ratings and specifications (NEMA & IEC), health and safety (OSHA), installation safety (NEC), and testing procedures (UL). These standards are well-known in the industry, but in this article, NEMA has been adopted throughout the drawing interpretations and components description.