Reducing the voltage and starting current
The series-connected chokes (Figure 1) or resistors (Figure 2) reduce the voltage at the motor and hence also the starting current. The starting torque is reduced by around the square of the current.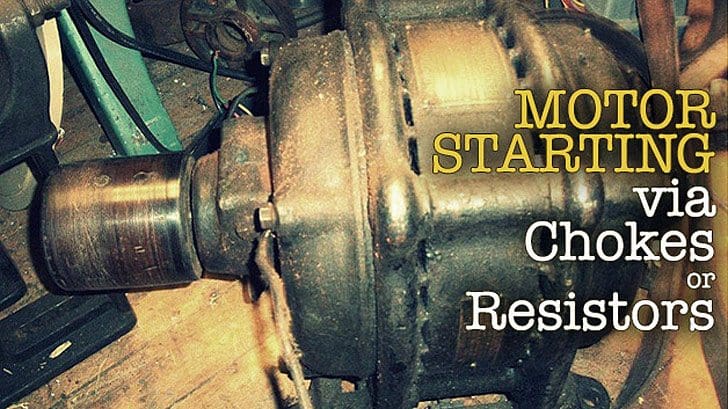 Starting via chokes
At rest the motor impedance is small. Most of the supply voltage drops across the series-connected chokes.
The breakaway torque of the motor is therefore strongly reduced.
With increasing speed, the voltage across the motor increases because of the fall of the current consumption and the vectorial voltage distribution between the motor and the reactance connected in series.

Hence the motor torque also increases. After the motor start-up, the chokes are shorted by the time-delayed main contactor K1M and the starting contactor K2M is dropped out.
Starting via resistors
The basic circuit diagram is the basically the same as described above, with only difference that the chokes are replaced by lower-cost resistors.

With this method, the starting current can only be slightly reduced, as the motor torque falls with the square of the voltage and the voltage across the motor, other than with starting via chokes, only increases slightly with increasing speed. It is more advantageous to reduce the series-resistance during starting in steps.
This reduces the voltage across the resistor and increases that across the motor. The expenditure on hardware is thereby significantly larger.
A simpler solution are enclosed electrolytic resistors with a negative temperature coefficient. Their ohmic resistance decreases automatically during starting because of heating by the starting current.
Reference: Low voltage switchgear and control gear application guide – A technical reference handbook for electrical engineers by NHP