Introduction
Emergency systems are generally installed in buildings that are or can be occupied by 1000 or more persons or are more than 75 ft high. These are buildings where artificial illumination is required for safe exiting and for panic control.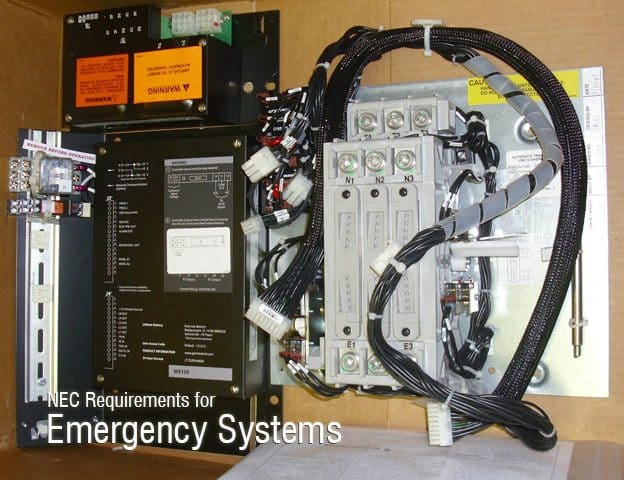 Examples are hotels, theaters, airports, railroad stations, sports arenas, department stores, and hospitals.
Emergency systems are designed to power exit lighting, fire detection and alarm systems, elevators, fire pumps, and public safety communications systems. They might also power ventilation systems considered essential to preserving health and life, or industrial processes where power interruption would result in hazards to life or injury.
NEC 2012, Article 700, "Emergency Systems," covers electrical safety in the installation, operation, and maintenance of emergency systems. These consist of "circuits and equipment intended to supply, distribute, and control electricity for illumination, power or both, to vital facilities when the normal electrical supply or system is interrupted".
These are "systems legally required and classed as emergency by municipal, state, federal, or others codes, or by any governmental agency having jurisdiction".
These systems are intended to automatically supply illumination, power, or both to designated areas and equipment in the event of failure of the normal supply or in the event of accident to elements of a system intended to supply, distribute, and control power and illumination essential to human life."
The general subjects covered in Article 700 include:
Tests and maintenance of approved emergency system equipment
Capacity and rating of emergency system equipment
Power transfer equipment, including automatic transfer switches
Signals and signs for emergency systems
The circuit wiring provisions of Article 700 include:
Identification of boxes, enclosures, transfer switches, generators, etc.
Wiring independence and exceptions
Fire protection for high-occupancy and high-rise buildings
The section on sources of power gives the response-time requirements for the restoration of emergency lighting, emergency power, or both as "not to exceed 10 seconds" for the specific classes of buildings stated previously.
In selecting the emergency source of power, consideration must be given to the occupancy and type of service rendered in those buildings.
The occupancy classes are given as (1) assembly, (2) educational, (3) residential, (4) detention and correctional, (5) business, and (6) mercantile.
Article 700 requires that power sources be installed in rooms protected by approved automatic fire suppression systems (sprinklers, CO2systems, etc.) or in spaces with a 1-hr burn rating. (Fire can surround or be adjacent to the room for at least 1 hr before its fire-resistant integrity is lost and its contents begin to ignite spontaneously.)
The four emergency power systems approved by Article 700 are:
Storage batteries (rechargeable)
Generator sets
Uninterruptible power supplies (UPS)
Separate services (alternate outside utility or inside generation) in accordance with NEC Article 230
The section on emergency system circuits for lighting and power covers:
Approved loads on emergency branch circuits
Emergency illumination
Circuits for emergency lighting
Circuits for emergency power
The section on emergency control lighting circuits covers:
Switch requirements
Switch location
Exterior lights
The section on overcurrent protection covers accessibility of branch-circuit overcurrent devices (fuses and circuit breakers) and ground-fault protection of equipment.
Resource: National Electrical Code Handbook; Handbook of Electrical Design – Neil Sclater (buy this book at Amazon)