Motor catastrophic failure
Like any other machine, electric motors are vulnerable to faults, which might lead to catastrophic failure of the machine in the long run if left unmonitored. In this technical article, I will try to shed some light on the possible causes of the catastrophic motor failure and present two case studies of a motor/generator failure and further investigation.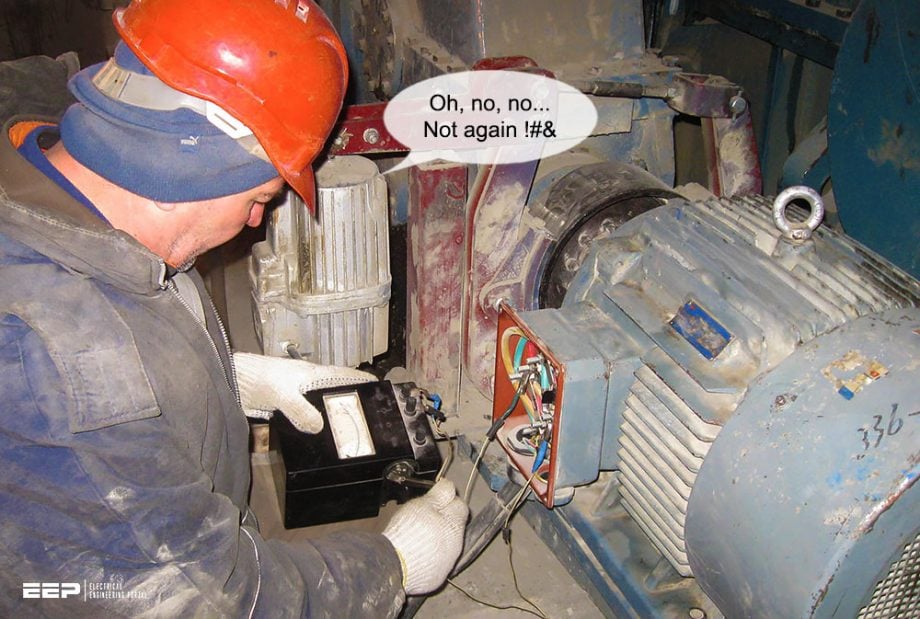 Induction motors comprise the backbone of the industry. With its continuous operation, it is subjected to regular maintenance. Any lapses during Designing, testing, transportation, erection, commissioning severely affect the motor performance. Moreover, the projects to which motors are associated are greatly affected due to failures of motors.
For a start, it's good to know that failure of motors is categorized into three divisions:
1. Mechanical Faults: This comprises mainly faults related to broken rotor bar, bearing damage, rotor winding failure, mass unbalance, air gap eccentricity, and stator winding failure.
2. Electrical Faults: This comprises mainly faults related to under or over voltage of current, reverse phase sequence, earth fault, overload, unbalanced supply voltage or current, single phasing, inter-turn short-circuits fault and crawling.
3. Environmental faults: This comprises mainly faults related to Ambient temperature as well as external moisture that will affect the performance of the induction motor. Vibrations of the machine, due to any reason such as installation defect, foundation defect, etc.
Now, let's start with analyzing the causes of the motor failure and learn how to listen and read the motor's soul! Remember that the motor rarely drops dead without a good reason which is almost always related to human inactivity or bad activity.
Case Study #1 – Motor tripping on Unbalance Protection (46)
1. Causes of Failures in motors
1.1 Undervoltage
Undervoltage occurrence increases running current which causes overheating and reduces efficiency and eventually causes failure. Undervoltage causes excessive line current increasing the temperature of the winding.
These faults are normally detected by undervoltage relays.
Figure 1 – Motor undervoltage occurrence


Go back to the Contents Table ↑
1.2 Sustained Overload
Motor windings can fail due to overloading at the motor shaft which causes excessive heat build-up and failure. Overvoltage causes stress on insulation. Overload occurs due to an increase of mechanical load above the rating of the motor. At excessive mechanical load, the rotor fails to rotate and gets blocked.
This situation is equivalent to a
short circuit
. Normally, overload and the blocked rotor is protected by an overcurrent relay or simply fuse. In a
locked rotor or stall condition the rotor
can experience sudden and excessive temperature rise that can cause the rotor cage to fail.
Sudden temperature increases often occur during the motor start-up.
Figure 2 – Left: Motor overload; Right: Major overload consequences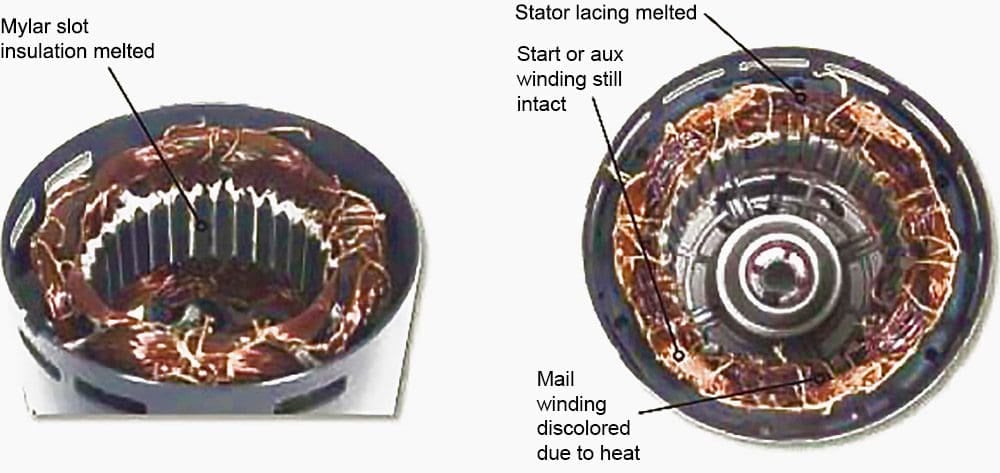 Go back to the Contents Table ↑
1.3 Overheating (Operating Temperature)
Frequent motor starts usually lead to overheating. Six to eight times the rated current is drawn by a motor during starting thereby increasing the thermal stress on the winding. This can be a possible cause of failure during motor starting itself. Bearing clearances are designed considering the thermal expansion of the bearing during the running condition.
Controlling the motor temperature directly results in increased performance and life of the motor.
Figure 3 – Motor overheating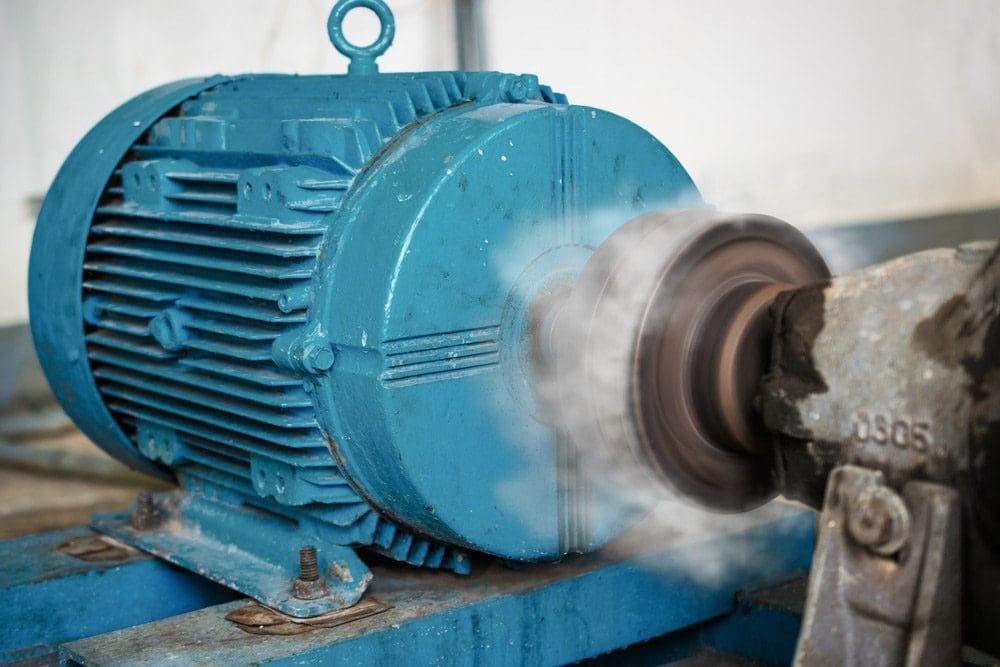 Go back to the Contents Table ↑
1.4 Moisture-Terminal Box Cover
A humid atmosphere allows moisture to interact with the motor windings thereby lowering the withstand capacity. Apart from failures, corrosion of metallic surfaces and phases is greatly affected by the humid climate.
How to protect the motor terminal box from moisture?
Open drain hole plugs
Fitt the anti-condensation heaters
Utilize additional corrosion protection
Where motors are operating in harsh outdoor conditions, consider the effects of cold as well as heat. Condensation heaters should be fitted to motors used outdoor in cold winter months to minimize condensation within the motor.
Figure 4 – Motor Terminal Box exposed to the humid climate and prone to rusting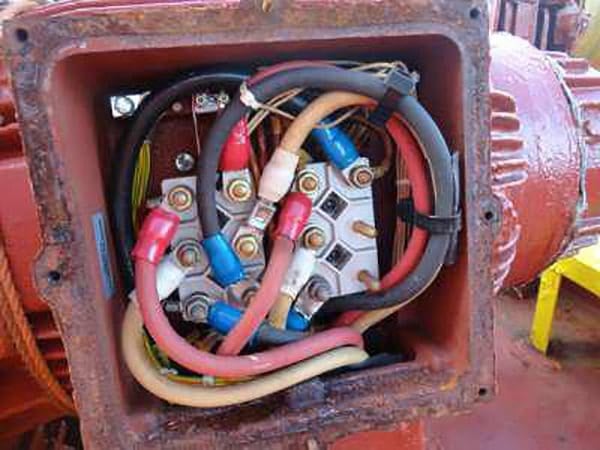 Go back to the Contents Table ↑
1.5 Lubrication/Greasing
Excessive lubrication overheats bearings and leads to failure. Surplus grease may produce a braking effect in the ball races, which might cause moving parts to shift from their raceway, leading to heating, intermittent noises and bearing wear as well as loss of grease performance.
Too much lubrication can be just as harmful as too little. Excess oil or grease tends to accumulate. Windings become coated and this film collects even more dirt, moisture and if brushes are involved, carbon dust. Oil and grease on the stationary switch contacts may cause them to overheat, arc or burn, and even to weld themselves closed.
Proper lubrication is essential to long operating life for motors and all mechanical equipment. It must be done periodically and consistently – it is too late when the motor audibly communicates its needs.
Figure 5 – Oiling gear of an electric motor during maintenance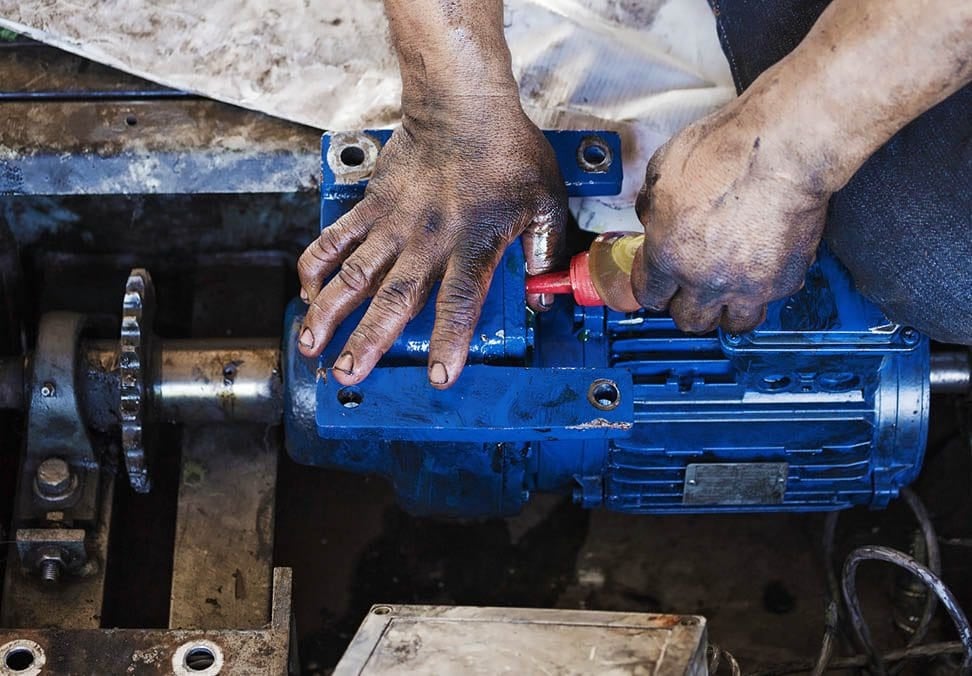 Figure 6 – Over greased electric motor