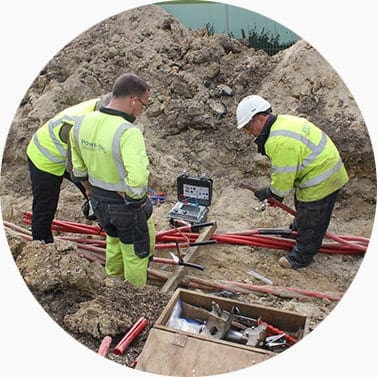 This One-day course is designed to help engineers understand the construction and maintenance (planning, testing, diagnostics and terminating) requirements for medium voltage X-link power cables. Anyone directly involved in terminating or those requiring an understanding of the various tests and or analyzing test results will gain a better understanding of best maintenance practices as required by industry accepted standards.
This training covers safety and maintenance planning, X-link cable insulation systems and cable testing and terminating practices. Training program is based on the following standards:
1. Canadian Standards Association: CSA Z463- Standard for Maintenance of Electrical Systems Canadian Standards Association, CSA Z462- Standard for Electrical Safety and
2. National Electrical Testing Association (NETA): ANSI/NETA 2019 Standard for Maintenance Testing Specifications.
Deliverables
Each student receives three comprehensive digital version of reference material including maintenance frequencies, PEARL test standards and test forms.
Training Objectives
The successful candidate will be able to:
Understand the difference between Run to Failure, Predictive & Preventive maintenance program
Review multiple tests as per industry standard
Be able to recognize deficiencies and take/recommend corrective action
Work safely
Who should attend:
This training is recommended for: Electrical test technicians and commissioning engineers, industrial electricians, substation project engineers, substation engineering managers and supervisors.
You will be able to:
After the training you will be able to: Understand and learn predictive and preventive maintenance program for power cables, perform multiple tests and analyzing test results, be able to recognize deficiencies and take/recommend corrective action.
Please note that his program can be modified to suit your specific needs. We will be happy to conduct a needs analysis with you to determine your specific requirements. It can be conducted either on-site or off-site.
I. Safety and Maintenance Planning
Objective: – Review the basic concepts of electrical safety and maintenance as per CSA-Z462 and CSA-Z463.
Shock and arc flash safety
Run to failure maintenance.
Preventive maintenance.
Predictive maintenance.
Cable failure modes and frequencies.
II. X-link Cable Insulation Systems
Objective: – Review the concepts of dielectric theory and how different types of insulation Review during high voltage AC/DC testing.
Describe the types of insulation used in electrical systems.
Explain the factors causing insulation deterioration and failure modes.
Review NETA insulation resistance tests and how to interpret test results based on NETA and typical manufacturers standards.
These tests include Spot test, Polarization Index, Dielectric Absorption, Step Voltage and Using the Guard terminal
III. Cable Testing and Terminating
Objective: – Review NETA tests on various types of construction used on medium voltage X-link power of cable.
Describe the construction of shielded and non-shielded cable and failure modes.
Installation of medium voltage cable terminations.
Review NETA visual and mechanical inspection.
Cable testing including Insulation Resistance, AC/DC high potential, Tan Delta Testing, Partial Discharge, Time Domain Reflectometer
Followed by interpretation of the test results.
Registration Form
Training Summary
Selected Training Course: Testing, Diagnostics and Maintenance Of Medium Voltage Power Cables
Duration: One day (8AM to 4PM)
Price: $549.00
After you submit the training request, you will be contacted by training management via email for scheduling details.
Get the Best Deal!
Premium members with a 1-year subscription have a 10% discount on all training courses. Sounds interesting? Feel free to apply for a premium membership.