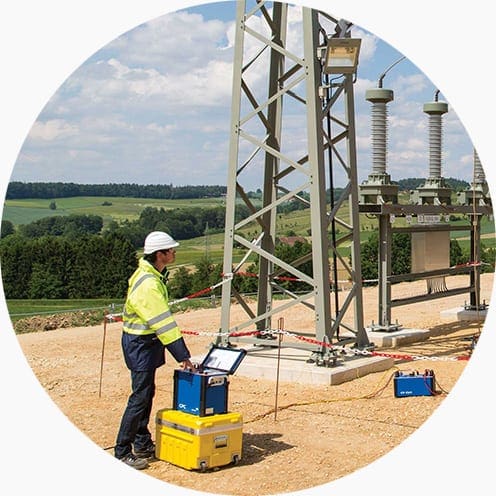 This One-day course is designed for substation engineers to learn the best practices in maintaining and testing substation grounding and bonding systems. Engineers directly involved in maintaining LV/MV/HV substations or those requiring an understanding of diagnostics and analyzing test results will gain a better understanding of best maintenance practices as required by industry accepted standards.
Training program is based on: (1) Canadian Standards Association: CSA Z463- Standard for Maintenance of Electrical Systems; (2) Canadian Standards Association: CSA Z462- Standard for Electrical Safety; (3) National Electrical Testing Association (NETA): ANSI/NETA 2019 Standard for Maintenance Testing Specifications and (4) Professional Electrical Apparatus Recyclers League: Reconditioning Standards for Electrical Equipment.
Each student receives three comprehensive binders of reference material including maintenance frequencies, PEARL test standards and test forms.
Training Objectives:
After the training, the successful candidate will be able to identify and mitigate job related hazards, safely operate and maintain electrical grounding system, be able to recognize deficiencies and take corrective action as well as to avoid accidents and injuries.
Who should attend:
This training is recommended for: Substation project engineers, station engineers and technicians, maintenance engineers, testing and diagnostics engineers, field engineers, and substation supervisors.
Please note that his training can be modified to suit your specific needs. We will be happy to conduct a needs analysis with you to determine your specific requirements. It can be conducted either on-site or off-site.
I. Grounding and bonding principles
Objective – Review the basic principles commonly used in substation grounding and bonding systems. Understanding of:
Ground grid,
Substation fencesy,
Overhead ground wires,
Neutral conductors,
Underground cables,
Foundations,
Deep well,
etc.
II. Accidental Ground Circuit
Objective – Deep understanding of conditions that a person within or around the substation can experience that can cause them to become part of the ground circuit. Understanding of:
Conditions
Permissible Body Current Limits
Importance of High-Speed Fault Clearing
Tolerable Voltages
III. Visual and Mechanical Inspection
Objective – Learn the procedures for visual and mechanical inspection of substation grounding and bonding systems.
Verify ground system is in compliance with drawings, specifications, and NFPA 70 National Electrical Code Article 250.
Inspect physical and mechanical condition.
Inspect bolted electrical connections for high resistance using one or more of the following methods:

Using a low-resistance ohmmeter
Using calibrated torquewrench method
Inspect anchorage.

etc.
IV. Electrical Tests
Objective – Understanding various electrical test performed on the substation grounding and bonding systems.
Perform resistance measurements through bolted connections with a low-resistance ohmmeter
Perform fall-of-potential or alternative test in accordance with ANSI/IEEE 81 on the main grounding electrode or system.
Perform point-to-point tests to determine the resistance between the main grounding system and all major electrical equipment frames, system neutral, and derived neutral points.
etc.
Registration Form
Training Summary
Selected Training Course: Testing and Maintenance of Substation Grounding and Bonding Systems
Duration: One day (8AM to 4PM)
Price: $549.00
After you submit the training request, you will be contacted by training management via email for scheduling details.
Get the Best Deal!
Premium members with a 1-year subscription have a 10% discount on all training courses. Sounds interesting? Feel free to apply for a premium membership.