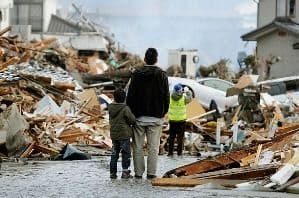 As you already know, Japan is suffering from the greatest disaster since world war 2. A tremendous earthquake, a huge tsunami and now radiation leaks have caused untold damage in this marvelous country of honest, industrious people.
I am really amazed at and greatly impressed by the honesty, tenacity, self discipline, perseverance, and self respect of these very proud people. Their collective reaction to this disaster is truly a model for every nation. I know that with such noble human virtues, they will rebuild an even stronger and better Japan.
Japan has often donated when other countries have experienced disasters, such as when Hurricane Katrina impacted the United States.
You can help survivors of japan's earthquake by donating to Save the children.
I just can't stop thinking on this brave people, struggling with worst disaster in the history.
Please help them.