Checks and tests applicable for CTs
Once erection is completed, various pre-commissioning checks and tests are performed to ensure the healthiness of the switchyard equipment prior to their energization. This technical article explains various major electrical tests applicable for current transformers (CTs).

Let's name these tests to be performed on CTs along with their brief description. Later, they will be explained in details.
| | | |
| --- | --- | --- |
| No. | Name of test / check point | Purpose of test / check |
| 1. | Polarity test for CT | To ascertain whether the polarity markings are correct or not as per drawing. |
| 2. | Magnetization characteristics of CT | To prove that the turns of CTs secondary windings are not short circuited and to check healthiness of CT cores. The magnetizing currents at KPV (Knee point voltage) should be less than the specified value. The ratio of secondary and primary voltage should also be measured. |
| 3. | Ratio test for CT | The ratio errors of the primary to the secondary currents should within specified ratio errors. |
| 4. | IR measurement of CT (Primary & Secondary windings) | Changes in the normal insulation resistance (IR) value of CT indicate abnormal conditions such as presence of moisture, dirt, dust, crack in insulator of CT and degradation of insulation. |
| 5. | DGA test of CT oil | This test should be conducted after 30 days of commissioning. The purpose is to identify evolving faults in the CT and DGA values should be comparable with factory values (if available). |
IMPORTANT NOTES!
All measures and precautions should be undertaken to prevent occurrence of unsafe acts. All the personnel involved should be thoroughly apprised about the safe procedures to be adopted while performing various activities including carrying out tests in the switchyard.
Adequate fire-fighting system as per procedures and their healthiness is to be ensured before charging. Warning signs and safety barriers should be positioned.
1. Polarity Test For CT
A centre zero voltmeter is connected across CT secondary. A 1.5 Volt battery is touched to primary of CT. The deflection of pointer should be similar in case of each CT core. At any instant current entering the primary from P1 the current should leave secondary from the terminal marked S1.
A setup shown in the Figure 1 can show whether the polarity markings are correct or not.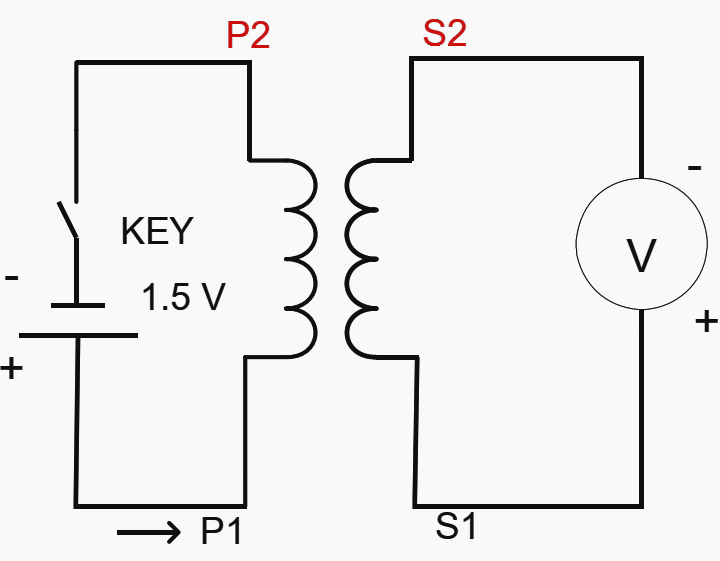 When the key is pressed, current enters the primary through terminal P1, the voltmeter connected as shown, should read positive. A general arrangement of polarity test setup is indicated in Figure 2.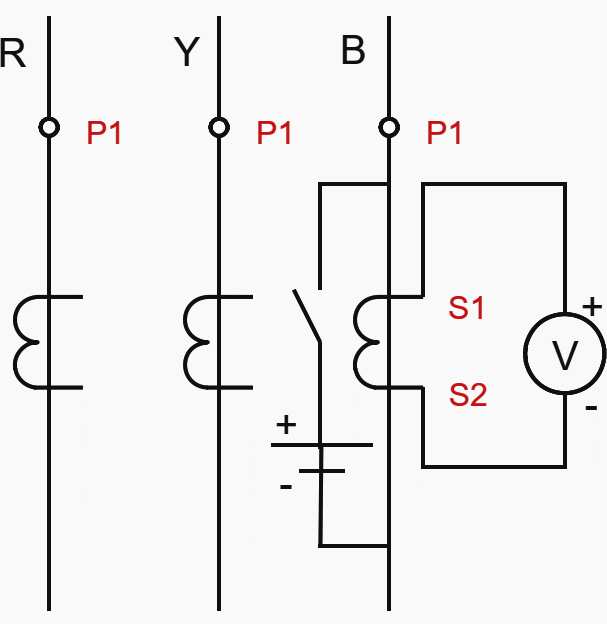 2. Magnetization Characteristics Of CTs
Important Precautions
There should be no joints in testing leads / cables.
It should be ensured that whole testing equipment along with testing procedures are available at testing site. Testing must be carried out in presence of testing personnel only.
Test Equipment
Voltage source of 5 kV, voltmeter of range 0 to 5 kV, ammeter, of range 0 to 500 Amps, testing leads/cables etc.
Test Procedure
Make connections as per diagram shown below (Figure 3). After making proper connections, applied voltage is increased from zero to rated Knee Point Voltage in steps of 25%, 50%, 75% and 100%. Measure the current drawn by the CT secondary core at respective applied voltages and record the test results.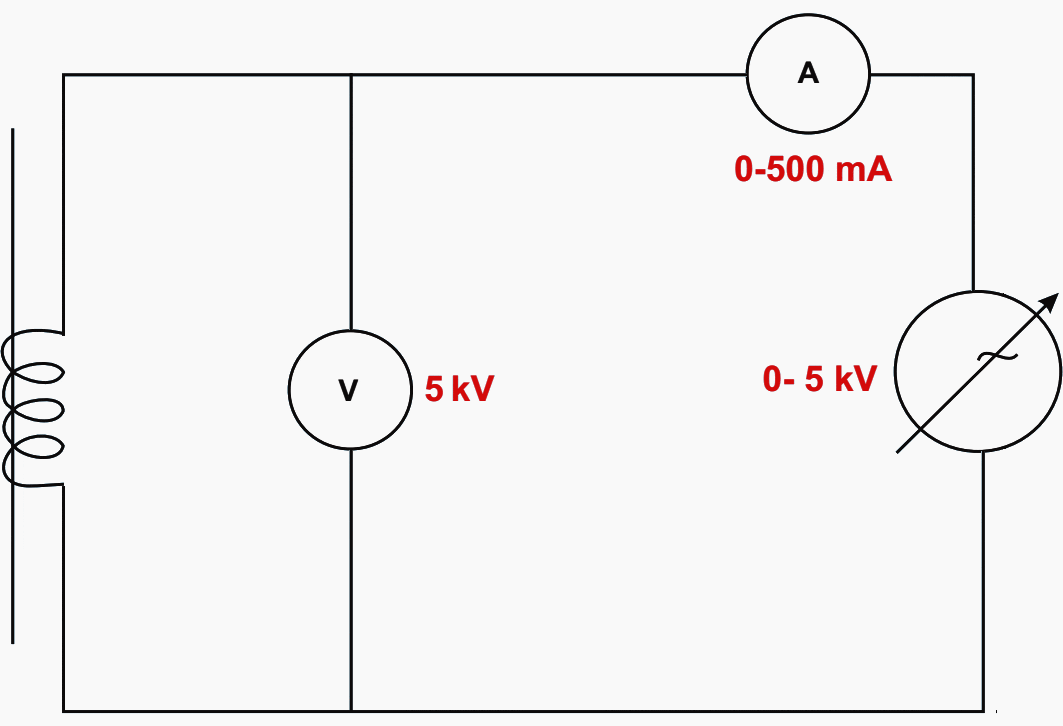 Knee Point Voltage is normally defined as the voltage at which 10% increase in the applied voltage causes 30 to 50% increase in secondary current.
The magnetization current
at rated Knee Point Voltage
should not be more than the specified/designed value. A curve can be drawn between applied voltage and magnetizing current.
Typically, the curve drawn should be like the one given below in Figure 4.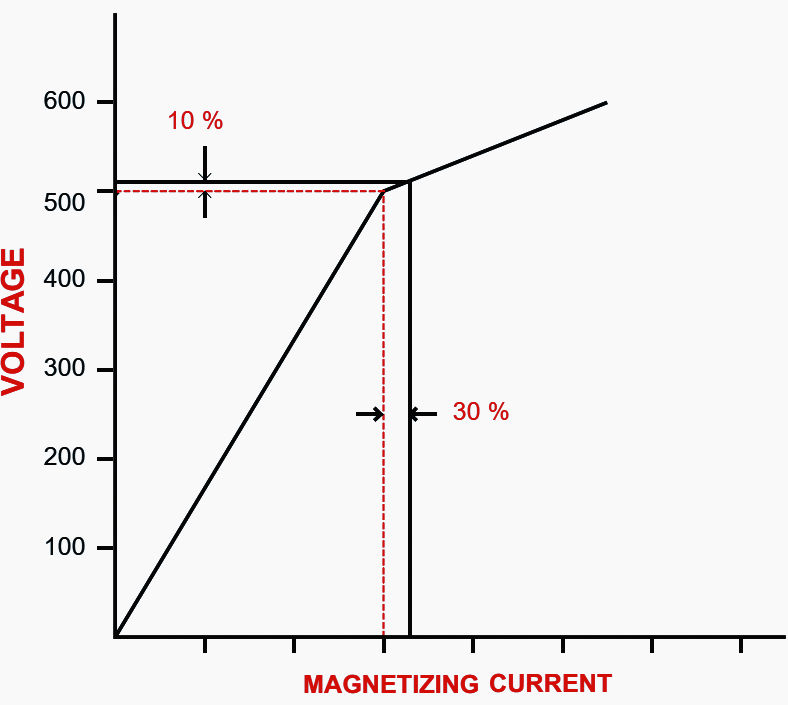 From the curve it can be implied that up to rated KPV (Knee Point Voltage), the VI curve should be almost a straight line.
However, if this line is not linear, this indicates that the magnetizing characteristics are not desirable. If the slop of the curve starts increasing, it indicates that magnetizing induction becomes low and total primary current is utilized in exciting the core alone. Consequently, out put of CT secondary disappears.
3. Ratio Test For Current Transformer
Ratio and polarity tests can be carried out using either primary current injection or secondary voltage injection. For multiple ratio CT's, tests should be carried out on all ratios as marked on the manufacturer's nameplate. For primary current injection, a current is applied to the primary side of the CT and corresponding secondary current measurements are made at each tapping of each core.
The ratio check has to be carried out as indicated in Figure 5 below.


It is customary to conduct this in conjunction with the primary injection test. Current is passed through the primary circuit with the secondary winding circuit to its normal circuit load. The ratio of the primary to the secondary currents should approximate closely to that stamped under CT identification plate.
Alternatively, ratio test is to be conducted as per the following method as shown in Figure 6.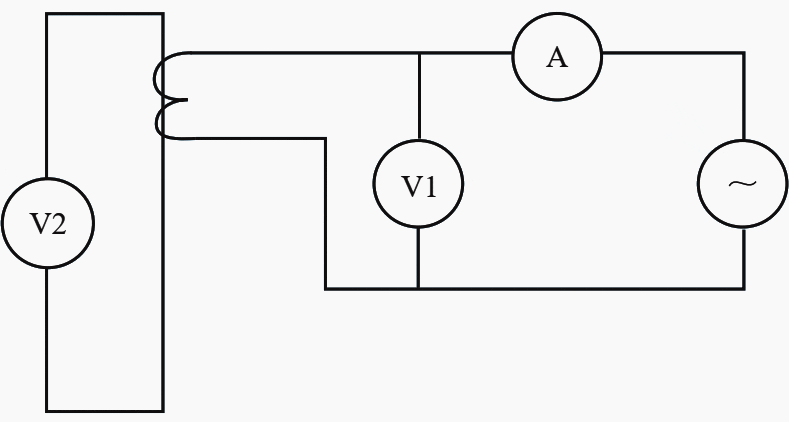 Apply voltage from secondary of the CT and measure voltage in primary winding. Increase voltage in secondary up to rated KPV/ ISF and by recording Primary Voltage, compute ratio of V1/ V2. The ratio should match with the specified value.
4. Insulation Resistance (IR) Measurement Of Current Transformer
Important Precautions
There should be no joints in testing cables.
Test leads should not touch any live part.
Megger body should be earthed (if separate terminal is provided).
Surface/terminals should be cleaned.
IR measurement should be carried out preferably in dry and sunny weather.
Never connect the test set to energized equipment.
The ground terminal must be connected first and removed at last.
High voltage plugs should be free from moisture during installation and operation.
If oil traces are found on the surface of CT, the same should be cleaned by Methyl Alcohol only. Petrol or diesel should never be used.
It should be ensured that whole testing equipment along with testing procedures are available at testing site. Testing must be carried out in presence of testing engineer only.
After testing with high voltage, test terminals must be grounded before being touched by any personnel.
Test leads should be properly screened/ shielded.
Connect the Megger as per Figure 7 given below. Connect the HV terminal to the Primary terminal of CT by using crocodile clip for firm grip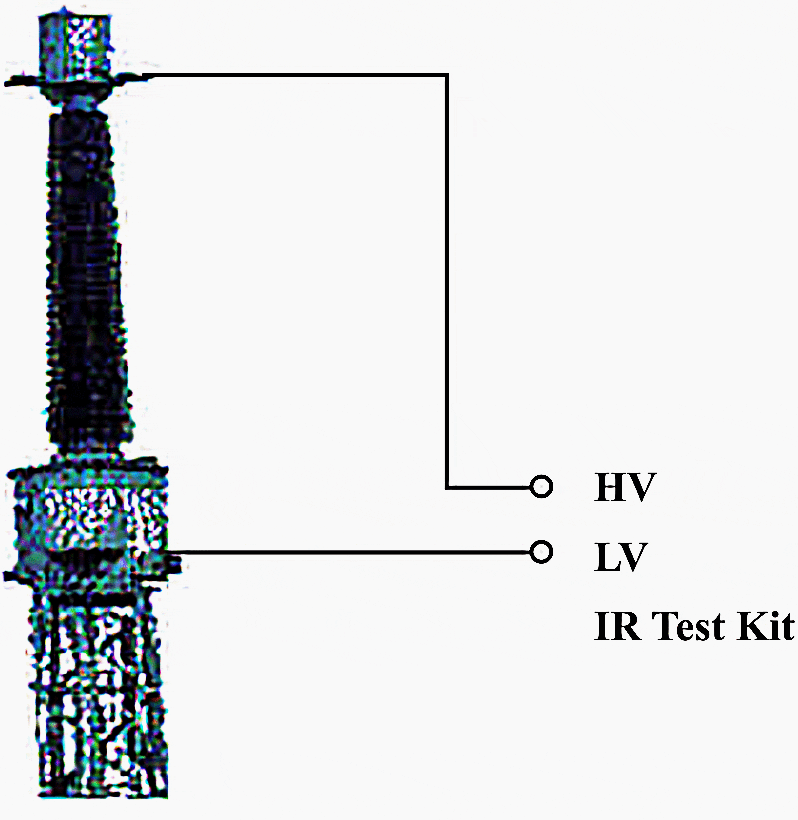 Carry out the measurement as per standard procedure given by the kit supplier. A test voltage as specified is applied as per the above connections and successive readings are taken. Values of IR should be recorded after 15 seconds, 60 seconds and 600 seconds.
Ambient temperature and weather conditions are to be recorded.
5. DGA Test of CT Oil
Current transformers are vital components in both the transmission and distribution of electrical power. The early detection of incipient faults in transformers is extremely cost effective by reducing unplanned outages. The most sensitive and reliable technique used for evaluating the health of oil filled electrical equipment is dissolved gas analysis (DGA).
Insulating oils under abnormal electrical or thermal stresses break down to liberate small quantities of gases.The qualitative composition of the breakdown gases is dependent upon the type of fault. By means of dissolved gas analysis (DGA), it is possible to distinguish faults such as partial discharge (corona), overheating (pyrolysis) and arcing in a great variety of oil-filled equipment.
Information from the analysis of gasses dissolved in insulating oils is valuable in a preventative maintenance program. A number of samples must be taken over a period of time for developing trends.
Oil samples to be collected in 300 ml bottles or similar and to be sent for testing. Test results should be comparable to factory values.
Data from DGA can provide:
Advance warning of developing faults
A means for conveniently scheduling repairs
Monitor the rate of fault development
NOTE – A sudden large release of gas will not dissolve in the oil and this will cause the Buchholtz relay to activate.
Transformer Oil Sampling – Introduction
As always, safety first. We start our Transformer Oil Sampling series with a number of highlights on health, environmental and safety considerations when performing these tasks. Please these are only guidelines and do not replace adequate competency and skills.
Always follow the relevant company and legislative requirements for your particular work context.
Transformer Oil Sampling – Bottle Sample
There are some sampling techniques better suited for certain types of oil tests than others. The techniques described in this video should be sufficient to sample oil when common chemical and physical properties are analysed, such as Breakdown Voltage, Interfacial Tension, Acidity (or Neutralization Number), Colour and Visual Inspection.
Transformer Oil Sampling Training – Glass Syringe
A sampling technique proven to produce repeatable results when testing the Dissolved Gas content or Moisture (Water) Content in the oil is by sampling with a Glass Syringe.
In this video you'll learn how to execute this technique.
Transformer Oil Sampling Training – The Buchholz Relay
In this video, the fourth and final of the Oil Sampling series, you'll learn how to extract a gas and oil sample from a Buchholz gas accumulation relay through a sampling device.
Sources:
Pre-Commissioning Procedures & Formats for Switchyard Equipment by POWER GRID CORPORATION OF INDIA LTD
A guide to transformer oil analysis by I.A.R. GRAY Transformer Chemistry Services