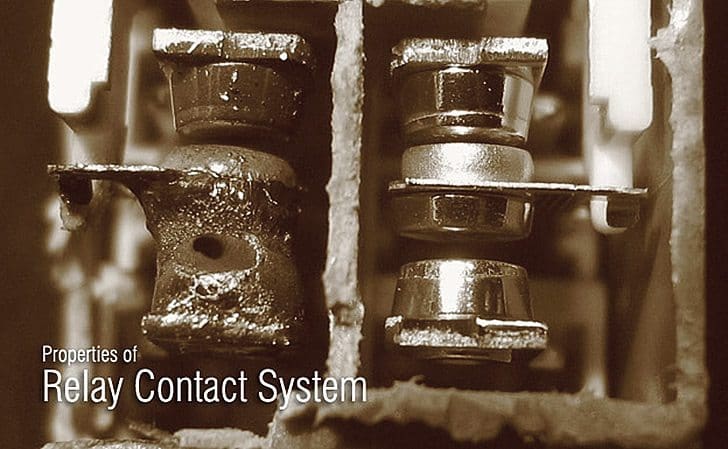 Electrical contact
The word "contact" not only describes the conductive connection ot two mechanically separate electrical conductors, but also the conductive parts (contacts) even if they are not touching.
Contacts comprise:
Non switching contacts as in connectors being opened only for service or installation (e.g. screw connections)
Sliding contacts
Plug contacts to carry but not to switch current
Switching contacts as in relays, contactors and switchgear
Relay contacts are physically separate but switchable electric conductors designed to make an electrical connection, carry the load current, break the circuit and electrically isolate the load from the supply. How well the contact system actually performs is dependant on the suitability of the contact material, the contact arrangement and the mechanical design.
An ideal relay contact would consist of highly conductive metal with chemically clean surfaces (no oxidation) and a large, wear resistant, effective contact area. Open contacts would ideally have infinite dielectric strength for electrical isolation.
Unfortunately, actual relay contacts do not have these characteristics. An optimal contact material with high conductivity, resistance to oxidation or chemical reactions and resistance against wear and thermal influences during switching can only be a compromise. Design and cost clearly limits parameters such as the size of contact area, contact forces, relay sensitivity, and the need for big contact gaps for high dielectric strength.
Typical and most basic influences on electrical contacts and their respective effects are shown in the following tables.
Influence On Electrical Contacts
Influences

Parameters

Effect

Electrical
• Current
• Voltage
Heating, melting, material migration, chemical reactions, frilling, electrical discharge, contact resistance
Thermal
• Arc
Melting of contact material, material migration
Mechanical
• Friction
• Pressure
Deformation, wear, cold welding, contact resistance
Ambient conditions
• Dust
• Gases
Increased wear, particles, formation of chemical layers and corrosion
Chemical
• Oxidation
Contact resistance, inorganic and organic layers, corrosion
Influence On Switching Contacts Depending On Load Range
Load range

Main influence

s

Contact material

 

Considerations

Dry circuit
< 100mV, < 10mA
low level switching
<1V, <10mA
• Mechanical
• Chemical
gold plated
materials
Contact resistance, sealed relays, wipe movement, twin contacts, outgas free and wear resistant plastic material
Intermediate level
<15V,
<300mA
• Mechanical
• Chemical
• Electrical
• AgNi 0.15
• AgNi 10
• (AgSn02)
• (AgCd0)
Sealed relays, trilling, material transfer, contact resistance, outgassing
Power contacts
10-400V,
300mA-30A
• Electrical
• Chemical
• AgNi 0.15
• AgNi 10
• AgSnO2
• AgCd0
Electrical life, contact welding, electrical wear, high temperatures, isolation properties, corrosion for sealed relays
Resource: Schrack Relays