Increase of the magnetizing current
Overexcitation of a transformer means that the magnetic flux in the core is increased above the normal design level. This will cause an increase of the magnetizing current and the transformer can be damaged if this situation isn't taken care of.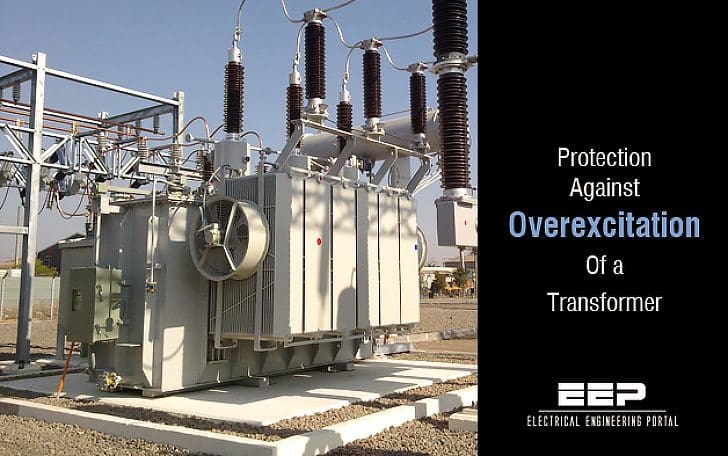 Overexcitation of transformers in transmission and distribution networks is caused by overvoltages in the network.
For step-up transformers connected to generators during start-up, overexcitation can occur since the flux is dependent of the factor voltage/frequency. This means that the voltage must be gradually increased, with increasing frequency, in order not to overexcite the transformer.
The overexcitation is not an internal transformer fault, although can lead to one.
The differential protection must therefore be stabilized under these conditions as tripping of transformers and thus load will only mean that the overvoltage condition in the network is becoming worse.
The current during overexcitation has a lot of fifth harmonic, see figure 1. This fact is utilized in modern transformer protection to stabilize the transformer against unwanted functions during these kind of conditions.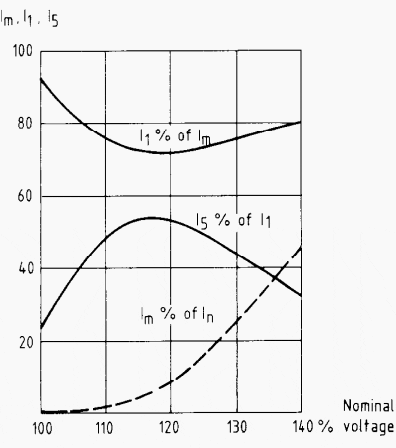 If overexcitation of the transformer due to overvoltage or underfrequency is likely to happen, a separate overexcitation protection should be supplied. This protection has inverse characteristics according to the transformers capability to restrain overexcitation "V/Hz".
This protection must be connected to a transformer winding with fixed number of turns.
If the transformer is supplied with tap changer the protection must be connected to a side without tap changer. The side with the tap changer can withstand different voltages depending on the tap changer position and is therefore not suitable for overexcitation protection.
Reference: Protection application handbook – ABB BA THS / BU Transmission Systems and Substations