Protection relays
As Generators and transformers are major components of a power system, so it is quite necessary to take all the preventive measures for the protection of transformers and generators.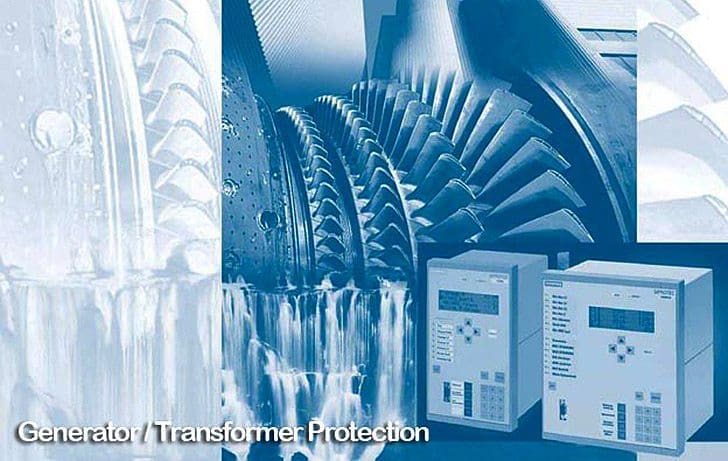 These are the following ways (ANSI codes) we use to protect transformers and generators from faults:
87/G1
Generator differential protection (87/G1): the protection is provided with high speed, high stability circulating current relays. The relays has a pick up range of 10 to 40% of 5A and shall have suitable stabilizing for ensuring stability against external faults. The relays shall be tuned to fundamental frequency to reject harmonics produced by CT saturation.
87/GT1
Generator-transformer differential protection (87/GT1): the diff. relays for the generator-transformer has to be of sensitive high speed percentage bias type with harmonic restraint and has CT ratio matching devices.
The relay should have all required restraints to make it inoperative for fault current, magnetizing inrush current and abnormal magnetizing inrush current during short time over voltage conditions.
87T1A
Unit auxiliary transformer differential protection (87T1A): percentage biased differential relays are used along with ratio matching device. The relay shall not operate for magnetizing inrush current. High set instantaneous over current relays shall be provided in series with the previous relay, set for magnetizing inrush current, for fast protection from internal faults.
64GI
Generator stator earth fault protection (64GI): the stator earth fault protection shall consist of a zero sequence voltage relay connected to the broken delta winding of generator voltage transformer. The protection shall act to initiate a time-delayed signal only and hence the relay shall be continuously rated for 110V.
The relay shall incorporate arrangements to make it insensitive to third harmonic voltages.
87TG
Generator inter-turn protection(87TG): the protection shall be by means of an instantaneous over current relay. The relay shall incorporate filtering arrangements to make it inoperative for third harmonics. The relay shall have suitable range to cover 20-50% of generator current.
64-1,64-2
Generator rotor earth fault protection(64-1,64-2): the first rotor earth fault of generator shall be detected by means of super imposing of separate Dc bias on the field winding. The DC bias shall be such that the faults at any point in the winding are covered by the protection. Also the relay shall withstand the voltage encountered. Second rotor earth fault protection for generators shall also be provided, with suitable relays common for two units.
The protection shall incorporate feature for compensating the effects of induced alternating currents in rotor circuit and shall have minimum dead zone.
40G
Generator loss of field protection(40G): this protection shall be single phase off set impedance type. The relays shall have impedance settings to cover the usual range of impedance of large turbo generators.
21G
Generator backup protection(21G): the generator backup relay shall be of three phase impedance type for one zone protection together with required auxiliary relays and two stage timer to give backup protection for faults in the generator, main transformer and transmission system.
46G
Generator negative sequence current protection(46G): the negative sequence current relays shall protect the generator from damage by overheating due to sustained flow of unbalanced phase currents, and the operating characteristics of the relay shall be adjustable to match I2Rt thermal characteristics.
67-1G, 67-2G
Generator under power and anti motoring protection (67-1G, 67-2G): the step up transformer back up earth fault protection current relays shall be of IDMT characteristics. One of the two relays shall be set with higher time dial setting to provide second stage of protection.
51G
Generator overload protection(51G): one over current relay shall be provided to initiate an overload alarm. The relay shall have high reset ratio and adequate continuous thermal rating.
59G
Generator over voltage protection(59G): suitable over-voltage relays preferably with volt/cycle characteristics shall be provided.
50T1A
Back-up protection for unit auxiliary transformer(50T1A): Two instantaneous over current relays with an external DC timer shall be provided for back-up protection for unit 6.6 kV bus bar.
95G
Fuse failure protection(95G): This protection shall block the operation of all protections associated with voltage circuits in the event of failure of a fuse of generator.
86G and 86GT
Lockout relays(86G and 86GT): lockout relays shall be provided for each generator unit which will be multi contact , hand reset type. The latching mechanism shall be positive and insensitive to vibration and shock
SOURCE // Internet and several books of Electrical Engineering