Tripping, disconnector, ground-switch…
Previously, an introductory part of the GIS and its components were discussed to pave the way for the GIS control circuits. Moreover, the single-line diagram example for a double-bus and a single breaker clarifies several concepts that are for the GIS only. It is challenging to comprehend and grasp the control circuits due to the interrelated components and functions that impose additional interlock schemes and control functions.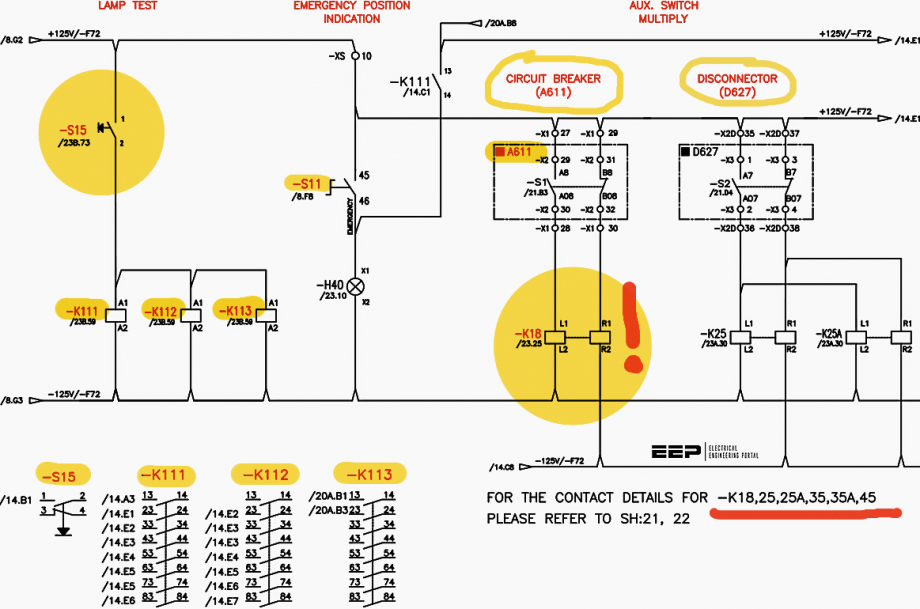 Hence, a brief description of drawing tips and drawing examples was elaborated before delving into the actual article topics (control circuits). Broadly, control circuits are categorized into:
AC & DC auxiliary circuits
DC of secondary (close/trip) for CB, disconnector, and ground switches
Indication and alarm circuits
SCADA indication and alarm circuits
Equipment coil contacts arrangements and components details
AC of secondary (CT & PT)
The first group shares similar concepts with the MV switchgear circuits in previous articles, so they were mentioned briefly. The second group includes many circuits-namely, breaker closing circuit, breaker trip circuit, and disconnector/ground switch close/open circuit. The breaker closing circuit requires so many conditions fulfillment before closing.
As a result, it is expected to have a complex circuit as we experienced in the last article.
That being said, the disconnector/ground switch close/open circuits are not less complicated as will have been revealed by the end of this article. The trip circuit and the alarm and indication circuits are also considered. If you have not read the first article, you are encouraged to do so since it is a pre-requisite for this article.
Of course, the MV switchgear two articles are to be covered first for easier understanding. You can consider it as a series of articles that tackle the MV switchgear and then move to the GIS, so the difficulty level increases steadily. However, once you master it, it becomes an invaluable tool for your practical expertise for design, maintenance, and troubleshooting.
1. Circuit Breaker Tripping Circuit
In the previous article, there was a general closing command that must be pressed along with the breaker selector pushbutton to close the breaker in the emergency mode so that any accidental activation of the breaker selector pushbutton does not result in a breaker close. The same philosophy is implemented in the trip circuit.
This is illustrated in Figure 1, where the S1 pushbutton represents the breaker tripping in the emergency mode and K302 is the contactor energized when the general trip command pushbutton is pressed. This is identical to what was witnessed in the closing circuit. Consequently, the coil K12 circuit is completed such that its contactor closes in which the DC supply reaches the trip coil (Y2).
Again, the SF6 condition plays a major role in the trip circuit, too.