Motor maintenance
A well and carefully designed motor maintenance program, when correctly used, can be summed up as preventive maintenance, predictive maintenance and reactive maintenance. Inspection cycles depend upon the type of motor and the conditions under which it operates.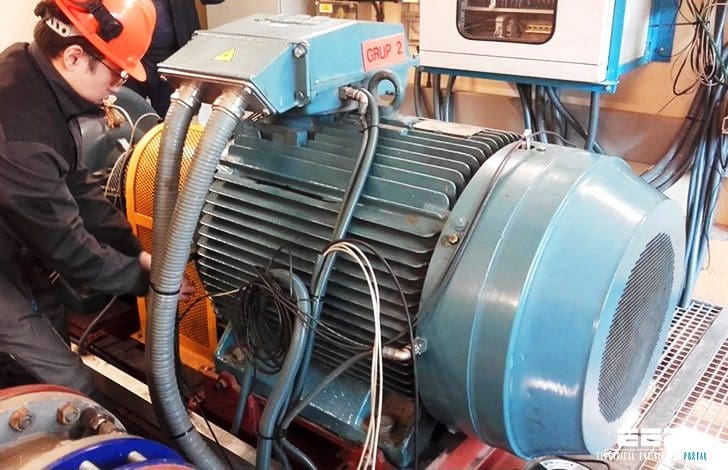 Motors need maintenance regularly in order to avoid failure and prolong their lifespan. Generally speaking, motors and motor parts should be maintained and tested at least every 6 months. Only then is it possible to maintain a motor's life and its efficiency.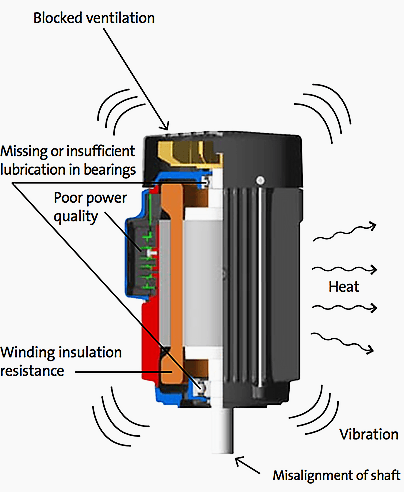 1. Preventive motor maintenance
The objective of this kind of maintenance is to prevent operating problems and make sure that the motor continuously provides a reliable operation Usually, preventive maintenance is a scheduled part of maintaining a whole system.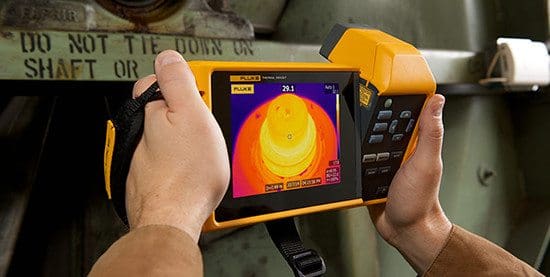 2. Predictive motor maintenance
The objective of this kind of motor maintenance is to ensure that the right kind of maintenance is carried out at the right time. In order to define these two parameters, it is necessary to monitor the motor operation regularly and thereby detect problems before they actually occur.
By keeping a log-book it is possible to compare historical data on a wide range of parameters and thereby anticipate potential problems.
3. Reactive motor maintenance
The main objective of this kind of maintenance is to repair and replace the motor when a failure occurs. Reactive maintenance or breakdown maintenance as it is referred to as well, does not imply any regular service or tests.
What to know about PREVENTIVE maintenance
Unexpected downtimes are costly because they often imply that a whole manufacturing process or parts of it is put to a stop. Preventive motor maintenance on a regular basis can help prevent motors to fail and thus, prevent unexpected production stops.
On the following paragraphs, I'll present some of the important elements that preventive maintenance includes.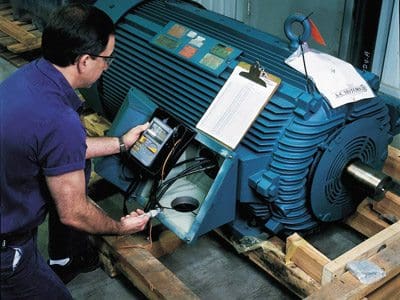 Motor ventilation
If the motor is installed and operates in an area with limited ventilation, the motor temperature may reach high temperatures that can damage the motor's insulation and bearing grease, and cause it to fail Dust and dirt often block the ventilating passages.
Therefore, in order to prevent the motor from overheating, it is important to blow away the dirt on a regular basis.
Even though motors are protected, it is important to install them in areas with constant ventilation so that high temperatures do not damage insulation and bearings. The cooler a motor operates, the longer lifetime it has. Therefore, the fan cover and the cooling fin always have to be as clean as possible.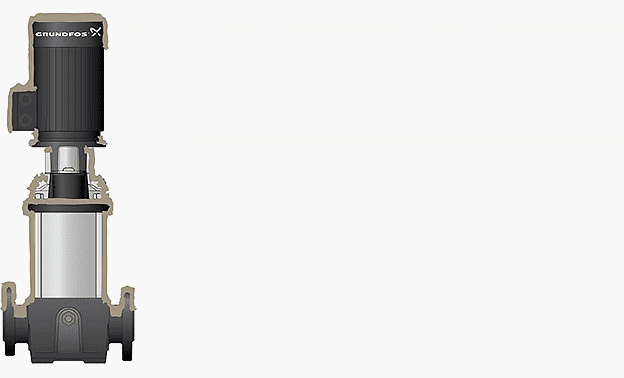 Humidity and condensation
In IP55 closed motors, water vapour may condense and consequently reach the motor windings and the bearings. Therefore, in this kind of motor, the motor temperature must always be warmer than the surrounding temperature during stand still. This can be done by using another solution is to remove the drain plugs allowing condensed water to escape.
Removing the drain plugs will change the motor enclosure from IP55 to IP44.


Loose connections
All electrical connections must be kept tight and torqued according to the recommended values Cold or creep flow during load cycles often cause joint failure. Fuses, cable connections, contactors and circuit breakers are often subject to loose connections and should thus be checked regularly as well.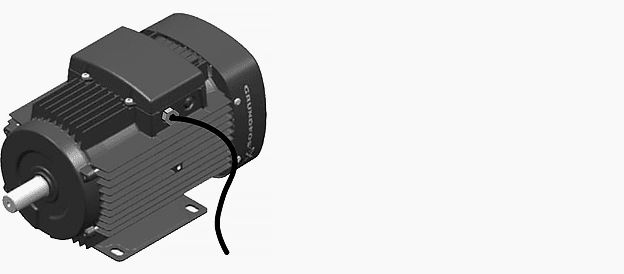 Voltage and current imbalance
Voltage and current imbalance is certainly an area of concern and the values should be checked regularly in order to avoid problems with the motor. Voltage imbalance occurs when the voltage of three phases differs from one another. Voltage imbalance causes line currents to be unequal as well.
This results in different kinds of problems // Vibrations, torque pulsations and overheating of one or more of the phase windings. The voltage imbalance leads to a decrease in the motor's efficiency and shortens its life.


Undervoltage and overvoltage
Undervoltage and overvoltage wear out the motor's stator insulation. Undervoltage stresses the temperature in the insulation
At lower voltages, motors run at a reduced full-load efficiency, run hotter, have a larger slip, produce less torque, and may have a shorter lifespan.
Usually, induction motors are capable of handling overvoltage situations. However, severe overvoltage may cause turn-to- turn, phase-to-phase or phase-to-ground short circuiting. That is a short-circuit between the phases or between the phases and the frame.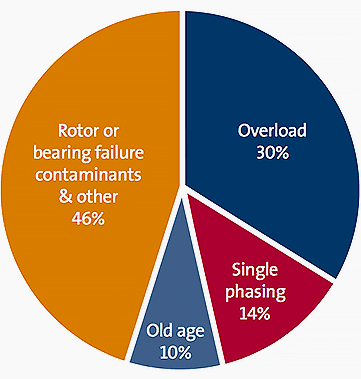 Bearings
Today, bearings are the components in the motor that are most exposed to wear. The reason is that the insulation system is no longer subject to high temperatures because the efficiency of motors has improved over the years. The most common error is no longer short circuit but noise from the bearings and bearing damage.
Therefore, when carrying out preventive maintenance on the motor, replacement and maintenance of bearings are indeed important factors!!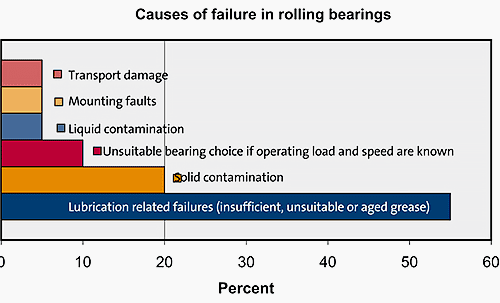 Some bearings are referred to as greased-for-life bearings or maintenance free bearings. However, these terms are misleading. They do not imply that the bearings do not need maintenance at all.
Greased-for-life bearings or maintenance-free bearings have to be replaced eventually. When, depends on either the lifespan of the bearings (L10h) or on the lifespan of the grease that is used as lubrication (F10h). The lifespan of the bearing varies between 16,000 – 40,000 hours or more.
As to the lifespan of the grease it is normally at least 40,000 hours under normal operating conditions.
Bearing life
It is possible to calculate the lifespan of bearings based on the material fatigue if we know the motor's operating load and speed. To make these calculations it is essential that the bearings are mounted and lubricated correctly. The calculations do not take the effect of adverse operating conditions into account.
Bearing lubrication
Bearings in standard motors are always lubricated with grease either once and for all (greased-for-life) or they may be relubricated via lubrication nipples. Actually, only a small amount of bearings reach their optimum lifespan. The explanation is linked to maintenance.
The major reasons for premature bearing failure are //
Wrong mounting
Contamination
Incorrect handling
Incorrect maintenance
Incorrect or no lubricant, (too old lubricant, wrong amount of lubricant, dirt in lubrication etc )
Cleanliness
Motors should be kept clean, free of dust, debris and oil. Soft brushes or clean cotton rags should be used for cleaning. A jet of compressed air should be used to remove non-abrasive dust from the fan cover and any accumulated grime from the fan and cooling fins.
Terminal boxes fitted to motors with IP-55 protection should be cleaned. Their terminals should be free of oxidation, in perfect mechanical condition, and all unused space dust-free.
Motors with IP(W) 55 protection are recommended for use under unfavourable ambient conditions.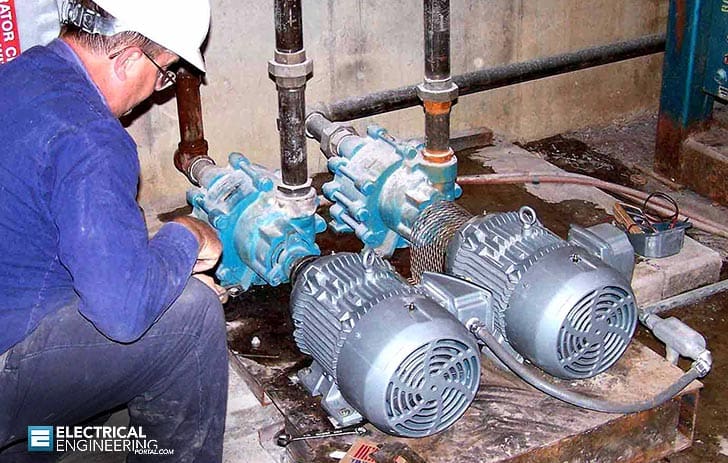 References //
Grundfos Motor Book
Installation and Maintenance Manual for Electric Motors by WEG