RMU
A Ring Main Unit (RMU) is a totally sealed, gas-insulated compact switchgear unit. The primary switching devices can be either switch disconnectors or fused switch disconnectors or circuit breakers.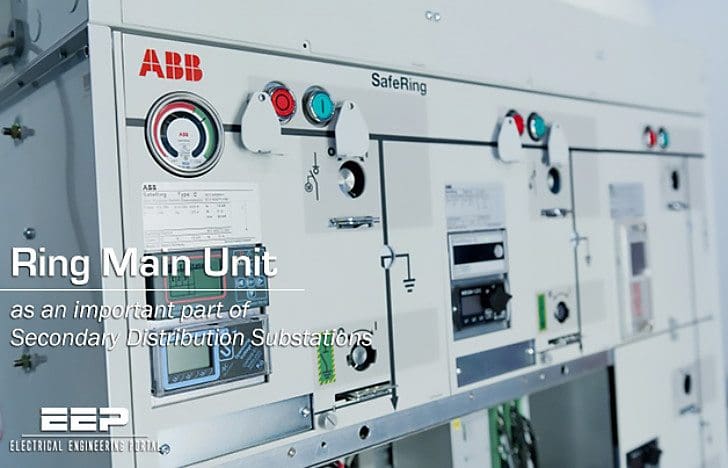 Different combinations of these primary switching devices within the unit are commonly used.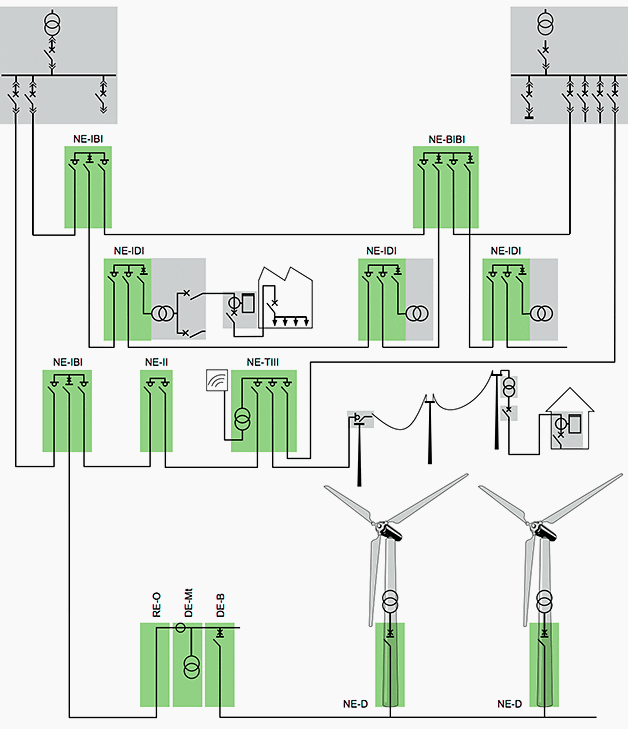 In case a circuit breaker is the switching device, it is also equipped with protective relaying, either with a very basic self-powered type or a more advanced one with communication capabilities.
The rated voltage and current ranges for RMUs typically reach up to 24 kV and 630 A respectively. With many of the manufacturers of RMUs, the basic construction of the unit remains the same for the whole of the voltage range.
The increase in rated voltage is handled by an increase in the insulating gas pressure.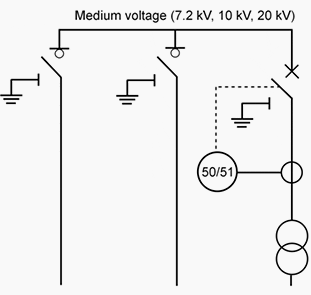 The figure above shows a typical RMU configuration where load disconnectors are the switching devices for the incoming cable feeders and circuit breaker works as the switching device for distribution transformer feeder.
Three-position design // Closing, Opening and Earthing
All of the switching devices are of three-position design, having the possibility to close or open or earth the feeder in question.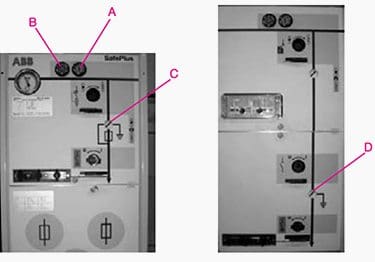 Closing
Closing the moving contact assembly is manipulated by means of a fast-acting operating mechanism. Outside these manipulations, no energy is stored. For the circuit breaker and the fuse-switch combination, the opening mechanism is charged in the same movement as the closing of the contacts.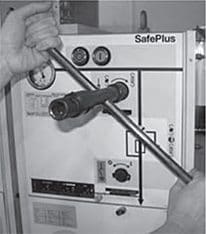 Opening
Opening of the switch is carried out using the same fast-acting mechanism, manipulated in the opposite direction. For the circuit breaker and fuse-switch combination, opening is actuated by: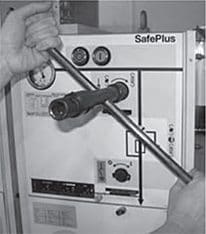 Earthing
A specific operating shaft closes and opens the earthing contacts. The hole providing access to the shaft is blocked by a cover which can be opened if the switch or circuit breaker is open, and remains locked when it is closed.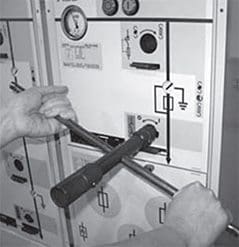 The figure below shows typical outlook of a three-feeder RMU. In the figure, the combination consists of load disconnectors for the incoming two feeders and a fused load disconnector for the distribution transformer feeder. The incoming and outgoing medium-voltage cables are attached using elbow-type plug-in cable ends.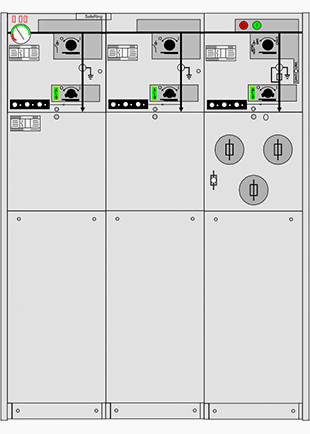 Whereas the RMU type of units represents the very compact gas-insulated design for a dedicated purpose, the secondary medium-voltage switchgears represent an air-insulated, quite freely extendable and configurable solution.
References:
Distribution Automation Handbook // Elements of power distribution systems – ABB
RM6 Ring main Unit catalogue – Schneider Electric
MV RMU SafeRing catalogue – ABB