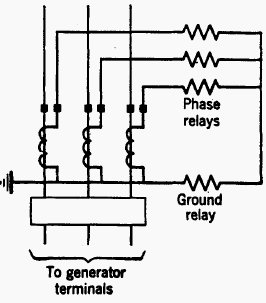 If current transformers are not connected in the neutral ends of wye-connected generator windings, or if only the outgoing leads are brought out, protective devices can be actuated, as in Figure 1, only by the short-circuit current supplied by the system.
Such protection is when the main circuit breaker is open, or when it is closed if the system has no other generating source, and the following discussion assumes that short-circuit current is available from the system. If the generator's neutral is not grounded, sensitive and fast ground overcurrent protection can be provided; but, if the neutral is grounded, directional overcurrent relaying should be used for the greatest sensitivity and speed. In either event, directional overcurrent relays should be used for phase-fault protection for the greatest sensitivity and speed.
If non-directional voltage-restrained or -controlled overcurrent relays are used for externalfault back-up protection, they could also serve to protect against generator phase faults.
None of the foregoing forms of relaying will provide nearly as good protection as percentage-differential relaying equipment, and they should not be used except when the cost of bringing out the generator leads and installing current transformers and differential relays cannot be justified.