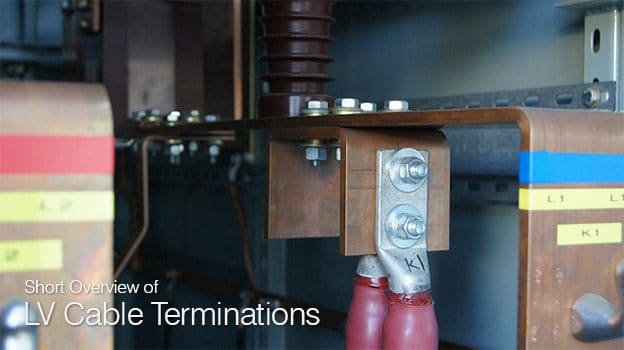 A termination is the electrical and physical connection of a cable end to a piece of equipment or another cable. A splice is the electrical connection of a cable end to another cable with the same cable number.
Cable terminations (splices) are designed and installed to interconnect two cable ends both electrically and physically.
The physical requirements relate to mechanical security and environmental protection of the connection; the electrical requirements relate to current carrying capacity, connection voltage drop and compatibility of materials (e.g., thermocouple extension wire connections must join like conductor materials).
Soldered connections, wire-wrapping connections, crimp connections, compression terminations, and loop or "eye" connections are the most common types of terminations used.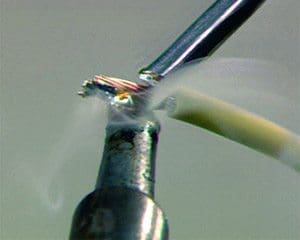 In a soldered connection, the like conductors of the cables are soldered together or into connectors to form a physically secure, low-resistance termination. Various solder lugs are available, ranging from a post with a round hole through which wire is passed to a"cupped" solder terminal. Solder terminations are infrequently used except when circular "military type" connectors are used.
Wire-wrapping connections are connections in which the uninsulated solid conductor is wrapped with significant force about a rectangular metal post for several turns. The wrap is sufficiently tight to deform the post to result in a physically and electrically secure connection. This termination is seldom found for general application, but is often found internal to instrumentation and control equipment such as computers and multiplex panels.
This termination method is also popular for telephone circuit distribution boxes in which many small conductor (typically to 19 AWG or smaller) wires are terminated.
Crimp connections are connections using terminals having tubular openings into which the cable conductors are placed. The tube is then mechanically pressed or deformed to tighten it onto the conductor and form a connection.
The crimping is performed typically by a crimping tool specially designed for the termination. For nuclear safety-related circuits, the crimping tools are calibrated and are generally used under quality control supervision to ensure proper connections.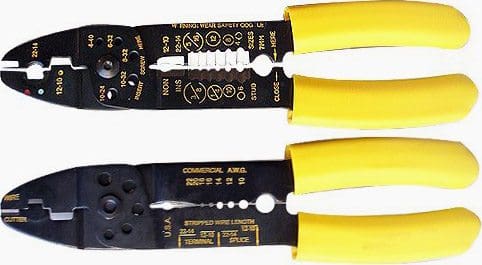 Crimp connections are commonly available in butt splice, ring lug, and spade lug formats. Crimp connections are available in a wide variety of sizes and may be found in instrument, control, and power circuits.
Compression terminations are terminations in which the uninsulated conductor is inserted into a "box" and the connection is then made with a screw, a flat strap, or other such mechanism that compresses the conductor and forms the connection.
Low-voltage circuit breakers use this type of connection.
Loop or "eye" connection at screw terminals is the wrapping of an uninsulated conductor under the head of a screw and around its shank. This connection is inexpensive and is used where the connection would be infrequently disconnected. The conductor loop is made in the direction of screw tightening.
The Practical Skills Series – Cable Termination (VIDEO)
Cant see this video? Click here to watch it on Youtube.
Resource: Power Plant Practices to Ensure Cable Operability – Electric Power Research Institute