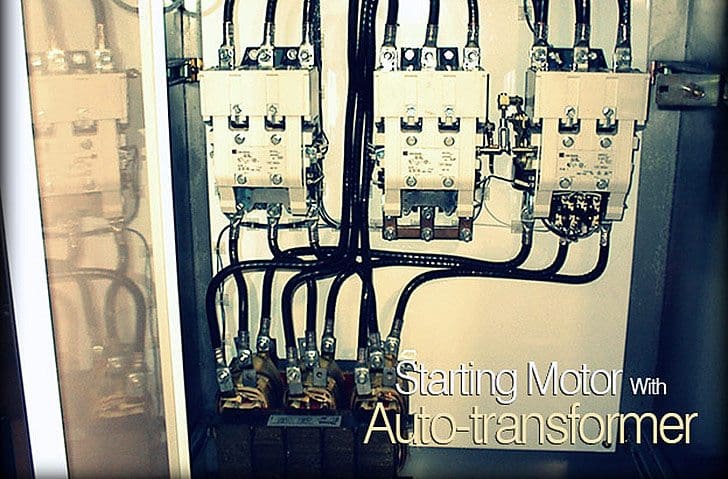 Circuit and function
An auto-transformer starter makes it possible to start squirrel-cage induction motors with reduced starting current, as the voltage across the motor is reduced during starting.
In contrast to the star-delta connection, only three motor leads and terminals are required. On starting, the motor is connected to the tappings of the auto-transformer; transformer contactor K2M and star contactor K1M are closed.
The motor starts at the voltage reduced by the transformer, with a correspondingly smaller current.
By this means the feeding current in comparison to direct starting would be reduced by the square of the transformer voltage ratio; nevertheless, it is in most cases noticeably higher, as it also covers the relatively high transformer losses.
Depending on the tapping and starting current ratio of the motor, the starting current lies at (1 … 5) · Ie. In contrast, the motor torque falls with the square of the voltage across the windings. Auto-transformers usually have three available taps in each phase (for example 80 %, 65 %, 50 %), so that the motor starting characteristic can be adjusted to the load conditions.
If the motor has reached 80 … 95 % of its rated speed (depending on the desired reduction of the current surge after switching-over), the star contactor K1M on the transformer is opened.
Now the transformer part-windings act as chokes. The motor voltage is only reduced by the chokes below the supply voltage and the motor speed does not fall. The main contactor K3M closes via auxiliary contacts of the star contactor and applies the full supply voltage to the motor.
For its part, the main contactor K3M drops out the transformer contactor K2M.
The entire procedure is thus uninterrupted.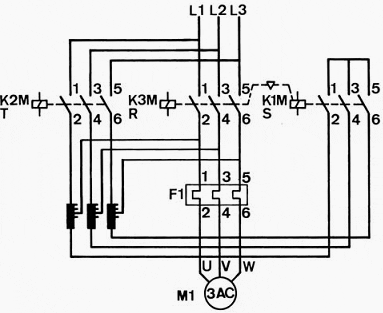 Rating of the starter
The main contactor K3M and the motor protective device F1 are selected according to the motor rated operational current Ie. Transformer contactor and star contactor are only briefly closed during starting.
Their rating is determined by the required contact breaking capacity, as they must reliably cope with any unforeseen disconnection during start up.
The star contactor also operates with every start-up during switching-over. The values of the rated operational currents for the transformer contactor K2M, depending on the start time and starting current, are between (0.3 … 1) · Ie, for the star contactor between (0.45 … 0.55) · Ie.
Testing AC Motors and Working on Westinghouse Generator
Resource: Allen Bradley – Low Voltage Switchgear and Controlgear