Substation Grounding
Grounding at power substations is extremely important. The grounding system provides the ground connection for the grounded neutral for transformers, reactors, and capacitors and also the discharge path for lightning rods, arresters, gaps, and similar devices. It ensures safety to operating personnel by limiting potential differences, which can exist in a substation.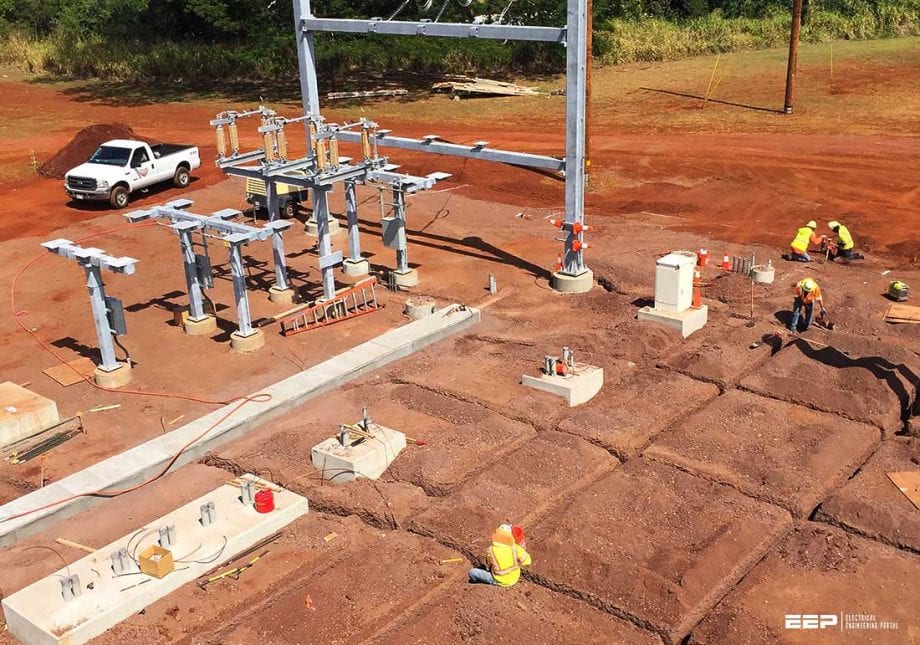 Substation grounding provides a means of discharging and de-energizing equipment in order to proceed with maintenance on the equipment.
It also provides a sufficiently low-resistance path to the ground to minimize the rise in ground potential with respect to remote ground.
Substation safety requirements call for the grounding of all exposed metal parts of switches, structures, transformer tanks, metal walkways, fences, steelwork of buildings, switchboards, instrument transformer secondaries, etc. This means that a person touching or near any of this equipment cannot receive a dangerous shock if a high-tension conductor flashes to or comes in contact with any of the equipment listed.
This function, in general, is satisfied if all metalwork between which a person can complete contact or which a person can touch when standing on the ground is so bonded and grounded that dangerous potential cannot exist.
This means that each individual piece of equipment, each structural column, etc., must have its own connection to the station grounding mat.
A most useful source of information concerning substation grounding is contained in the comprehensive guide IEEE Standard 80, IEEE Guide for Safety in AC Substation Grounding.
Much of the following information is based on recommendations stated in the IEEE Standard 80.
Practical design of a grounding grid
The basic substation ground system used by most utilities takes the form of a grid of horizontally buried conductors. The reason that the grid or mat is so effective is attributed to the following:
Reason #1 – In systems where the maximum ground current may be very high, it is seldom possible to obtain a ground resistance so low as to ensure that the total rise of the grounding system potential will not reach values unsafe for human contact.
This being the case, the hazard can be corrected only by control of local potentials. A grid is usually the most practical way to do this.
Reason #2 – In HV and EHV substations, no ordinary single electrode is adequate to provide needed conductivity and current-carrying capacity.
However, when several are connected to each other and to structures, equipment frames, and circuit neutrals which are to be grounded, the result is necessarily a grid, regardless of original objectives. If this grounding network is buried in soil of reasonably good conductivity, this network provides an excellent grounding system.
The first step in the practical design of a grid or mat consists of inspecting the layout plan of equipment and structures. A continuous cable should surround the grid perimeter to enclose as much ground as practical and to avoid current concentration and hence high gradients at projecting ground cable ends.
Within the grid, cables should be laid in parallel lines and at reasonably uniform spacing.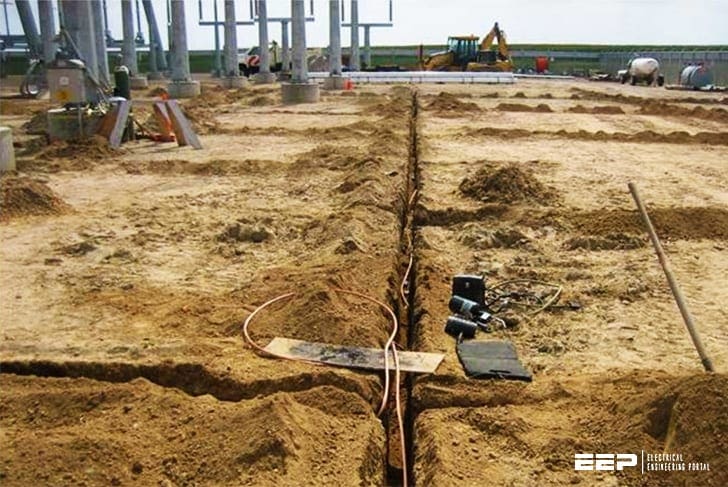 They should be located, where practical, along rows of structures or equipment to facilitate the making of ground connections. The preliminary design should be adjusted so that the total length of buried conductor, including cross connections and rods, is at least equal to that required to keep local potential differences within acceptable limits.