MV Switchgear Control Circuits
Control circuits are vital to the operation of medium voltage switchgear. The integrity of these control circuits is essential to the switchgear's proper operation, so commissioning and maintenance activities records are extremely important for troubleshooting practices. Furthermore, one has to comprehend the reading and interpretations of the control circuits in order to develop the skills of troubleshooting and sequence of operation follow.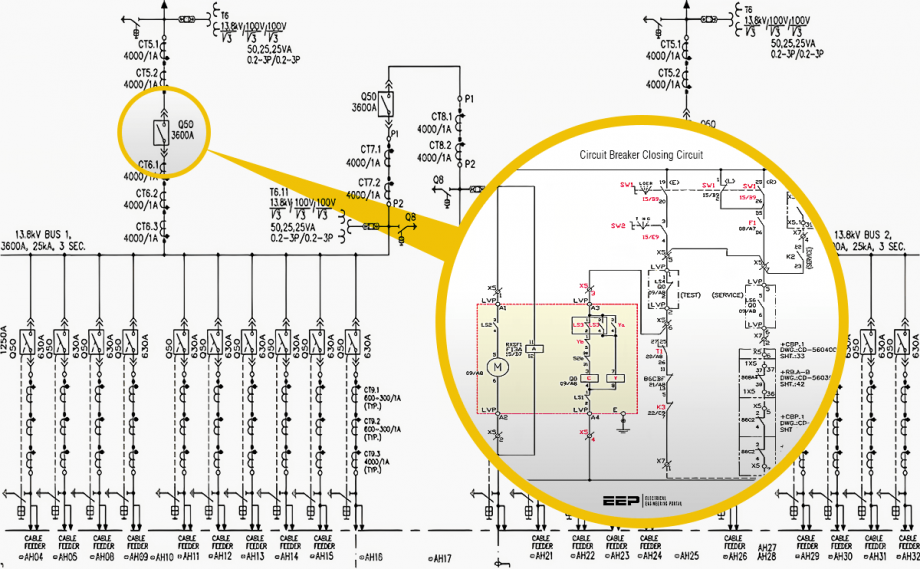 Although the control circuits are many, they boil down to the circuit breaker close/trip coils irrespective of the many details involved.
The good news is that the principles addressed in this technical article apply to almost all types of switchgear with some exceptions. The control circuits for Gas Insulated Substation (GIS), for example, are much more detailed and complicated, but they have many common principles with 13.8 kV switchgear.
Hence, it is extremely important to master the skills of control circuit interpretation for better and faster troubleshooting activities.
This article tackles the closing coil control circuits of a 13.8 kV capacitor bank feeder. These circuits are AC/DC circuits and circuit breaker closing circuit, which in turn contains two sub-circuits: motor charging circuit and anti-slam/pumping protective circuit.
In addition, a brief view of busbar arrangements utilized in different applications is introduced, as it has a direct effect on the interlocking contacts that might be used in the control circuits. The next article will talk about substation single-line diagram, circuit breaker tripping circuit, bay-control-protection-unit (BCPU) and alarm circuits, indication circuits, and mechanical/electrical interlocking circuits.
1. Busbar Arrangement
A variety of busbar configurations exist in which there is a trade-off in complexity, cost, and reliability. The main criteria for selecting the busbar arrangement are summarized below.
Simplicity.
Ease of equipment maintenance.
Outage duration during maintenance.
Future provision of extension with demand growth.
The most common practices for the three major substation types are as below:
1. Generation stations:
Large generators:

Double bus, single breaker
Double bus, double breaker
Combination double/single, with double breakers for the generator circuits and a single breaker for outgoing lines or transformers
Double bus, breaker and a half

Small generators:

Single bus
Various forms of line tap
2. Network switching stations:
Breaker and a half
Double bus, usually single breaker
Single bus, single breaker
Ring bus