MV switchgear up to and including 52 kV
Up to and including 52 kV voltage range is generally referred to as "medium voltage". This technical article shed some light on a few devices you are likely to spot in most of the medium voltage switchgear. But, before diving into technical details, it's a good idea to remind ourselves of important terms and definitions relating to MV switchgear.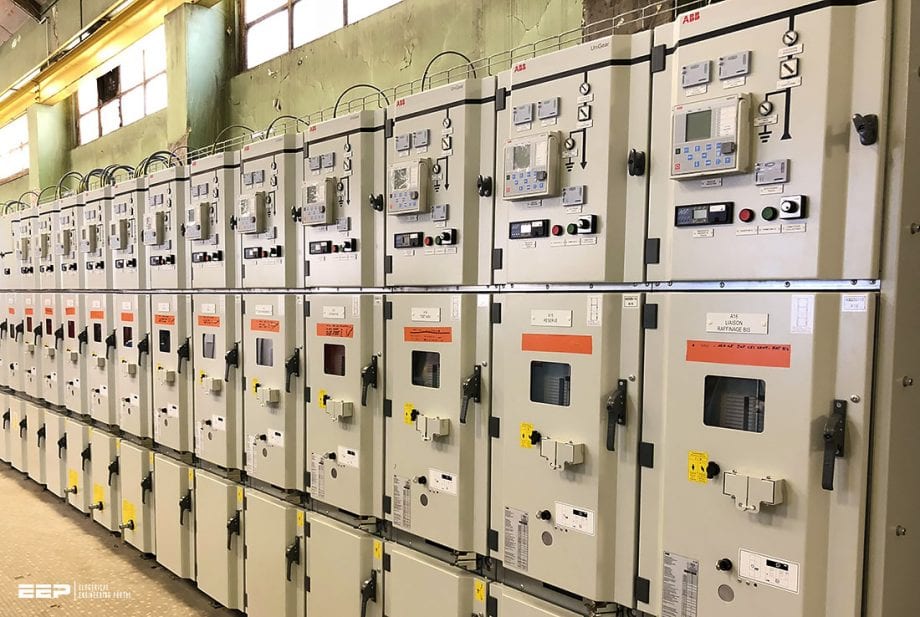 Let's start this article with a few basic terms used later. After, the seven most common MV switching devices will be explained in detail, referring to ABB's equipment as an example.
Basic terms (reminder)
Term № 1 – Disconnectors
Disconnectors are mechanical switching devices which provide an isolating distance in the open position. They are capable to open or close a circuit if either a negligible current is switched or if there is no significant change in voltage between the terminals of the poles.
Term № 2 – Isolating distances
Isolating distances are gaps of specified dielectric strength in gases or liquids in the open current paths of switching devices. They must comply with special conditions for the protection of personnel and installations and their existence must be clearly perceptible when the switching device is open.
Term № 3 – Switches
Switches are mechanical switching devices, which not only make, carry and interrupt currents under normal conditions in the network but also must carry for a specific time and possibly make currents under specified abnormal conditions in the network (e.g. short circuit).
Term № 4 – Switch disconnectors
Switch disconnectors are switches which satisfy the requirements for an isolating distance specified for a disconnector in their open position.
Term № 5 – Circuit breakers
Circuit-breakers are mechanical switching devices able to make, carry and interrupt currents occurring in the circuit under normal conditions, and can make, carry for a specified time and break currents occurring in the circuit (e.g. short circuit) under specified abnormal conditions.
Term № 6 – Earthing switches
Earthing switches are mechanical switching devices for earthing and short-circuiting circuits. They we capable of carrying currents for a specified time under abnormal conditions (e.g. short circuit).
Earthing switches are not required to carry normal operating currents.
Term № 7 – Fuses
Good old fuses are switching devices that open the circuits in which they we installed by the melting of one or more parts specified and designed for the purpose of breaking the current when it exceeds a given value for a sufficiently long period.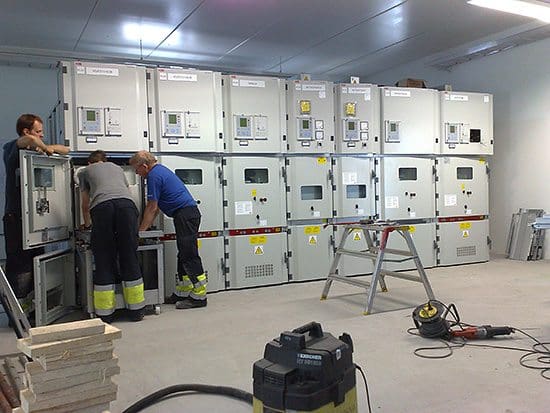 1. Disconnectors
The classic design of the disconnects is the knife-contact disconnector (see Figure 1). It has become less common with the increasing use of withdrawable circuit-breakers and switch-disconnectors. This functional principle is more frequent in gas-insulated switchboard (GIS) technology.
The blades of knife-contact disconnectors installed in en upright or hanging position must be prevented from moving by their own weight.
Disconnectors can be actuated manually and, in remotely operated installations, by motor or compressed-air drives.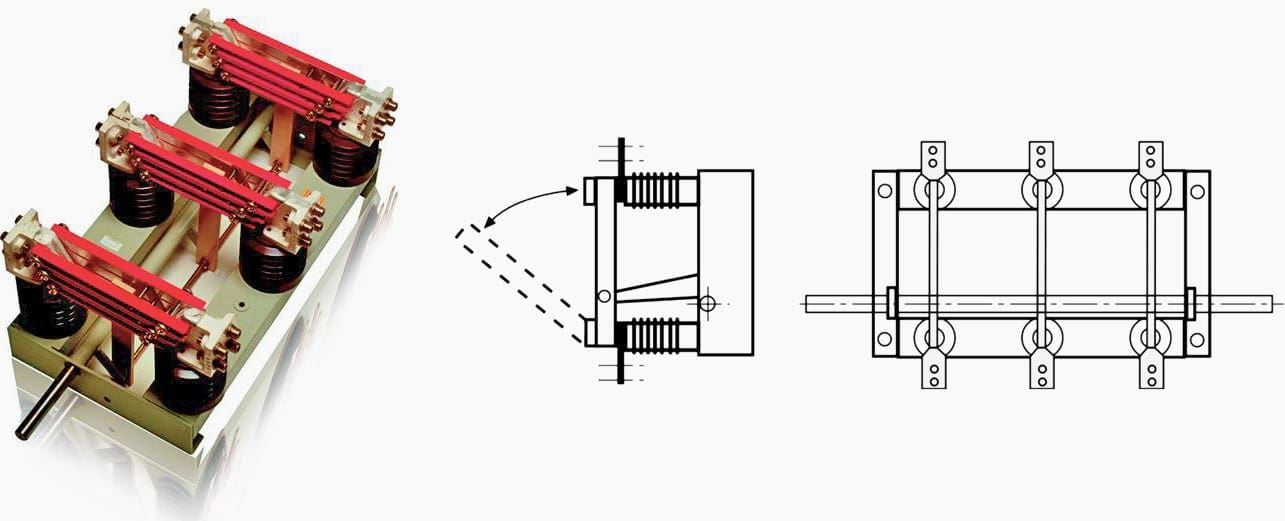 2. Switch-disconnectors
Switch-disconnectors are increasingly being used in distribution networks for switching cables and overhead lines. Switch-disconnectors in connection with HRC fuses are used for protection of smaller transformers. Switch-disconnectors are switches that in their open position meet the conditions specified for isolating distances.
General purpose switches can make and break all types of operating currents in fault-free operation and in the event of earth faults. They can also make and conduct short-circuit currents.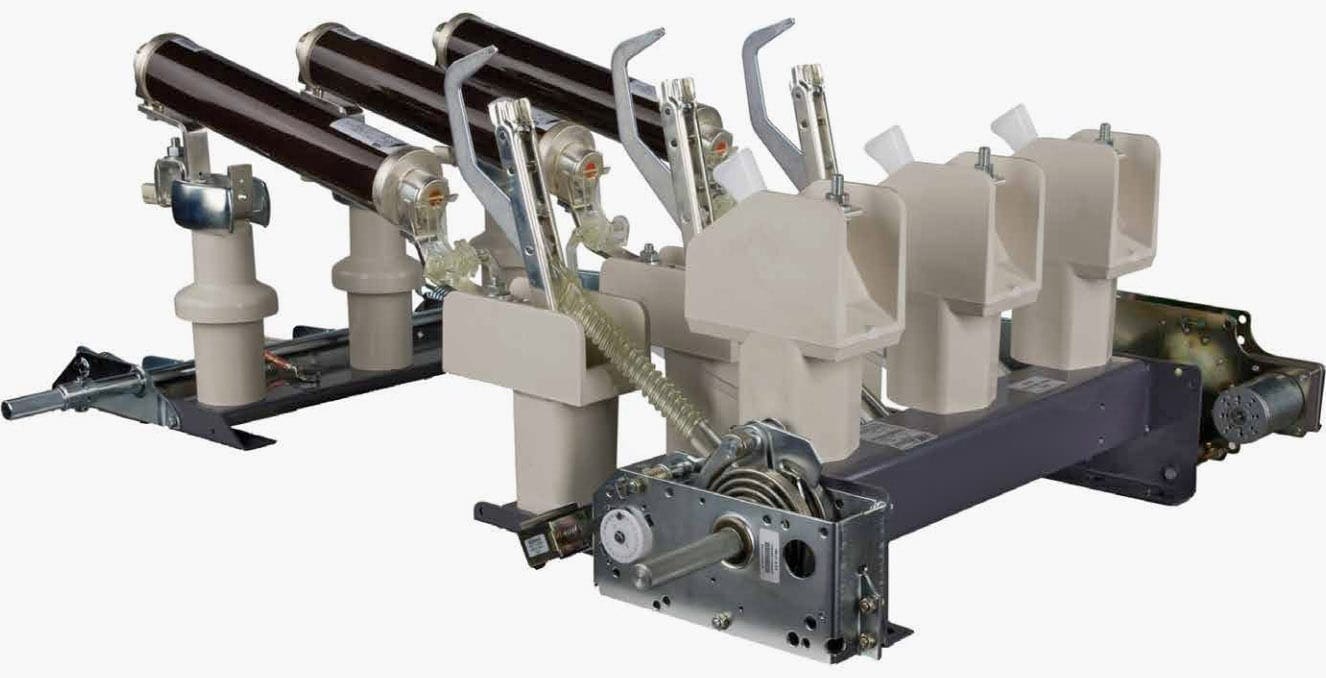 Knife-contact switch-disconnectors as per Figure 2 and rod-type switch-disconnectors as shown in Figure 3 are actuated in two ways, depending on their type:
"Snap-action mechanism", also referred to as toggle-spring mechanism. With this type of operating mechanism, a spring is tensioned and released shortly before the operating angle is completed and its release force actuates the main contact systems. This is used for both closing and opening.
"Stored-energy mechanism". This mechanism has one spring for closing and a second spring for opening. During the closing operation, the opening spring is simultaneously tensioned and latched. The stored energy for the opening operation is released by magnetic type or the striker pin of the HRC fuse.
The rod-type switch-disconnector is particularly suitable for the design of compact switchgear because the knife-contact switch-disconnector requires a greater depth for the switching zone because of the projecting contact blade in its open state.
The rod-type switch-disconnectors also enable very small phase spacings without phase barriers.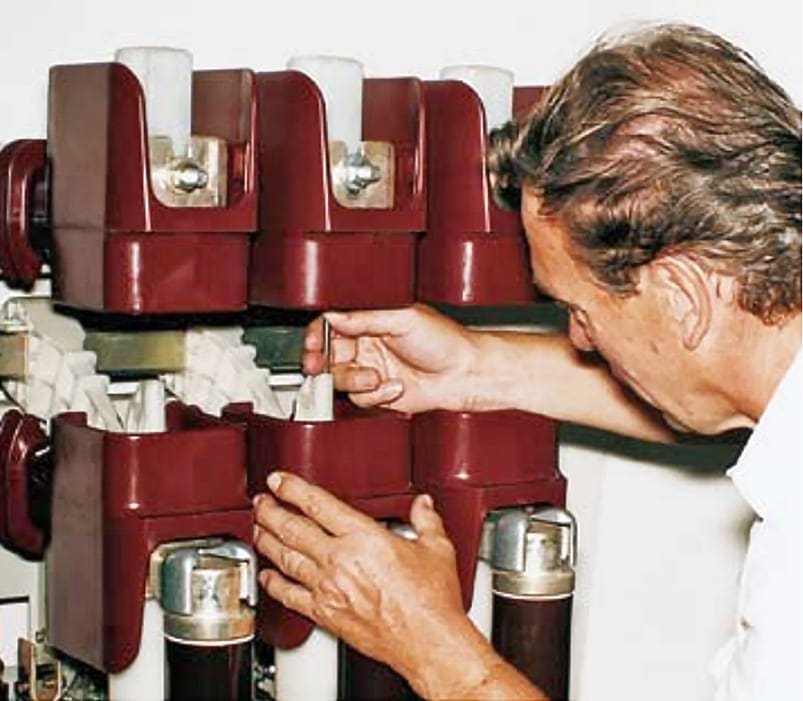 3. Earthing switches
Earthing switches are installed in switchgear primarily near cable sealing ends, i.e. before the main switching device. However, earthing switches are often specified also for busbar earthing, for example in metering panels. It the main switching device is a switch-disconnector, the earthing switch and the switch-disconnector will often be on a common base frame (Figure 4).
Every earthing switch must be capable of conducting its rated short-time current without damage.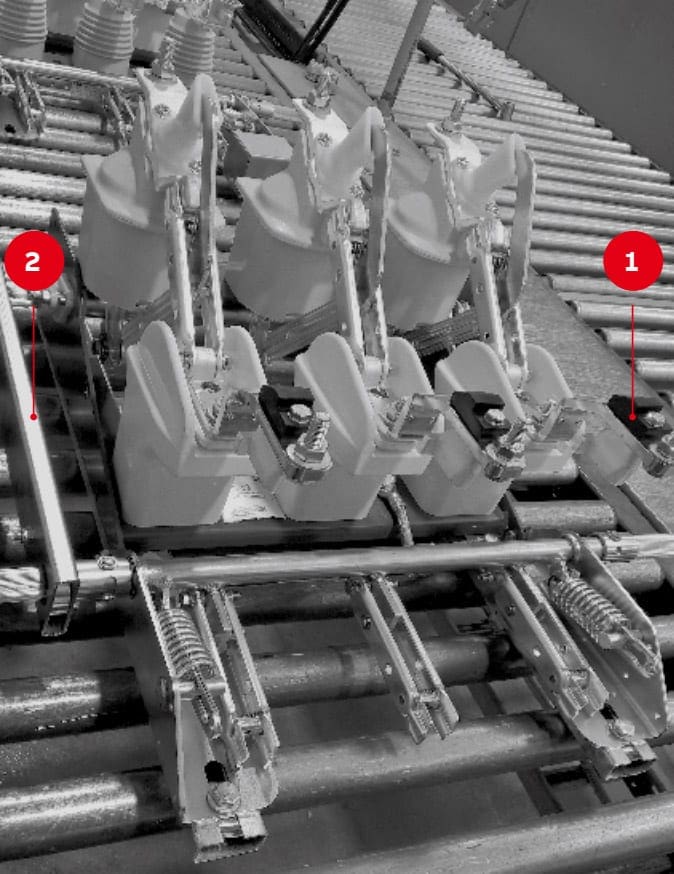 "Make-proof" earthing switches are also capable of making the associated peak current at rated voltage. For safety reasons, make-proof earthing switches are recommended with air-insulated switchgear because of possible faulty actuations.
In gas-insulated switchgear (GIS), the earthing of a feeder is often prepared by the earthing switch and completed by closing the circuit-breaker. In this case, a separate make-proof earthing switch is not required.