Tesla died alone
Tesla died alone in the hotel New Yorker of heart failure, some time between the evening of January 5 and the morning of January 8, 1943. Despite selling his AC electricity patents, Tesla was essentially destitute and died with significant debts. At the time of his death, Tesla had been working on some form of teleforce weapon, or Death Ray, the secrets of which he had offered to the United States War Department on the morning of January 5.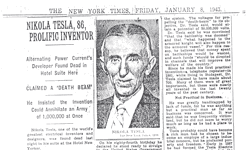 Immediately after his death became known, the Federal Bureau of Investigation instructed the Office of Alien Property to take possession of Tesla's papers and property, despite his US citizenship. All of Tesla's personal effects were seized on the advice of presidential advisors. J. Edgar Hoover declared the case "most secret," because of the nature of Tesla's inventions and patents.
Tesla's Serbian-Orthodox family and the Yugoslav embassy struggled with American authorities to gain these items after Tesla's death due to the potential significance of some of Tesla's research.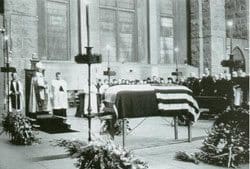 Eventually, Tesla's nephew, Sava Kosanovich, got possession some of his personal effects (which are now housed in the Nikola Tesla Museum in Belgrade, Serbia). Tesla's funeral took place on January 12, 1943 at the Cathedral of Saint John the Divine in Manhattan, New York City. Tesla always disputed the claim that Marconi invented radio. An ongoing lawsuit regarding this was finally resolved in his favor after his death. This decision was based on the fact that there was prior work existing before the establishment of Marconi's patent.
At the time, the United States Army was involved in a patent infringement lawsuit with Marconi regarding radio, leading some to posit that the government granted Tesla the patent on order to nullify any claims Marconi would have to compensation. In 1976, a bronze statue of Tesla was placed at Niagara Falls. Perhaps because of Tesla's personal eccentricity and the dramatic nature of his demonstrations, conspiracy theories about applications of his work persist.
The common Hollywood stereotype of the "mad scientist" mirrors Tesla's real-life persona, or at least a caricature of it—which may be no accident considering that many of the earliest such movies (including the first movie version of Mary Shelley's Frankenstein) were produced by Tesla's old rival, Thomas Edison. There are at least two films describing Tesla's life.
In the first, arranged for TV, Tesla was portrayed by Serb actor Rade Šerbedžija. In 1980, Orson Welles produced a Yugoslavian film named 'Tajna Nikole Tesle' (The Secret of Nikola Tesla).