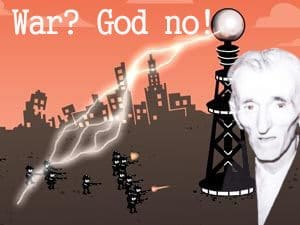 Tesla was opposed to wars in general. Nikola Tesla did devise protective measures that would prevent wars. Tesla found exceptions in some wars and some justifiable situations. Tesla envisioned that more terrible weapons were going to be developed in the future.
These weapons' destructive actions and ranges would have virtually no limit. Tesla's solution was to develop expedients for preventing any conflict. Tesla developed plans for known as "teleforce" [or, commonly, a "death ray" or even newer name H.A.A.R.P] (primarily a defensive weapon, but with characteristics of a weapon of offense).
The "teleforce" weapon was a type of defensive particle-beam weapon. This would allow protection against invasion. The device would provide complete protection against enemies approaching by sea or air. Tesla could not find financing for demonstration of the "death ray" discoveries. It could be used as an offensive weapon.
Tesla also advocated developing airplanes and wireless energy transmission.
What is H.A.A.R.P.?
The High Frequency Active Auroral Research Program (HAARP) is an ionospheric research program jointly funded by the US Air Force, the US Navy, the University of Alaska and the Defense Advanced Research Projects Agency (DARPA).
Its purpose is to analyze the ionosphere and investigate the potential for developing ionospheric enhancement technology for radio communications and surveillance purposes (such as missile detection). The HAARP program operates a major Arctic facility, known as the HAARP Research Station, on an Air Force owned site near Gakona, Alaska.
The most prominent instrument at the HAARP Station is the Ionospheric Research Instrument (IRI), a high power radio frequency transmitter facility operating in the high frequency (HF) band. The IRI is used to temporarily excite a limited area of the ionosphere. Other instruments, such as a VHF and a UHF radar, a fluxgate magnetometer, a digisonde and an induction magnetometer, are used to study the physical processes that occur in the excited region. Work on the HAARP Station began in 1993. The current working IRI was completed in 2007, and its prime contractor was BAE Advanced Technologies.
As of 2008, HAARP had incurred around $250 million in tax-funded construction and operating costs. HAARP has also been blamed by conspiracy theorists for a range of events, including numerous natural disasters.