Transfer sequence steps
Transfer switches are used for quickly and safely transitioning all electrical power consumed by the circuit, equipment, or systems connected to the transfer switch output between those normal and emergency power sources.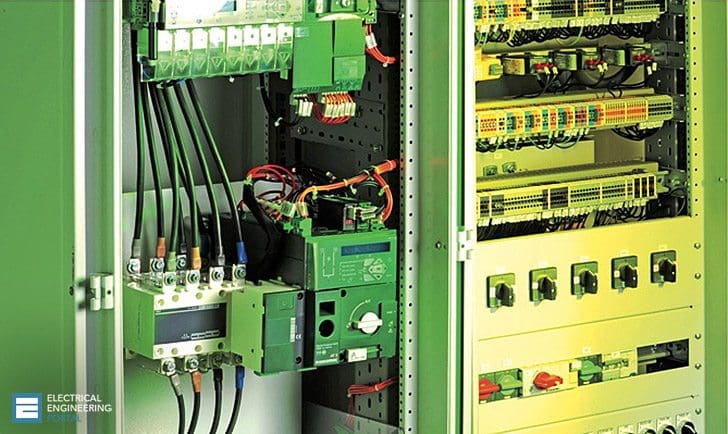 All electrical power consumed by the circuit, equipment, or system connected to the transfer switch output is defined as the load.
A typical transfer sequence includes following steps:
The normal power source fails.
When power from the generator or the backup utility feed is stable and within prescribed voltage and frequency tolerances, the transfer switch shifts the electrical load to the emergency power source. Depending on the facility's needs and preferences, that transfer either occurs automatically or is executed manually.
When utility power is restored, the transfer switch returns the load from the emergency power source to the normal one. Again, this can happen automatically or manually, depending on the type of switch being used and its operation mode.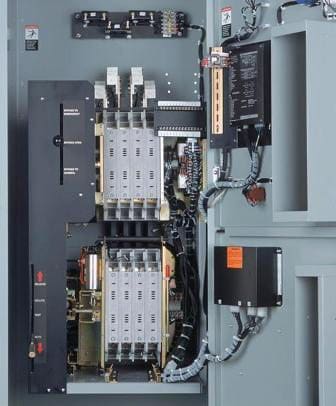 Two ways to transition loads
Transfer switches can transition loads between normal and emergency power sources in two basic ways:
The specific functions performed by a given load and the importance of those functions to safety or security play an important role in determining which kind of transition is required.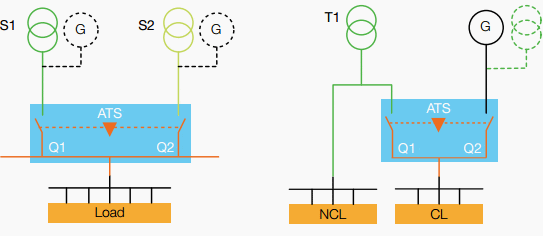 Where:
CL – Critical load
NCL – Non-critical load
ATS – Automatic transfer switch
Q1, Q2 – Circuit breakers
Open transition
An open transition is a "break before make" transfer. That is, the transfer switch breaks its connection to one power source before making a connection to the other. For some period of time between disconnection and connection, neither the normal power source nor the emergency source is providing electricity to downstream loads.
Open delayed transition //
In an open delayed transition, the transfer switch pauses in-between disconnecting from one power source and connecting to the other. That delay typically lasts either a specific, pre-set amount of time or however long it takes the load voltage to drop below a prespecified level.
Advantages
Building a delay into the transition process can prevent higher than normal electrical current (also known as "inrush current") from developing. Inrush current can occur when an inductive load is rapidly reconnected to a non-synchronized power source. It can be an issue in applications where a residual voltage is briefly maintained at the load due to the generator effect created by a rotating motor or by the stored energy released from a transformer's windings or core.
Operation is independent of electrical synchronization between both sources of power.
A transfer between power sources can be initiated automatically or manually.
Disadvantages
Open in-phase transition //
With open in-phase transitions, an automatic controller uses built-in intelligence to execute an open transition at the precise moment it expects the normal and emergency power sources to be synchronized in phase, voltage, and frequency.
In-phase transitions are typically completed in 150 milliseconds or less to ensure that inrush current is equal to or less than the normal starting current of the inductive load(s).
If synchronization doesn't occur within that time span, some transfer switches have the ability to default automatically to a delayed transition that serves as a failsafe.
Advantages
The rapid transfer time means that a transfer is accomplished without an appreciable power interruption to the load, provided that the system is properly adjusted
Disadvantages
In-phase transitions must be executed by an automatic controller. Manual operation is not possible as microprocessor logic is needed to manage source synchronization.
If both sources of power are available but unable to meet pre-set synchronization criteria, and the transfer switch isn't capable of defaulting to a delayed transition, a transfer will not occur.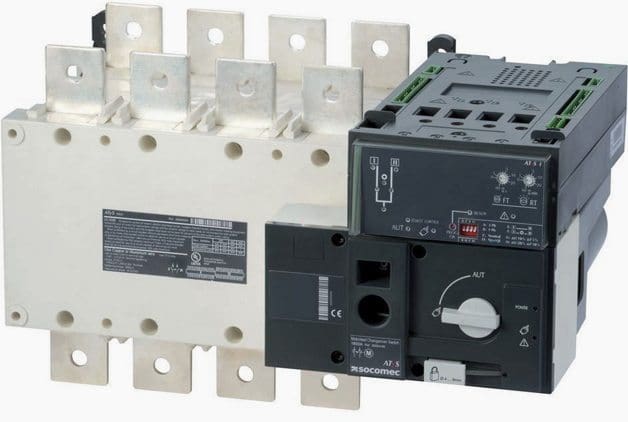 Closed transition
A closed transition is a "make before break" transfer, in that the transfer switch makes a connection to the new power source before breaking its connection to the old one. As there's no gap between disconnection and connection, downstream loads receive continuous power throughout the transfer process.
Switches configured for closed transitions usually transfer power automatically as soon as both power sources are closely synchronized in phase, voltage, and frequency.
The overlap period during which both sources are simultaneously connected, or "paralleled", usually lasts no more than 100 milliseconds to comply with local utility interconnect requirements.
Advantages
Critical loads can continue to operate, without an interruption in 

power, during loaded generator engine testing

Energy costs can be reduced through "peak shaving", which is 

the ability to control usage from a utility during intervals of high 

demand in order to limit or reduce demand penalties during a given billing period
Depending on the application, may eliminate the need for a UPS to be located downstream
Disadvantages
Transfer switches sophisticated enough to execute a closed transition tend to cost more.
Some utilities require closed transitions to comply with interconnect requirements aimed at preserving power quality and protecting utility service personnel and equipment. In some cases, this can require the inclusion of protective relays in the electrical circuit
Closed transitions must be executed by an automatic controller. Manual operation is not possible as microprocessor logic is needed to manage source synchronization
Closed transitions can produce higher fault current, due to the 100 millisecond period when both power sources are paralleled. As a result, the consulting engineer may specify a higher withstand close-on rating (WCR), which could require oversizing the transfer switch amperage rating.
Reference // An introductory guide to picking the right transfer switch for your environment – Charlie Hume, Eaton