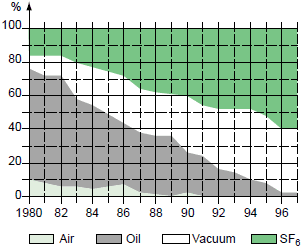 SF6 and vacuum are the two most modern breaking techniques in the fields of Medium Voltage (from 1 to 52 kV) and High Voltage (> 72.5 kV). They appeared in the 1960's and rapidly developed as of the 1970's. Today they have replaced the former air and oil breaking techniques (see fig. 1).
Whereas SF6 is used in all of the medium voltage and high voltage ranges, vacuum has primarily developed in the medium voltage field, with limited incursions in low voltage and in high voltage: the two techniques only compete with each other in the medium voltage field.
This notion of rivalry between the two techniques is now in fact out of date: even if at some time there was commercial competition between manufacturers that opted for one or the other of these techniques, today all large-scale manufacturers offer both techniques so as to be able to satisfy as best as possible their client's needs. Indeed, each technique has its strong points and its weak points. Even if each is highly multi-functional and can offer a reliable and competitive solution for most medium voltage interruption problems, users want to be able to choose for themselves in function of their applications, operation and maintenance policies, priorities … and of course habits!
In the past, the vacuum switching technique was first developed by American and English manufacturers (the pioneers were General Electric and VIL), followed by the Japanese and the Germans: these countries have the common feature of using networks with relatively low voltage ratings (from 7.2 to 15 kV) for medium voltage electrical energy distribution. However, in countries like France and Italy which distribute electricity with voltage levels near 24 kV, manufacturers opted for the SF6 breaking technique.
It is remarkable to note, 30 years later, the appropriateness of these technological choices in regard to the foreseen application. In fact still today, a global technical-financial evaluation of both techniques shows an equivalence when using voltages between 12 and 24 kV, with a relative advantage for SF6 above this voltage level, and for vacuum below this level.
However, the difference in cost remains low, which explains how the two offers, vacuum and SF6, can coexist, for all medium voltage levels from 7.2 to 36 kV.


The dielectric properties of vacuum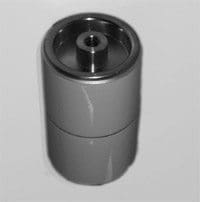 Any breaking medium must first be a good insulator for it is to stop current from flowing through it. Vacuum is not an exception to the rule: it has interesting yet particular dielectric properties in comparison to other insulating gases that are commonly used under pressure that is higher than or equal to 1 bar.
Vacuum, that is qualified as being "high" (pressure range from 10-1 to 10-5 Pa, i.e. 10-3 to 10-7 mbar) of vacuum switch interrupters (see fig. 2 ) is in fact a low pressure gas: typically 10-6 mbar in a new interrupter.
At this pressure, a 1 mm3 volume still contains 27.106 gas molecules, but their interactions are negligible since their mean free path between two collisions is of the order of a hundred meters: the term "vacuum" is thus appropriate since each molecule behaves as if it were practically alone.
SOURCE: Schneider Electric