Planning concept for power supply
When a planning concept for power supply is developed, it is not only imperative to observe standards and regulations, it is also important to discuss and clarify economic and technical interrelations (cables and/or busbar trunking systems depending on situations).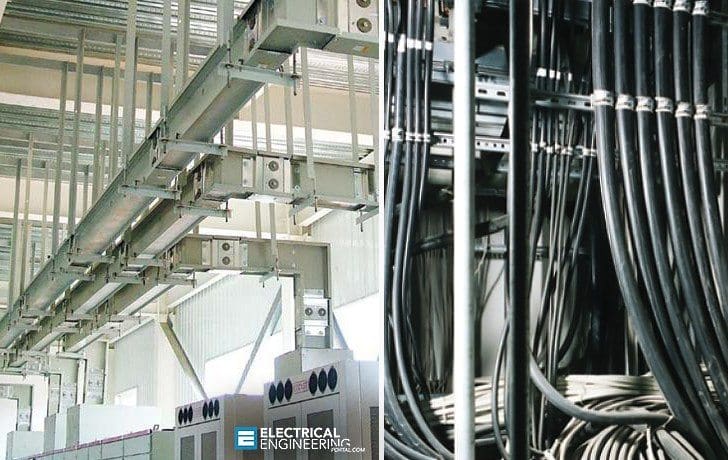 The rating and selection of electric equipment, such as distribution boards and transformers, must be performed in such a way that an optimum result for the power system as a whole is kept in mind rather than focusing on individual components.
The most important is that all components must be sufficiently rated to withstand normal operating conditions as well as fault conditions.
Further important aspects to be considered for the creation of an energy concept are:
Type, use and shape of the building (e.g. high-rise/low-rise building, multi-storey building)
Load centers and possible power transmission routes and locations for transformers and main distribution boards
Building-related connection values according to specific area loads that correspond to the building's type of use
Statutory provisions and conditions imposed by building authorities
Requirements of the power distribution network operator
The result will never be a single solution. Several options must be assessed in terms of their technical and economic impacts.
The following requirements are the main points of interest //
Easy and transparent planning
Long service life
High availability
Low fire load
Flexible adaptation to changes in the building
Most applications suggest the use of suitable busbar trunking systems to meet these requirements.
For this reason, engineering companies increasingly prefer busbar trunking to cable installation for power transmission and distribution. The most common busbar trunking systems ratings are from 25 A to 6,300 A.
Planning Notes
Considering the complexity of modern building projects, transparency and flexibility of power distribution are indispensable requirements. In industry, the focus is on continuous supply of energy as an essential prerequisite for multi-shift production.
Busbar trunking systems meet all these requirements on efficient power distribution by being easily planned, quickly installed and providing a high degree of flexibility and safety.
The five main advantages of busbar trunking systems are //
Straightforward network configuration
Low space requirements
Easy retrofitting in case of changes of locations and consumer loads
High short-circuit strength and low fire load
Increased planning security
Power transmission
Power from the transformer to the low voltage switchgear is transmitted by suitable components in the busbar trunking system. These components are installed between transformer and main distribution board, then branching to sub-distribution systems.
Trunking units without tap-off points are used for power transmission. These are available in standard lengths. Besides the standard lengths, the customer can also choose a specific length from various length ranges to suit individual constructive requirements.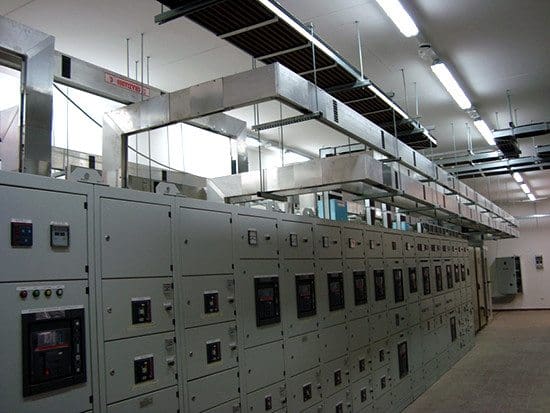 Power distribution
Power distribution is the main area of application for busbar trunking systems. This means that electricity cannot just be tapped from a permanently fixed point as with a cable installation. Tapping points can be varied and changed as desired within the entire power distribution system.
In order to tap electricity, you just have plug a tap-off unit on the busbar at the tap-off point. This way a variable distribution system is created for linear and / or area-wide, distributed power supply.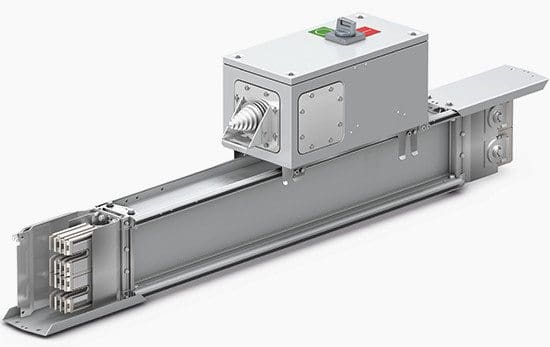 Tap-off points are provided on either or just one side on the straight trunking units. For each busbar trunking system, a wide range of tap-off units is available for the connection of equipment and electricity supply.
Table 1 – Cable / Busbar comparison
| | | |
| --- | --- | --- |
| Characteristic | Cables | Busbar |
| Planning, calculation | High determination and calculation expense, the consumer locations must be fixed | Flexible consumer locations, only the total load is required for the planning |
| Expansions, changes | High expense, interruptions to operation, calculation, risk of damage to the insulation | Low expense as the tap-off units are hot pluggable |
| Space requirements | More space required because of bending radiuses and the spacing required between parallel cables | Compact directional changes and fittings |
| Temperature responses and derating | Limits depend on the laying method and cable accumulation. The derating factor must be determined / calculated | Design verified switchgear assembly, limits from manufacturer's catalogue |
| Free from halogen | PVC cables are not free from halogen. Halogen-free cables are very expensive | Principally free from halogen |
| Fire load | Fire load with PVC cable is up to 10 times greater, with PE cable up to 30 times greater than with busbars | Very low, see manufacturer's catalogue |
| Design verified switchgear assembly | The operational safety depends on the version | Tested system, non-interchangeable assembly |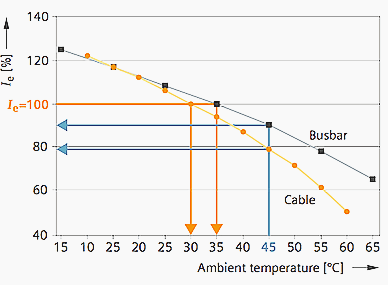 Few more on why busbar trunking systems //
Easier when it comes to planning
Easy to plan, quick to install and flexible to use. Busbar trunking systems bring energy economically into any building. The power distribution system can be precisely planned from the total load rating and the type and number of loads.
Clarity is assured by the line-shaped network topology with regularly arranged load tap-offs. Using standardized sizes, all applications can be implemented quickly and in minimum space.
Quicker when it comes to installing
Benefits during installation. Two-man assembly of busbar trunking systems saves time and money compared to the costly cable installation method. Installation errors are practically ruled out by the safe and user-guided connection technology.
No special tools are required.
SIVACON 8PS LI busbar trunking systems (VIDEO)
Canalis Range (VIDEO)
Reference // Switchgear and Substations by SIEMENS