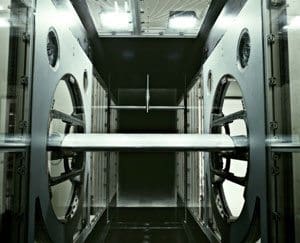 Global leader in power generation equipment and services, Alstom, and LM Wind Power, leading wind turbine blade supplier, have entered a strategic partnership to develop the world's longest wind turbine blade ever produced. The new blade is a unique development designed specifically for Alstom's next generation 6-megawatt (MW) offshore wind turbine.
Development of the blade will require more than 20,000 hours of work by LM Wind Power's specialist teams focusing especially on aerodynamics, structural design, and production processes of this giant. The use of specifically developed material compounds will enable LM Wind Power to maximise strength and durability while producing an exceptionally light blade. Furthermore, it will feature a structural design specifically tailored for Alstom's turbine, as well as LM Wind Power's proprietary aerodynamic profiles based on its latest GloBlade®, which offers an additional 4-5 percent of annual energy production compared to standard designs. The geometry of the new blade has already been validated in LM Wind Power's own wind tunnel – the world's only wind tunnel customized for aerodynamic testing of wind turbine blades.
The prototype blades will be produced in LM Wind Power's Danish factory in Lunderskov and will be ready for installation at Alstom prototype sites in Europe to start testing during the winter of 2011.
LM Wind Power is one of the pioneers in offshore wind. Its first blades installed offshore have been operating since 1991 at the world's first offshore wind farm, Vindeby, Denmark. Since 2004, LM Wind Power has supplied its 61.5-meter long blades for offshore. One example is the Beatrice Wind Farm Demonstrator project 25 kilometres off the coast of Scotland.
These blades are currently the world's longest in serial production and have been installed in offshore wind farms across Europe, where they achieve very high availability.
Alstom's 6 MW turbine has been optimised for the UK's Crown Estate Round 3 and other North Sea markets. Two prototypes will be installed in 2011 and 2012, a pre-series in 2013 (the final rollout step before full commercialisation), and series production in 2014. In January Alstom and EDF Energies Nouvelles (EDF-EN) announced that, using this turbine, they would bid jointly for projects under the recently launched 3 GW French offshore wind tender.
The turbine incorporates leading edge technologies to meet the challenges of the tough marine environment and bring down the cost of energy (COE). These include the turbine's very large rotor diameter and 6 MW power output for higher energy output. High yield helps offset wind farm investment and operating costs, lowering COE. The turbine's weight has also been optimized to reduce installation and infrastructure costs.
The turbine features Alstom's unique ALSTOM PURE TORQUE™ technology to protect and improve the performance of the generator. The technology protects the turbine's drive train by deflecting unwanted stresses from the wind safely to the tower. Only turning force, or torque, is transmitted to the generator thereby boosting the turbine's reliability.
Furthermore the turbine's innovative permanent magnet direct drive system enables a compact, lightweight design that reduces service costs and improves operating efficiency. The system's low number of rotating parts increases reliability, to maximise turbine availability and further reduce maintenance costs.
Alfonso Faubel, Alstom Power's Wind business Vice President, said: "LM Wind Power's quality technology perfectly complements our innovative wind turbine development capability. We have a partner of undoubted pedigree, a proven track record on offshore blade development and the global manufacturing presence and development resources to support our offshore growth plans. The close collaboration of both companies in offshore wind will deliver best in class technology to help bring down the COE, and a highly competitive market offering that will help us become a leader in the global offshore wind energy market."
Roland Sundén, CEO LM Wind Power Group, said: "I am confident that Alstom's innovative turbines flying the world's longest blades from LM Wind Power will give them a clear COE advantage, and we are very pleased to extend our excellent working relations with Alstom into this prestigious project. The key to success in offshore, given that you have a quality wind turbine, is strength of balance sheet, project management skills and power engineering experience. LM Wind Power recognizes Alstom's clear advantages in this respect compared to many others in offshore."
About LM Wind Power
LM Wind Power Group is the world's largest component supplier to the wind industry comprising a blades, brakes and service business and operating from or close to the major wind energy markets.
LM Wind Power has produced more than 130,300 blades in the course of more than 30 years corresponding to approximately 43 GW installed wind power capacity.
SOURCE: Alstom Group