Overcurrent protection
Reclosers are self-contained fault interrupting and reclosing devices, specifically designed for overcurrent protection in secondary distribution systems. Reclosers are situated in selected locations within the overhead distribution network.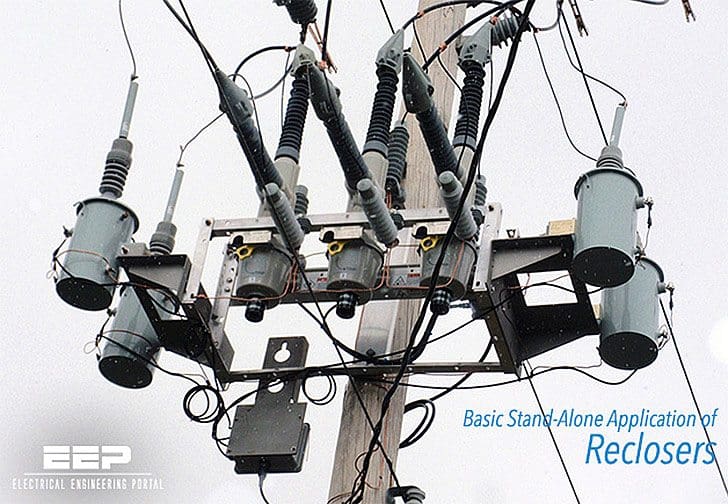 With the correct protection setting and MV fuse selection coordination, concerning the whole supply loop from the supplying primary distribution substation feeder to the fuse-protected distribution transformer, it is possible to achieve a discriminative fault isolation function.
Traditionally, the recloser units do not have any remote communication facilities. To enhance the system monitoring and restoration facilities, the reclosers can be equipped with remote communicating protection and control units.
The recloser assembly consists of the fault-breaking primary unit, typically pole-mounted with brackets, and a control cabinet mounted near the ground level. Both three-phase and single-phase units are used, depending on the secondary distribution operation and protection philosophy. The current measuring is carried out with internally mounted bushing current transformers.
The switching device is typically either a vacuum-type or oil-type of a circuit breaker with nominal currents up to 1250A and a rated voltage up to 38kV. The breaking capacity of the circuit breaker can reach up to 16kA.
Figure 1 – Typical recloser's breaking unit (vacuum type) on the left and control cabinet on the right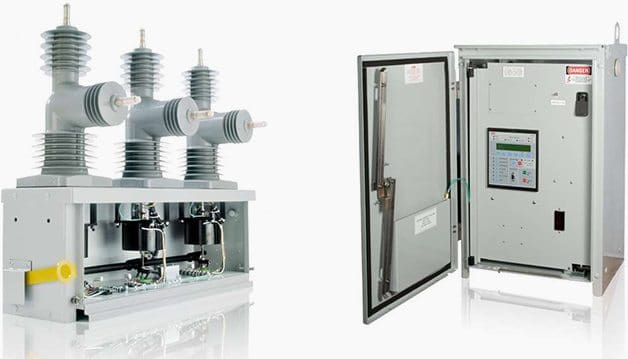 Automatic fault isolation functionality
Following principal system diagrams describe one basic "stand-alone" application of reclosers.
The below described
automatic fault isolation functionality
has been achieved with the correct coordination of protection and
auto-reclosing scheme settings
. Red color marks for a closed switch and green color marks for an open switch.
Furthermore, a solid line marks for an energized line and a dashed line marks for a de-energized line.
In the first diagram, the two feeders are supplied from two separate primary distribution substations with the tie recloser open.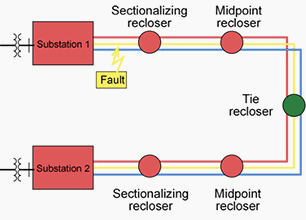 The second diagram shows a permanent fault situation on the first feeder. As a result of the fault, the feeder in the substation has made an unsuccessful autoreclosing attempt and has locked out with the breaker open.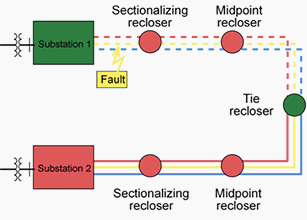 In the third diagram, the sectionalizing recloser has opened, isolating the faulty section of the feeder.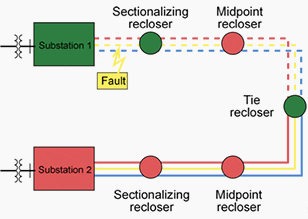 In the fourth diagram, the tie recloser has closed energizing the healthy section of the looped feeder.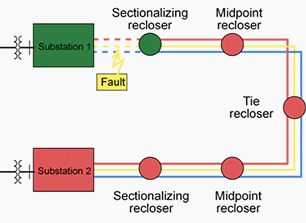 Gridshield Recloser Overview (VIDEO)
Reference // ABB's Distribution Automation Handbook – Elements of power distribution systems