11/0.43 kV distribution substation
The decision of a MV or LV supply will depend on local circumstances and considerations such as those mentioned above, and will generally be imposed by the utility. When a decision to supply power at MV has been made, there are two widely-followed methods of proceeding.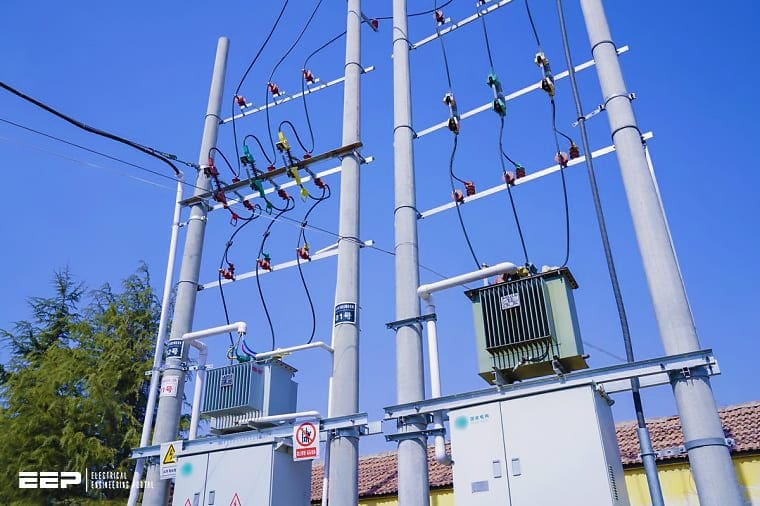 These methods are:
The first method of proceeding is that the power-supplier constructs a standard substation close to the consumer's premises, but the MV/LV transformer is located in transformer chamber inside the premises, close to the load center.
Second one points the consumer to constructs and equips his own substation on his own premises, to which the power supplier makes the MV connection.
This paper discusses about installation of 11/0.44 kV substation. It also includes the designing of the double pole structure. It includes the study of various equipment which are installed on dipole structure.
Site selection of substation
The consumer must provide certain data to the utility at the earliest stage of the project. (maximum anticipated power demand (KVA), layout plans and elevations showing location of proposed substation, degree of supply continuity required from the information provided by the consumer), the power-supplier must indicate:
The type of power supply proposed, and define the kind of power-supply system: over headline or underground-cable network, the service connection details: single line service, ring-main installation, or parallel feeders, and the power (kVA) limit and fault current.
The nominal voltage and rated voltage (Highest Voltage for equipment)
Metering details which define: The cost of connection to the power network and tariff details (consumption and standing charges).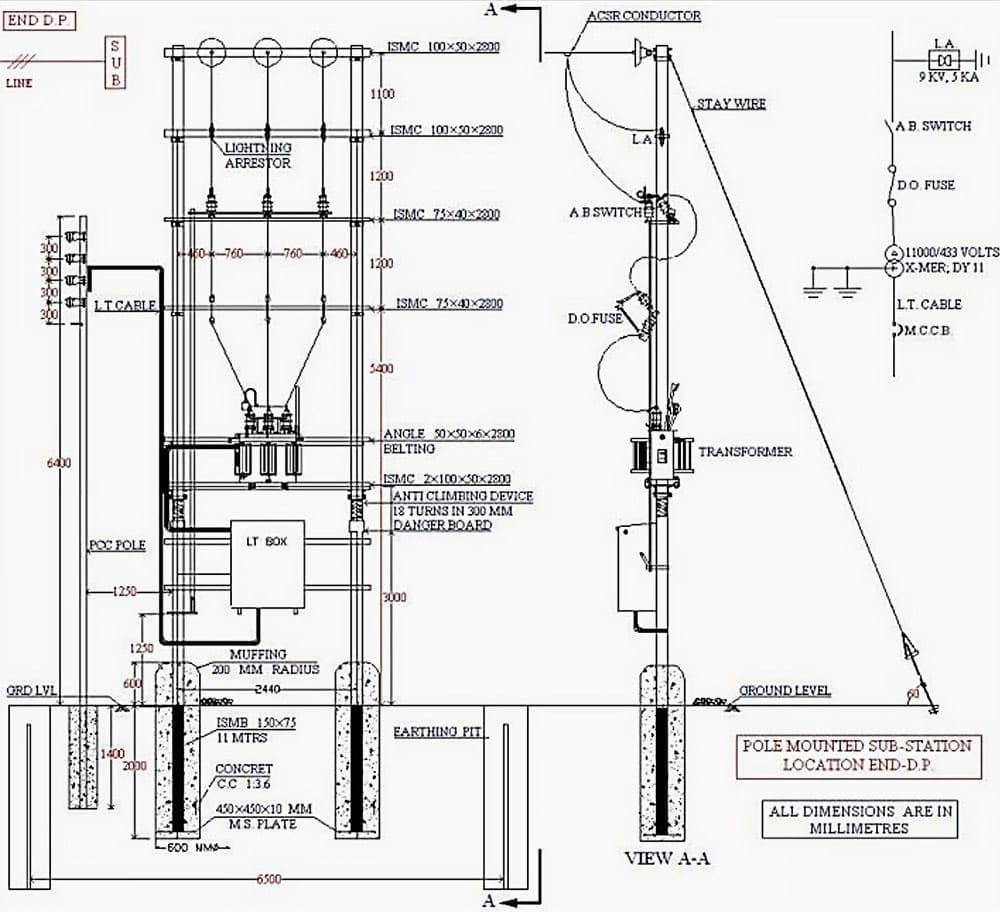 Construction
Before any installation work is started, the official agreement of the power supplier must be obtained. The request for approval must include the following information, largely based on the preliminary exchanges noted above:
Location of the proposed substation;
Single-line diagram of power circuits and connections, together with earthing circuit proposals;
Full details of electrical equipment to be installed, including performance characteristics;
Layout of equipment and provision for metering components;
Arrangements for power factor improvement if required. Arrangements provided for emergency standby power plant (MV or LV) if eventually required.
Commissioning of 11/0.433 kV substation
After testing and checking of the installation by an independent test authority, a certificate is granted which permits the substation to be put into service. When required by the authority, commissioning tests must be successfully completed before authority is given to energize the installation from the power supply system.
Even if no test is required by the authority it is better to do the following verification tests: measurement of earth-electrode resistances, continuity of all equipotential earth-and safety bonding, conductors, inspection and functional testing of all MV components, etc.
| | |
| --- | --- |
| Title: | Installation and commissioning of 11/0.43 kV substation – Ajinkya Lonare, Pravin Bodadkar, Shuchiket Darunde, Dr. G.H. Agrawal at Department Of Electrical Engineering, KDK College of Engineering, Nagpur, Maharashtra, India |
| Format: | PDF |
| Size: | 625.7 KB |
| Pages: | 6 |
| Download: | Right here | Video Courses | Membership | Download Updates |