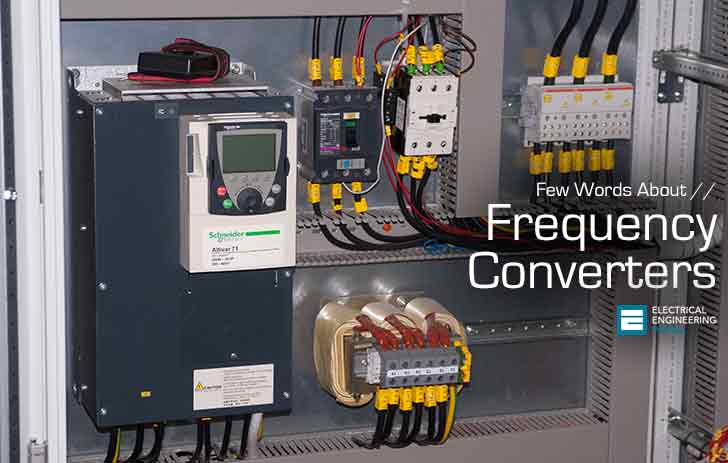 Introduction
Since the late 1960's, frequency converters have undergone extremely rapid changes, largely as a result of the development of microprocessor and semi-conductor technologies and their reduction in prices. However, the basic principles of frequency converters remains the same.
Frequency converters can be divided into four main components: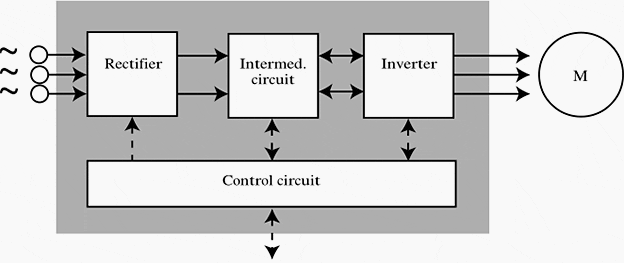 1. Rectifier
The rectifier, which is connected to a single/three-phase AC mains supply and generates a pulsating DC voltage. There are two basic types of rectifiers – controlled and uncontrolled.
2. Intermediate circuit
The intermediate circuit. There are three types:
One, which converts the rectifier voltage into a direct current.
One, which stabilises or smoothes the pulsating DC voltage and places it at the disposal of the inverter.
One, which converts the constant DC voltage of the rectifier to a variable AC voltage.
3. Inverter
The inverter which generates the frequency of the motor voltage. Alternatively, some inverters may also convert the constant DC voltage into a variable AC voltage.
Control circuit
The control circuit electronics, which transmit signals to- and receive signals from the rectifier, the intermediate circuit and the inverter. The parts that are controlled in detail depends on the design of the individual frequency converter (see Figure 2).
What all frequency converters have in common is that the control circuit uses signals to switch the inverter semi-conductors on or off. Frequency converters are divided according to the switching pattern that controls the supply voltage to the motor.
In figure 2, which shows the different design /control principles:
Is a controlled rectifier,
Is an uncontrolled rectifier,
Is a variable DC intermediate circuit,
Is a constant DC voltage intermediate circuit,
Is a variable DC intermediate circuit,
Is a PAM inverter and
PWM inverter.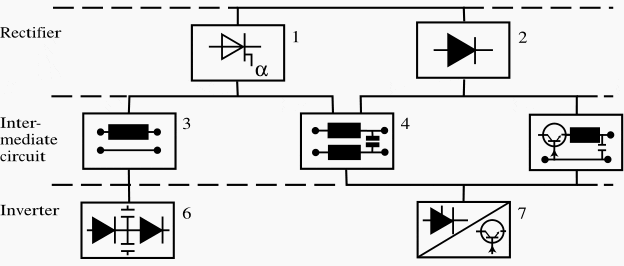 Current Source Inverter: CSI
(1 + 3 + 6)
Pulse-amplitude-modulated converter: PAM
(1 + 4 + 7) (2 + 5 + 7)
Pulse-width-modulated converter: PWM/VVCplus
(2 + 4 + 7)
Direct converters, which do not have an intermediate circuit should also be briefly mentioned for completeness. These converters are used in the Mega-watt power range to generate alow-frequency supply directly from the 50 Hz mains and their maximum output frequency is about 30 Hz.
Resource // Fact Worth Knowing About Frequency Converters – Danfoss