Achieving Required Lighting Level
The hospitality business involves serving people and giving them enjoyment. From restaurants to hotels, resorts, and even theme parks, facilities are designed with the intent of transporting guests from the world of the ordinary to a special time and place.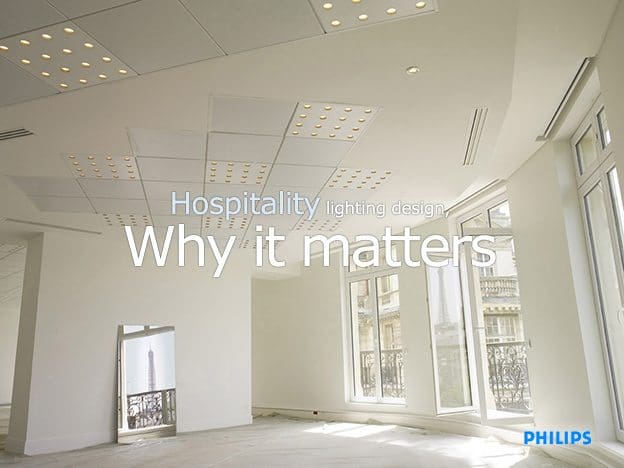 Lighting design for hospitality projects is, along with retail lighting, the most demanding.
Many of the spaces are designed to be visually interesting or intriguing; others are highly themed, more like stage sets than rooms. It is generally important to create drama and sparkle to enhance the effects of the space.
One of the challenges of
hospitality lighting
is to
create adequate task light while achieving the necessary style, theme, and drama
.
For some demanding tasks, such as gaming tables in a casino, where illumination levels must be high and glare control is critical for players, dealers, and video surveillance cameras. It is important to identify the visual tasks, design illumination for them, and then work the task lighting into an overall program of lighting design that meets the requirements of the project.
Lighting designs for these projects employ layered lighting designs out of necessity; the ambient light is the apparent light source, while concealed architectural lighting often provides the task illumination.
A classic hospitality lighting problem is the illumination of tabletops in restaurants.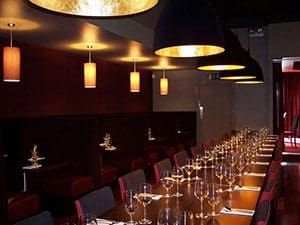 Diners must be able to read menus and see their food, but not at the expense of atmosphere. Designers often spotlight each table, install a table lamp on the adjacent wall, or hang a pendant over the table. But because tables move, many restaurateurs prefer candles or battery-powered table lamps, neither of which work as well but provide greater versatility and maintain the atmosphere.
The choice requires thoughtful discussion with the people who will eventually operate and manage the restaurant.
Most hospitality facilities are designed specifically for apparent use; a hotel lobby will always be a lobby, and a restaurant will remain a restaurant. Flexibility is needed rather in exhibition halls, ballrooms, meeting rooms, and conference centers, where rearranging seating, partitions, and lighting schemes is important.
In general, hospitality facilities are not renovated without a relatively complete replacement of lighting systems, so the long-term flexibility of lighting with respect to reconfiguration is minimal.
Interior Design With Traditional Styled Lights
Most hospitality designs rely heavily on following lights that play a critical role in interior design:
Decorative chandeliers,
Sconces,
Pendants,
Table lamps,
Floor lamps,
And other highly styled lights
Because of this, decorative lighting is commonly part of the furniture, fixtures, and equipment budget and specified by the interior designer, whereas architectural lighting in the same space is part of the construction budget and specified by the architect, engineer, or lighting designer.
Coordination among professionals is critical in these spaces because the actual lighting design is a combined effort.
A variety of ceiling types is used in hospitality spaces, ranging from ordinary acoustic tile and gypsum wallboard to decorative and ornamental ceilings. Some spaces may not have a finished ceiling at all, as when the character of a loft or club is desired.
Ceilings are critical to lighting, and it is important that proposed lighting designs be checked against the ceiling system for compatibility.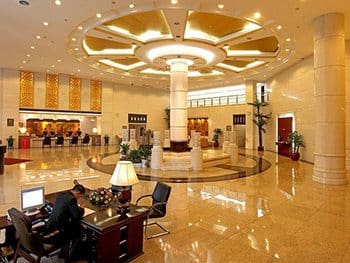 Especially in hotels and other large spaces, the ceiling can become a plat-form for a multitude of building functions; lighting systems should take precedence to make sure the lighting works properly.
Some hospitality spaces, such as conference centers, hotel ballrooms and exhibition halls, and restaurants and bars with stages are designed with both architectural lighting and performance lighting systems.
Performance lighting systems are often simple, employing track lighting and separate dimming channels to permit dramatic illumination of a solo performer, small group, or keynote speaker. A few spaces require more complex theatrical systems; these designs generally call for professional entertainment lighting assistance. But a professional lighting designer or an enlightened engineer, interior designer, or architect can execute many designs.
Because of the huge variation in options, viable designs are myriad.
But, as with offices, the best solution to a particular problem generally flows from the interior design or interior architecture, which sets the style and mood of the space.
Layered lighting is best because it builds the design on the decorative lighting selections that are of necessity present from the beginning.
The challenge of the lighting design is to add task, focal, and ambient light in a manner that completes the illumination of the space without the design appearing too busy or contrived.
This suggests the following overall approach to the problem
[dropcap1]1[/dropcap1]First, allow the interior designer or architect to develop the concept completely, including his or her own impressions of the proper lighting.
[dropcap1]2[/dropcap1]Then identify all of the visual tasks. Take into account both guests and employees, remembering that sometimes the two groups have different needs.
[dropcap1]3[/dropcap1]Next, determine whether or not the decorative lighting provides task illumination and add it for the tasks not properly illuminated. Repeat the process for focal lighting.
The hardest part of layered lighting for the hospitality interior is determining to what extent ambient light must also be added.
For example, in traditional spaces the decorative lighting consists mostly of ceiling-mounted chandeliers, pendants, and ceiling lights. Traditional chandeliers tend to glare, so a good lighting design often dims these lights and adds hidden ambient light, such as cove light, to compensate for their deficiencies.
In more contemporary designs, the chandeliers can be designed to deliver mostly uplight, in which case additional ambient illumination may not be required.
Task and focal lighting can also be difficult
The interior design may prevent lights from being located in necessary spots. Stringent interior styling may limit the number of choices. Even if budget is not a limitation, style and design may prove difficult challenges. After all, the electric lamp is a little over a century old, and architecture and interior design is much older and more entrenched.
As a result, modern hospitality lighting tends to be a mixture of decorative lighting and architectural lighting, with architecturally neutral lighting techniques like cove lighting, accent lighting and downlighting playing a major role in providing task, focal, and ambient lighting.
Energy codes apply to hospitality spaces; the ability to employ fluorescent lighting in nondescript architectural lighting permits the traditional luminaires to use incandescent lamps and still meet the energy code.
In fact, overall compliance with energy codes has become a major challenge for designers of hospitality projects.
For instance, a crystal chandelier cannot be replicated by a fluorescent source – at least not yet.
The twinkle quality of an incandescent filament and the natural warming of incandescent lights when dimmed are critical to creating atmosphere and mood.
The layered approach to lighting design is essential here.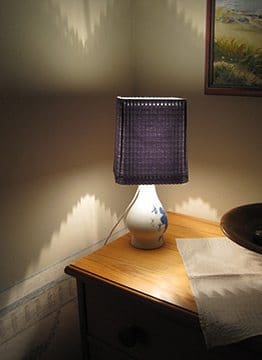 Conserve wherever possible so the overall building design complies with the code. A significant percentage of the hospitality industry is hotels and motels, and designing the lighting for guest quarters requires a thoughtful combination of residential and commercial lighting techniques.
Most energy codes do not limit lighting in guest quarters (although they do apply in corridors and lobbies). Because the design is repeated dozens of times in each property, designers often must use inexpensive, low-maintenance, energy-efficient products that are durable yet appear homelike to the guest.
Such decisions require thinking as a guest – for instance, guests are more apt to dislike a compact fluorescent table lamp than an incandescent one because they probably do not have compact fluorescent lamps at home. Few guests appreciate the energy efficiency of the compact fluorescent; most see the fluorescent lamp as a cost-cutting move by the hotel and take offense. (A few guests know that compact fluorescent lamps are costly and steal the lamp!)
The case studies in this article represent four typical spaces and functions.
The examples are relatively basic in order to make the lighting design issues easily understood. These issues are fundamental and can be translated to other settings and to varying interior designs and styles.
Inside Look at Modern Lighting Design Trends in 2013
Resource: Lighting Design Basics – Mark Karlen, James Benya (Get it from Amazon)