Distance protection
The power system is continuously increasing in size all over the globe, and people are more than ever dependent on the availability of electrical power. Thus the need of a well functioning power system is obvious, which in turn makes power system protection crucial.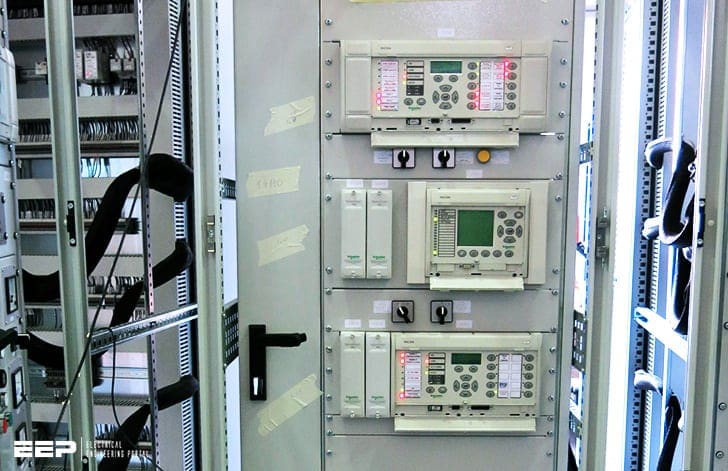 This report will focus on distance protection of transmission lines against the most common type of fault – ground faults.
Problem Background
The electrical power transmission system in Norway has been built in various designs throughout the years, and as a result of this we are experiencing issues today. An issue of concern is whether distance relays are able to detect ground faults on overhead transmission lines that has discontinuous or no ground wire.
This kind of network configuration results in a non-linear short circuit impedance of the transmission line, which causes problems for the distance relay as its trip settings are impedance based.
In the best case scenario, the relay will detect the fault but give erroneous estimates of the distance to the fault location.
In the worst case scenario the relay will not be able to detect a persistent fault which will remain, possibly damaging system components or causing cascading faults.


The relay protecting the line with discontinuous ground wire investigated in this thesis has not yet detected a fault located in the line section lacking ground wire.
The owner of the line, the Norwegian transmission system operator Statnett, questions whether this is because there has been no faults to detect or because the relay was unable to see faults that actually have occurred.
Statnett is also performing a study on the performance of one of their networks that was built with Petersen coil grounded neutral, and no ground wire in the whole grid. If the study results in a decision to perform a voltage upgrade in order to increase the power transfer capacity of the grid, there will be a need to change the grounding conditions from compensated to solid earthed.
In this case Statnett will have to decide whether or not they should install ground wires, a decision that is partially dependent on the performance of the distance protection in a solid earthed grid without ground wires.
There is also a question concerning the ability of the distance relays to detect two ground faults occurring at the same time at distant locations, if the network is to remain compensated grounded.
| | |
| --- | --- |
| Title: | Ground Fault Protection of Transmission Lines – Mari Lauglo (Norwegian University of Science and Technology; Department of Electric Power Engineering) |
| Format: | PDF |
| Size: | 2.30 MB |
| Pages: | 134 |
| Download: | Right here | Video Courses | Membership | Download Updates |